Robert and Barb Horst – 80108 Wine & Spirits
February 1, 2021
/
/
Comments Off

on Robert and Barb Horst – 80108 Wine & Spirits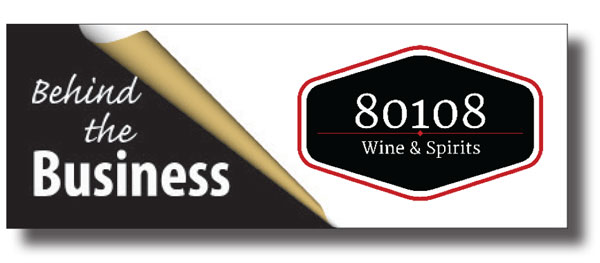 By Kathy Fallert; photos courtesy of the Horst family
Robert and Barb Horst are co-owners of 80108 Wine & Spirits in the City of Castle Pines, as well as being siblings. Originally from Stillwater, Minnesota, Barb is the youngest of four kids and Robert is the oldest. The two share five nieces and nephews.
The Horst family moved to Colorado in 1979. Robert had just graduated from high school and stayed in Minnesota to attend college where he received a Master of Arts degree in architecture from the University of Minnesota. Barb got her MBA in finance/accounting from the University of Colorado.
Barb reflected, "I started in commercial banking out of college and have always been a big advocate of small businesses. Every small business owner I ever met was an inspiration to me; they had so much passion and drive for their dream."
After 20 years in corporate America, Barb decided it was time to go on her own adventure. "I took my own advice and followed my passions to be successful – wine and people! I have owned two liquor stores in the last 10 years. We are lucky to be in Castle Pines and have such passionate wine and spirits enthusiasts. They make me learn and grow every day!"
Robert pursued his career in Washington D.C. where he was an architect for almost 20 years. Robert remarked, "I also lived overseas for five of those years doing international projects. All my projects were with the government or military and had progressively higher levels of responsibility and stress. My sister and I always talked about doing a business together, and when the opportunity came about four years ago, we went for it. Barb brings the business background, and I bring my background of graphics and planning. We both love wine, although I am much fonder of Scotch and liqueurs than Barb. We both are loving the tequila and mezcal trend. And we like to laugh together. It doesn't get much better than that." Robert moved to Colorado in 2016 when the two bought the liquor store.
The siblings cover the store six days a week, hand-selecting the products they carry. "It's part of our customer service. We pride ourselves on product knowledge," Barb commented. The store is large, so the Horsts haven't had an issue with social distancing during the pandemic. They also invested in a delivery vehicle and are able to deliver six days a week to the 80108 ZIP code as well as having curbside pickup available.
In her spare time Barb enjoys golfing, playing guitar and studying energy healing. "I was a girl scout for 10 years and earned my Gold Award," Barb remarked, "so being outside is a good thing!" Robert said, "I exercise and meditate every day. I am an avid reader, and I like to cook. I am also very artistic and take classes when I can." Robert mostly enjoys drawing, but he also paints and writes.