E Guide Advertising
– Direct mail + inserted in a trusted and valued cover-to-cover read newspaper
– Dedicated completely to eating, entertainment and events
– Electronic exposure to your ad (on our community website)
– LIVE links from electronic version directly to your website!
Click on the image below to check out this month's guide: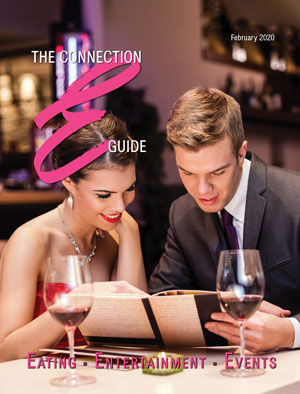 E Guide Circulation: 12,500.  Newspapers are direct-mailed to residential homes and businesses in the 80108 ZIP code, including the City of Castle Pines, Castle Pines Village, and areas of Castle Rock and unincorporated Douglas County. Additional hard copies are distributed to business partners and organizations in surrounding communities and sent electronically to voluntary subscribers.
Publication Date: Published monthly; inserted into USPS direct-mailed newspaper to hit homes and businesses the first week of the month (usually by the first day of the month).
Deadlines: Print-ready pdfs are due by the 15th of the month prior to publication – five days earlier if The Connection is creating the ad (complimentary graphic design services are available upon request).

Mechanical Requirements: Please submit ads in pdf format (no jpegs, etc). Refrain from use of rich black in ads, and format ad to sizes specified (see right); no crop marks and no bleeds (exception on the back cover). A border may be applied to some ads. Resolution must be 300 – 360 dpi.
Billing: Payment due upon signing of advertising agreement for new clients and is billed on the first of the month for established business partners.
Ad sizes for The Connection E Guide are as follows:

Download Advertising Contract 66k pdf
Rate Information for The Connection E Guide Contact:
Elizabeth Wood West – Sales Manager
303-550-5755
contact by email
Terri Wiebold – Publisher
303-918-3676
contact by email
Sandy Gamble
303-944-4332
contact by email
Lynn Zahorik
720-218-8966
contact by email

Biz Hansen
720-320-2156
contact by email