Our Team
Our team of professional and independent writers, designers, photographers and account managers share a passion for celebrating the neighbors, businesses and events in the greater Castle Pines community.  We come from very diverse backgrounds and areas of expertise, and the vast majority of us live in the community.   We are your friends and we have a vested interest in sharing your stories and celebrating all you do … because everyone likes to receive a little good news!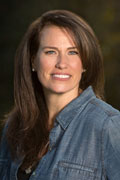 Terri Wiebold

Owner / Publisher
twiebold@castlepinesconnection.com
Terri Wiebold holds business and marketing communications degrees from California State University, Chico, and she spent six years as a police officer and firefighter in California before moving to Colorado in 1998 with husband of 27 years, Bob.  Terri has dedicated the past 23 years to being a stay-at-home mom, raising her son Brett (23) and daughter Taylor (21).  

A resident of Parker, she has worked in the Castle Pines community for nearly two decades and feels like it is her home away from home.  Terri is a strong advocate for local business and is actively involved in the Castle Pines Chamber of Commerce, as well as a member of the Castle Rock, South Metro and Parker chambers of commerce.

  She also sits on the board of directors of the Douglas County Community Foundation.  When not sharing "a little good news" through The Connection community newspaper, Terri enjoys yoga, going to movies and traveling.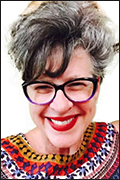 Tammy Abramovitz
Contributor
Tammy Abramovitz has called Castle Pines home for 20 years. Married for 25 years to Mike, they have twin sons, Harry and Isaac.  Tammy is a volunteer extraordinaire and community coordinator, parties are her specialty.  Whether it's the PTA or the HOA, she loves to gather folks together and celebrate all that life has to offer.  A confident adventurer and curious creative, Tammy has a hospitality based heart and a servant leadership style.  Named by Salonniere Magazine as one of the 100 Party Hosts in the Country in 2018, Tammy continues to inspire and educate. Modern Manners have recently emerged as a platform for this former southern belle.  Tammy was raised in Oklahoma and Texas by home economists who cared about their families, their homes, their meals and their communities; she comes by it honestly.  She may get on a "rant" as she calls it, but her style is from a place of grace.  "When you know better, you can do better" - Maya Angelou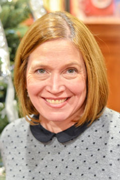 Lisa Crockett

Writer / Foodie
lcrockett@castlepinesconnection.com
Lisa Crockett has worked in journalism and public relations for two decades, though she knew from a young age that writing was what she wanted to do with her life.  In high school during the late 1980s, she was an editor at the school paper and also worked as a reporter at her college paper.  Prior to working with The Connection, Lisa worked mostly for nonprofit organizations involved in religious and philanthropic endeavors.  

Lisa is The Connection's foodie and can be found in her kitchen trying out new recipes or cooking techniques to interest our readers.  This year, Lisa embarked on a new endeavor pursuing a master's degree in English education so she can share her love of the written word with a new generation of writers.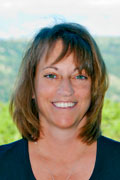 Kathy Fallert

Proofreader
kfallert@castlepinesconnection.com
Kathy Fallert is a 22-year resident of Castle Pines and is originally from Southern California. Kathy graduated from Cal Poly Pomona with a bachelor of architecture degree and went on to graduate from UCLA with a master's degree in architectural history. She moved to Colorado in 1997. Kathy set aside her architectural career when her first child was born in 1999. Now, along with husband Mitch, daughter Michelle Dunker (21) and son Kyle Dunker (14), the family enjoys the outdoors, hiking, skiing, or just hanging out at the pool with friends. Kathy also enjoys photography, traveling, cooking, staying busy with her son's sports schedule, and, of course, writing for The Connection. Kathy has a pug named Otis and a Labrador named Tebow; and yes, he was named after Tim Tebow. Go Broncos!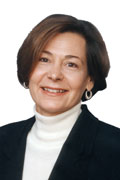 Sandy Gamble

Advertising Account Manager
sgamble@castlepinesconnection.com
Sandy Gamble is a wife, mother, and friend to all.  She is a 25-year resident of Castle Pines and brings her much appreciated skills (way too many to mention) to The Connection.

  She enjoys her post as an account manager selling retail advertising.

  "I just love it; I absolutely enjoy the time I can spend with my clients and I'm proud to represent such a worthwhile publication.  It adds so much to our little neck of the woods and I find myself smiling every time I read it.  If you want to connect your business with this market, I hope to see you soon."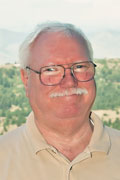 Tim Gamble
Oz / Graphics Guru / Webmaster Extraordinaire
tgamble@castlepinesconnection.com
Tim Gamble is a 25-year resident of Castle Pines, full-time father to Jeremy, and husband to Sandy.  He is a part-time photographer, webmaster, graphic designer, ad writer, and digital artist.

  Tim comes to us from the retail industry with a 25-year marketing career at a large national furniture chain.  His award-winning expertise in Adobe Photoshop is truly remarkable.

  Tim is currently utilizing his "jack-of-all-trades" talents at The Connection as an assistant to the publisher, tackling the variety of endless tasks that present themselves in the day-to-day business of successfully running the local publication.  Tim has a simple business philosophy:  "What do we need?" followed by "OK, we can do that."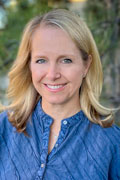 Elean Gersack
Freelance Writer
egersack@castlepinesconnection.com
Elean Gersack and her husband Michael have lived in the Castle Pines community for nearly 20 years with their two children, both of whom are now out of the nest and enjoying college.  After exiting the corporate world many years ago, Elean has continued to provide communications support and freelance writing through her consulting business and is no stranger to The Castle Pines Connection; she has written many articles for the paper over the years and mentored many youngsters with a passion for writing along the way.
Elean has been involved in many volunteer efforts, including local school parent-teacher organizations and, more recently, she served on the board of boys team charity, Mile High League, a parent-son philanthropic organization which provides support to non-profits in the greater Denver area. She was also a grade-level advisor with National Charity League, Blue Sky Chapter, a similar organization for mothers and daughters.  With her passion for nonprofits, Elean will be writing the Angels Among Us segment each month which highlights local nonprofits doing good in the community.  Additionally, Elean is eager to celebrate kids who grew up in Castle Pines and are now off conquering the world or simply doing something to be celebrated while still in college.
Bryan Goodland


Freelance Writer
Bryan Goodland was born and raised in Nebraska, finally finding his way out west to Colorado.  He has lived in Castle Rock for the past 13 years and has witnessed the many changes Douglas County has gone through over the years.  Bryan received his B.A. in English with a minor in journalism. Over the years, Bryan has worn several hats in the publishing industry – reporter, editor, managing editor, blogger and currently a freelance writer and poet. When not writing, Bryan works in the telecommunications industry and enjoys hiking, biking and eating out. He lives in Castle Rock with his wife and their two daughters.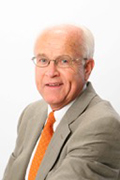 Joe Gschwendtner

Freelance Writer
A native of Westchester County, New York, Joe has been happily ensconced in Colorado with Barb and family since the Red Miller days.  Joe's holds a B.S. from Cornell University, and he served eight years as captain of artillery and military intelligence.  Joe made a second career as an accountant in the pharmaceutical industry rising to treasurer of a public company and later, owner of several local businesses and then, his own forensic accounting firm Consortium Three in 1987.  Joe has an unquenchable thirst for travel and is an unabashed serial traveler, until the money runs out.  He is committed to community service at all levels and holds several positions within The Village at Castle Pines.  Joe created the now popular "Wildcat Lore" segment and also stokes travel passion through the "Travel Monocle."   Joe and Barb celebrated their 50th anniversary in 2018.
Biz Hansen
Advertising Account Manager
bhansen@castlepinesconnection.com
Biz is from Bloomfield Hills, MI and graduated from Arizona State with a B.S. in purchasing materials management. She moved to Denver in 1991 and worked the next 10 years in sales and marketing in the ski and technology industries. Biz, her husband Scott and their three children moved to Castle Pines Village in 2005. She loves being involved in the community and has volunteered her time at the local schools and neighborhood Castle Pines Homes Association. Biz is also a certified yoga instructor who loves the outdoors and spends her free time playing tennis, hiking, mountain biking and working on her handstands.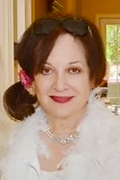 Nancy Koontz
Freelance Writer
Nancy Koontz has been a freelance feature writer interviewing well-known Colorado leaders and celebrities since 2004.  Before joining The Connection team, Nancy had her own column, known as "Have You Heard?" for Blacktie-Colorado sharing nonprofit news in the Denver community for several years.  Nancy came back to her love for writing after 15 years of service as the event manager for the Janus Funds, a Denver-based mutual fund company.   Complementing her 30+ years of professional work experience is her commitment to the community by serving on a variety of nonprofit boards.  Nancy's academic background includes post-graduate coursework at the University of Denver and the University of Colorado as well as numerous accreditations and certifications in the special events industry.   Nancy is married to Bob Koontz, a real estate developer and partner with Kelmore Development.  Together they have three children who have blessed them with four grandchildren.  Most of their weekends are filled with family activities and getting together with friends throughout Colorado.
Karen Leigh
Freelance Writer
kleigh@castlepinesconnection.com
Karen Leigh is not new to Colorado, but recently moved to Castle Pines.  If she looks familiar, it's because she works evenings as the main anchor for CBS4.  She is a graduate of Arkansas State University with a B.S degree, and it was the job opportunity that brought her to Colorado in 2008. She met her husband Jim – a rare Colorado native – and they now enjoy life with their 12-year-old daughter, Elle and their Bernese Mountain Dog, Eze.  Karen and her family fell in love with the pine trees, the wildlife and the amazing community of 80108. They've found their forever home here.  Karen's desire is to connect with and build stronger ties with her community. She's passionate about all forms of journalism and sharing the "good" happening in the neighborhood.  Karen is drawn to numerous nonprofits, loves to golf and garden, and is grounded by her faith and church family.  She's a four-time Emmy winner, but says her biggest win in life is happening right now; doing what she loves, with those she loves.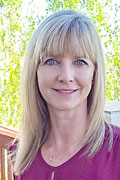 Julie Matuszewski
Advertising Account Manager / Writer
jmatuszewski@castlepinesconnection.com
Originally from North Dakota, Julie has lived in Colorado for 30+ years and is currently a resident of Castle Pines. The community of Castle Pines brings Julie the warmth and feel of her small town Dakota roots.  Julie has 13 years' experience in the telecomm industry where she wrote and implemented numerous training programs for specialized sales teams. She loves family getaways, exploring and game nights with her husband Robert and son Garrett. When she is not journaling or writing about current school events, Julie enjoys hiking, fitness, crafting and a good movie.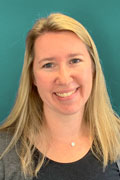 Celeste McNeil
Freelance Writer / Photographer
cmcneil@castlepinesconnection.com
Celeste cultivated a love of stories and storytelling as a child from her grandfather. She is passionate about the empowerment of a personal story and recognizes stories in the mundane details of ordinary lives and ordinary people. A Colorado native, Celeste and her husband Travis (also a Colorado native) have lived in Castle Pines since 2004. She graduated from the University of Colorado-Boulder in Communication and has since devoted her time to raising their four active children. Celeste is deep in the trenches of both motherhood and academia. Currently she is a M.A. candidate in professional creative writing at the University of Denver. When not writing, Celeste enjoys adventuring with her family, reading, hiking, researching family history or sewing
Chris Michlewicz
Writer / Photographer / Food Editor
cmichlewicz@castlepinesconnection.com
Chris Michlewicz has a bachelor's degree in journalism and mass communications from the University of Northern Colorado in Greeley. He worked as a newswriter, photographer and editor in the south metro area for more than 12 years.
Chris is originally from Royal Oak, Michigan, and moved to Douglas County in 1996. He currently lives in Parker. His favorite part about being a journalist is getting to know the many interesting and talented people who make up a community, especially those who volunteer their time to help nonprofit organizations. Everyone has a story to tell, and he enjoys getting to the heart of each story and sharing it through words and photos. In his off time, Chris enjoys golfing, hiking, camping, snowboarding and photography. He's also an avid sports fan and is a member of a Denver blues-rock band.
Lisa Nicklanovich

Writer / Photographer
lnicklanovich@castlepinesconnection.com
Lisa Nicklanovich moved to Castle Pines from Northern California in 2010 with her husband Steve, and two children Andrew and Natalie. Lisa grew up in a small seaside town on Long Island, New York, then migrated west for college, graduating from UC Berkeley with a bachelor's degree in mass communications. She worked in the Bay Area in advertising, marketing and training in both the corporate world as well as the wine and food industry. Lisa enjoys writing about health and wellness, as well as the interesting people she keeps meeting in the area, especially when she is walking her rescue dog Roxie.  In addition to writing, Lisa designs and creates memory-books for clients using their photos and stories.
Karen Palm
Proofreader
Karen Palm moved to Colorado with her husband Rick from Toledo, Ohio in 1996. They have two grown children and four grandchildren. Karen and her husband first lived in Parker before moving to Castle Pines in 2007.  While in Toledo, Karen received her undergraduate degree in education from the University of Toledo and a master's degree in reading from the same university.  Now that Karen and Rick are retired, they spend their time enjoying each other's company, the blessings of grandchildren, traveling, spending time with family and friends, and reading.  "Retirement is the best."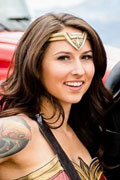 Krysta Parr
Lead Graphic Designer
kparr@castlepinesconnection.com
Krysta Parr is a graphic designer who works with small businesses in Castle Pines and the surrounding areas with advertisements, branding, and packaging. She moved to Colorado from Northern California in 1997 and later received her bachelor's degree in graphic design at Colorado State University.  During college, Krysta worked with the Castle Pines Metropolitan District as a maintenance seasonal employee, mowing lawns and painting the street signs. She is grateful to be working in the community again.  In her free time, she enjoys snowboarding, attending rock concerts, walking her dog Kenji and volunteering at charity events dressed as Wonder Woman.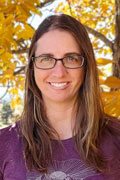 Rachel Poe
Freelance Graphic Designer
Rachel Poe is a Colorado native and graduated from Colorado State University with a degree in anthropology. She loves spending time outside enjoying nature with her three horses, Kairi, Rebel, and Merlin, and time inside reading, writing, and creating with her rescue cat, Misty, curled by her side.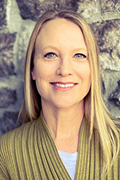 Molly Rosenmeyer
Graphic Designer
mrosenmeyer@castlepinesconnection.com
Molly Rosenmeyer has been a graphic designer for more than 20 years. She has worked in all aspects of the industry, from small tech startup firms to a large corporate setting. She has even been a graphic design instructor for an online college. She continues to work in the design business as a freelance graphic designer. Molly moved to Colorado with her husband and children from Des Moines, Iowa in 2012. Molly enjoys the community of Castle Pines as it reminds her of small town living. She enjoys spending time with her family, driving up to the mountains, working out and reading historical fiction.
Bear Rothe
Writer / Photographer
brothe@castlepinesconnection.com
Bear is a seven year resident of Douglas County, and he recently moved to Castle Pines.   He holds a bachelor's degree in communications from the University of Northern Colorado and a master's in public administration from the University of Colorado.  He and his wife have two daughters, ages 7 and 4.  When not parenting, reporting or doing drone photography, Bear is a Krav Maga student, hiker and amateur comedian.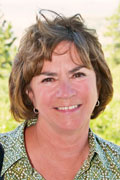 Patte Smith

Graphic Designer / Writer / Website
psmith@castlepinesconnection.com
Patte Smith is a free-lance graphic artist and writer.  A Colorado native and Surrey Ridge resident, she is a nature enthusiast and enjoys spending time camping, hiking, and riding her ATV in the back country.  Woodworking and designing with reclaimed wood are at the top of Patte's list of fun things to do.  After working for many years in corporate marketing departments, Patte now feels lucky enough to pursue free-lance work while spending the majority of her time raising her grandsons, writing, designing, traveling and enjoying each beautiful Colorado day.  Patte's contributions to The Connection include writing, graphic design of ads, fixing up all the great photos, and most recently, working on the website.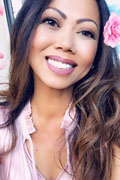 ViVi Somphon

Freelance Writer
vsomphon@castlepinesconnection.com
ViVi Somphon is a new transplant to Castle Pines from Scottsdale, Arizona. As a graduate from Arizona State University with a degree in Political Science and Justice Studies, ViVi's professional experience is extensive in corporate law, real estate development, management consulting, marketing and business development. She believes we can all be inspired and inspiring, actively volunteering with local organizations that focus on women, children and military veterans. When she is not collecting tattoos on her passport, ViVi is either exploring the beauty of Colorado as the world's "okayest" hiker or having long romantic walks with her putter on the golf courses. You also can find her kicking weights in the gym and capturing pixels of delish carbs at eateries and coffee shops.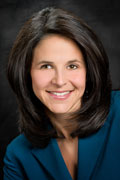 Mindy Stone

Freelance Writer
mstone@castlepinesconnection.com
Mindy Stone joined The Castle Pines Connection in September 2021. In high school, she was an editor at the school newspaper. She then followed in her father's footsteps and graduated from the University of Missouri with a bachelor's degree in Journalism. Mindy started her television career in Kearney, NE before moving to Colorado in 2003. She spent eight years at the CBS-affiliate in Colorado Springs/Pueblo as a news and sports reporter/anchor. Mindy and her husband, Kevin, met while working together at KKTV in Colorado Springs. The couple have two children, and Mindy is a soccer mom and is actively involved at her children's elementary school with many volunteer positions. In her free time, she enjoys exercising, shopping and traveling with her family.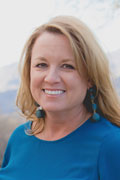 Hollen Wheeler
Content Editor / Freelance Writer / Photographer
hwheeler@castlepinesconnection.com
Hollen Wheeler and her family moved to Castle Pines from Texas in 2017.  Hollen earned her bachelor's degree in government from the University of Texas at Austin and her master's in communication and public affairs from American University in Washington, D.C.  A 20-year veteran in politics and public affairs, Hollen worked on Capitol Hill for a representative and then a senator.  After two years at a large public affairs firm, she was politically appointed to the White House administration where she managed the advance staffing and acted as media liaison on behalf of the secretary of defense. After a move back to her hometown, she went to work as a manager of public affairs and spokesperson for a global energy corporation.  In her spare time, Hollen volunteers for local nonprofits and is an avid reader.  She and her husband, two teenagers, two labs and two reptiles are enjoying the Colorado lifestyle.