Blue Island Oyster Bar and Seafood
March 1, 2022
/
/
Comments Off

on Blue Island Oyster Bar and Seafood
Seafood eateries thrive in landlocked Colorado
By Chris Michlewicz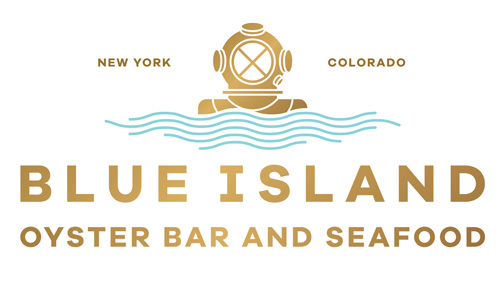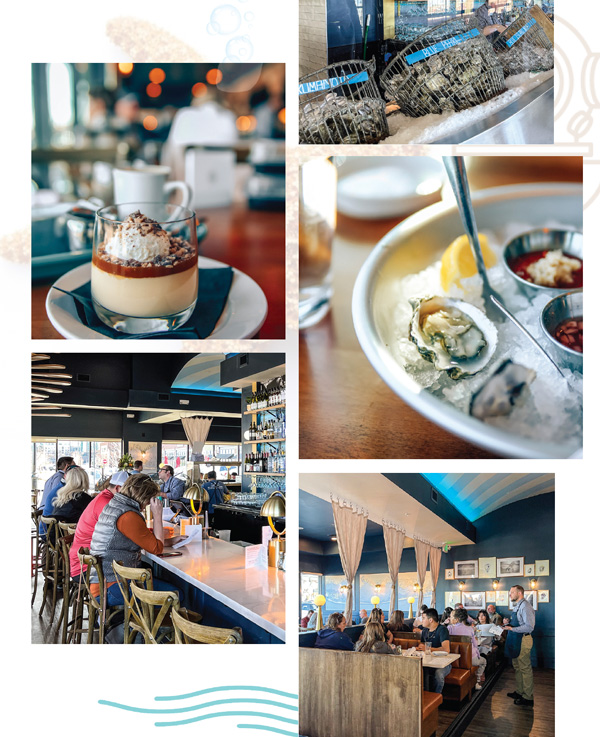 Fresh seafood isn't something people normally associate with Colorado. That is decidedly not the case for anyone who's been to Blue Island Oyster Bar and Seafood.
The trendy hotspot opened its second location last month, putting down roots in Lone Tree, southeast of Lincoln Avenue and Yosemite Street. Blue Island opened its first restaurant in Cherry Creek six years ago, and has been earning rave reviews ever since for bringing the flavors of both North American coasts and beyond to a local fine-dining establishment.
Although Colorado is about as landlocked as a state can get, it's actually a frequent stop for planes carrying loads of fresh oysters, lobster, octopus and other delicacies shipped from one coast to the other. That means Maine lobster and Atlantic cod, for example, reach the Denver area quicker than, say, Los Angeles
Sean Huggard – Blue Island's "chief decision maker," according to his email signature – grew up outside of Boston and attended the prestigious Culinary Institute of America before going on to serve as chef at eateries in places like Cape Cod, Massachusetts. When he moved to Denver in 2005, he realized he was among many transplants from coastal cities, and he knew many longed for a taste of home.
Those who've never been to Blue Island Oyster Bar and Seafood can expect a fun, energetic, exciting, different, and unique experience.
"I not only wanted to cook the food I grew up with, but I wanted people to feel a sense of escape, that feeling that was evoked as a child when you're driving over the bridge or taking the ferry to Nantucket Island," he said. "It's that sense of departure that I wanted to create with the brand."
Over the years, he's met dozens if not hundreds of people who expressed their appreciation for having the opportunity to indulge in traditional staples like clam chowder or fish and chips or fresh oysters.Blue Island Oyster Bar and Seafood, like all other restaurants that serve fresh-caught seafood, is at the mercy of the elements; the weather or season often dictates what's on the menu. That means some of the favorites are not always available, however, the good news is that people get a chance to try something new, like wild Baja grouper. Huggard sources other dishes from places like Nova Scotia and even Scotland, when availability allows, and his business partner owns and operates an oyster farm on Long Island.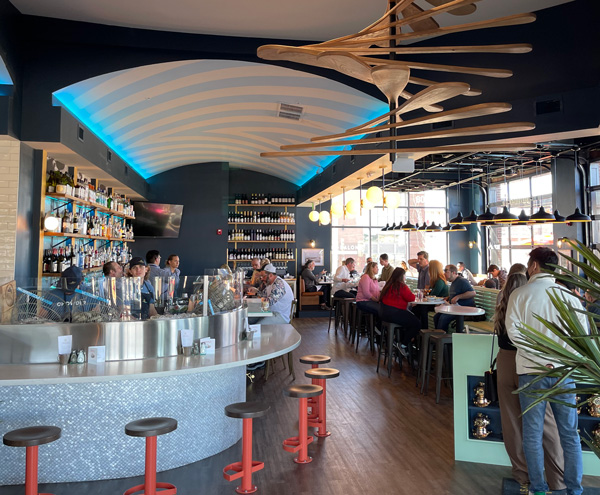 Being in the business of fresh seafood requires flexibility and adaptation. The menu changes weekly when purchasing seafood globally. Restaurants that serve out-of-season fish are using frozen meat. Huggard makes it clear that's not how he operates.
The most popular menu items include the aforementioned staples (Huggard cops to eating clam chowder about five times a week), as well as lobster rolls and fried shrimp. Other signature dishes include the curry mussels, mahi mahi, Chilean sea bass, fried clams, Thai-style calamari, and exotic selections like Spanish octopus with chorizo vinaigrette.
Blue Island can be described as a choose-your-own-experience restaurant. Along with a seafood-driven menu (there are no steak or chicken options), there are settings to fit each customer's mood. A comfortable, upscale dining room with "a traditional New England feel" offers a relaxed experience. The vibrant oyster bar is beach-like, with seafoam-colored booths reminiscent of coastal seaside benches. In contrast to the Cherry Creek location, which Huggard says has a "lighter, feminine elegance," Blue Island's recently opened Lone Tree location has a "whimsical" flair to its design, and it boasts a "sophisticated casual" atmosphere that's a far cry from the one-size-fits-all environment of typical suburban chains.
"We have a unique culture and try not to take things too seriously while at the same time creating food with serious intent."
Those who've never been to Blue Island Oyster Bar and Seafood can expect a "fun, energetic, exciting, different, unique experience," Huggard said.
When asked about the "chief decision maker" label, he says the title fits perfectly. He makes hundreds of decisions per day to help "keep the doors open and keep people employed." That experience proved vital in navigating the uncharted waters of the pandemic, when rules and restrictions seemed to change on a weekly basis. Blue Island – which blends the name of his business partner's oyster farm, Blue Point Oysters, with Long Island – is fortunate to have a resilient and passionate staff and management team at both of its locations.
"We have a unique culture," Huggard said. "We try not to take things too seriously" while at the same time creating food with serious intent.
Huggard, a self-described introvert, has never been much of a dining room guy, instead favoring the action and excitement of the kitchen. It's there that he finds his creativity and passion for hospitality in full gear, and those feelings seep into every element of the operation, resulting in meals that keep the doors open and the tables full.
BLUE ISLAND OYSTER BAR AND SEAFOOD
10008 Commons St Ste 100
Lone Tree, CO
(303) 379-9108
www.blueislandoysterbar.com