How to make the most of remote learning
May 1, 2020
/
/
Comments Off

on How to make the most of remote learning
By Amanda Brauchler and Maddy Merritt, RCHS intern writers; courtesy photos
In this unprecedented time, students from Rock Canyon High School (RCHS) discovered new ways to connect with their community and came up with creative social-distance friendly activities. Take a page from their playbook and try these ideas inspired by quarantine.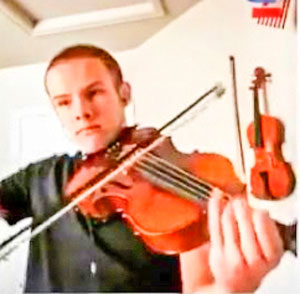 Pick up an instrument – During this strange time in isolation, creating something can feel both productive and calming. Dust off your instrument from high school and follow the lead of RCHS junior Alex LaMotte. LaMotte wrote, played, and recorded violin with piano arrangements of his teachers' favorite songs.
"I figured during this time everyone is stuck under a stressed state of mind, and I felt like it would be fun to combine something that I love – music – with helping others," LaMotte said.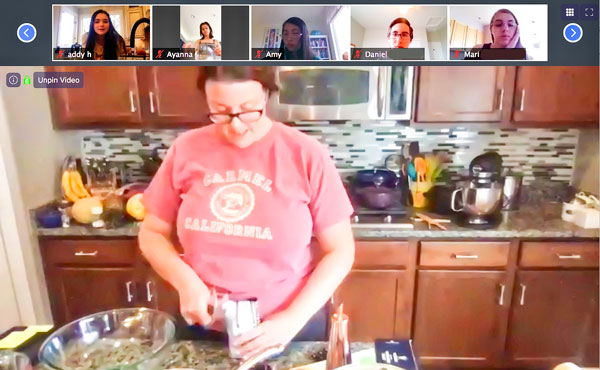 Host a virtual cooking class – RCHS French and Spanish teacher Alexis Savas hosted a Zoom call with her French classes to teach her students how to make savory crepes and chocolate mousse.
"I thought it was so fun," Addy Hunter, junior at RCHS said. Hunter takes Savas' French III class. "I think Zoom is a good way to connect for lessons… it has [also] helped for theatre when we have lines due."
Stay active – Sophomores Lydia Cooper and Allie Merritt hold three FaceTime workouts each day along with their friend who lives in Virginia to keep each other motivated.
"The coronavirus quarantine got me in a bit of a slump… and I wanted to try to have a reason to wake up and be active, so I started a workout regimen. I invited my friends to do it with me because I thought it would be a good way for us to stay in touch, and it's also really fun to see each other get stronger," Cooper said.
Teach yourself a new skill – Senior at RCHS Carter Brand was a triathlon competitor, but with facilities closed and races canceled, he has been teaching himself parkour, creating protein shake recipes and trying out photography.
"These are methods to express my creativity in ways that weren't possible with my normal school routine. They [these unprecedented times] are a great opportunity to expand yourself and to discover your capabilities. I encourage everyone … to try out the things only a couple of months ago you were wishing you had time for," Brand said.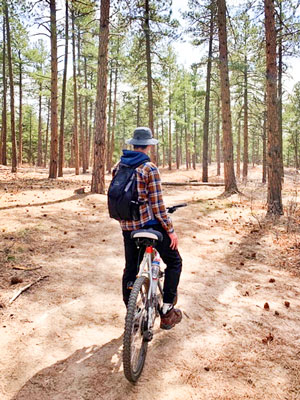 Enjoy the great outdoors – Having more time to enjoy the outdoors, junior at RCHS Aidan Malensek started mountain biking and bringing his telescope.
"I first had the idea to go to Dawson Butte … and try mountain biking. I had a lot of fun and started to really get into it. I brought my telescope after I saw a bunch of wildlife because I can never get close to them," Malensek said.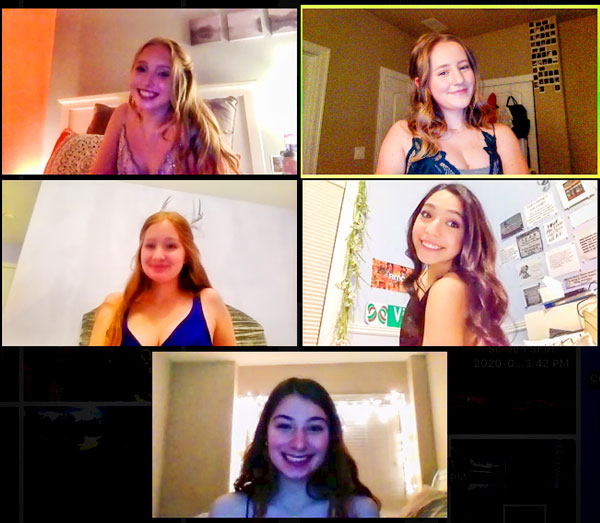 Make the most of prom – The RCHS prom was originally scheduled for the night of April 4. In light of being canceled, several students took it upon themselves to create a "Zoom prom" for their friend groups. Instead of using the platform for classes as most do, these students invited their friends to dress up in their prom attire and virtually hang out.
"Quarantine has been kind of a drag on our senior year, and we wanted a way to show that we didn't want coronavirus to completely derail our lives … we wanted to have our last prom to hang out with each other, dress up all fancy, play music and just try and have a good time!" senior at RCHS Aditya Vepa said. "We had a slow dance with stuff in our room like bunnies and pillows."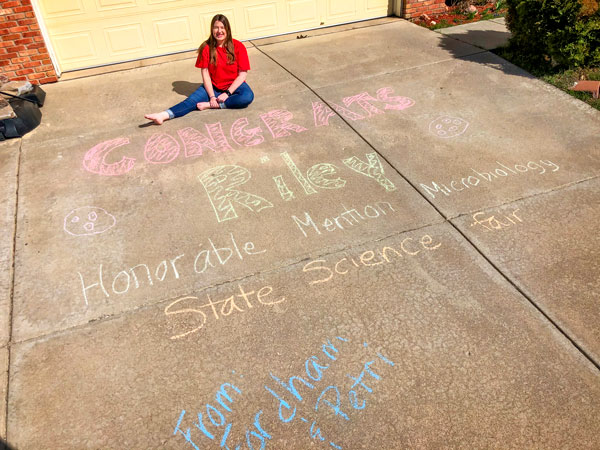 Decorate your friends' driveways – To celebrate the success of students at the State Science Fair competition, science teachers Shawndra Fordham and Susanne Petri decorated students' driveways. The teachers wrote congratulatory messages and spread some happiness. Riley England, a senior, was one of the students who received a message for her Honorable Mention at the fair.
"My heart was full of gratitude that they took time out of their day to go to everyones' houses," England said. "This gesture was important to me, especially during this time, since it showed me that no matter the circumstance Mrs. Petri and Mrs. Fordham would always care about their students."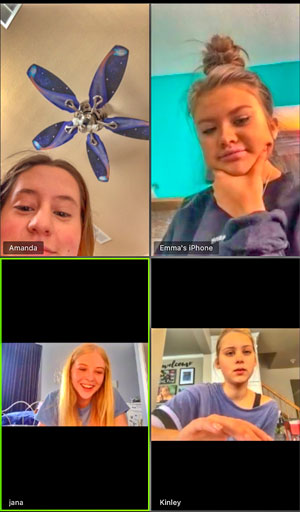 Finish an entire yearbook – Typically finished after spring break, the RCHS yearbook was disproportionately affected by the closure of school. Without school, there weren't photo opportunities nor the tools that the yearbook staff usually needs to complete the book. Instead, the editors-in-chief (EIC) brought home laptops, cameras and hard drives with the entire book on them so that they could finish the book from home. Kinley Rex, an EIC worked every day from the beginning of spring break to early April to finish the yearbook with her co-EIC and staff.
"This whole situation has pushed me to think outside of the box, not only as an individual but also as a leader," Rex said. "I have never felt more proud of myself or my staff once we finished the book. It was amazing to see how much adversity and conflict we can overcome when our staff comes together."
The yearbook program's annual trip to New York was canceled. This trip was important to the group because both the yearbook and the newspaper won a Crown Award from Columbia Scholastic Press Association at Columbia University. Instead, the group celebrated together on a Zoom livestream of the award show. Balfour yearbooks also recognized the RCHS 2020 yearbook for "outstanding contribution to scholastic journalism."