105 West Brewing Co: A watering hole with heart
October 23, 2023
/
/
Comments Off

on 105 West Brewing Co: A watering hole with heart
Like many brewery owners, Eric Seufert was a homebrewer who turned a hobby into a passionate profession.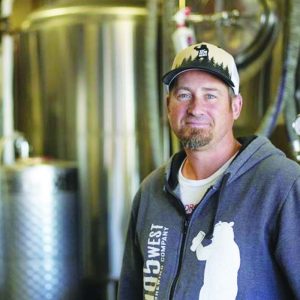 He was one of the few homebrewers doing lab work in their own house, and that experience proved crucial when he decided in 2015 to open 105 West Brewing Company northwest of Wolfensberger Road and Park Street in Castle Rock. Now, it is a must-try "destination for beer geeks," said Seufert, who went in on the business with 10 other investors.
Employing a lab-driven quality-control process, Seufert developed Rocky Mountain Juice, one of the brewery's first IPAs, which came with a subtle, hoppy hint of tropical fruit. In the ensuing years, many other varieties were created, including a popular Mexican lager and a blueberry blonde.
"I like to have a diverse menu so that people and their groups of friends can all feel comfortable coming here," Seufert said.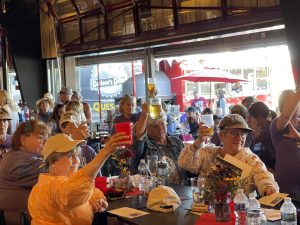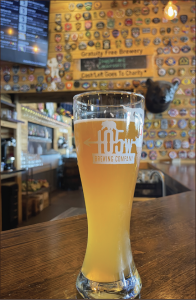 105 West Brewing Company doesn't have an in-house kitchen, but from the beginning, Seufert and his partners wanted to pair the beer offerings with 105 Pizza Co., a Monday-through-Friday food truck that serves items like the cream cheese wonton pizza (mozzarella and cream cheese topped with green onion, wonton strips, and sweet n' sour sauce) and the Colorado (mild-roasted green chiles, minced garlic, mozzarella, asiago, parmesan, romano and Italian sausage with optional jalapeños).
"People gravitate to whatever truck I have there," he said. "The barbecue truck is popular and we have a few trucks that make some of the best burgers. It changes every day."
Early on, the decision was made to not allow gratuity at the brewery. Instead, donations are collected for organizations that support members of the military and first-responders, as well as local nonprofits like the Douglas County Land Conservancy and the Help & Hope Center in Castle Rock.
"We had to have an outlet for people if they did leave cash, so we came up with the charity-of-the month concept," said Seufert, a retired Blackhawk helicopter pilot.
Brewers and employees earn a slightly higher wage than most in the industry, and they are able to focus on providing above-and-beyond service while the brewery and pizza food truck generate thousands of dollars per month in donations. Including proceeds from an annual beer festival, 105 West Brewing Company has given approximately $400,000 to local nonprofit organizations since its inception.
There are currently four brewers who had to pass a rigorous qualifying process to work at 105 West Brewing Company, which is named after the shared longitude (roughly) of Front Range cities like Castle Rock, Denver and Fort Collins. There's a motivating need to come up with new beers that stay ahead of the trends, as the competition among breweries remains fierce, albeit friendly.
Seufert, a Castle Rock resident since 2010, founded Castle Rock Homebrewing in 2012, and decided to open 105 West Brewing Company after being surprised at the lack of breweries in the area. (He also owns Bear'l Cellars, which lists a few of its wines on the 105 West Brewing Company menu.)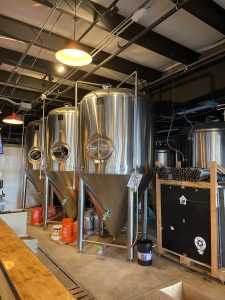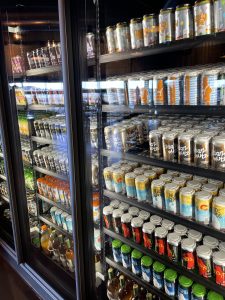 It is "all science" when the brewers are concocting new beers, Seufert said. It has led to impressive results to say the least. Recent years have brought the Squirrel Nut Sipper, a malty brown ale with chocolate and caramel character and a subtle roastiness, and the Riesling Saison, a unique brew fermented with 10% Riesling must, and one that possesses a classic and slightly spicy saison character complemented by a floral whiff and a refreshing, crisp-grape finish.
On the simpler side, there is the Mountain Pilsner, the Blackberry Sour, and the Lucky Red, which brings to the bar a rich, bready malt and caramel flavor, with glimpses of glazed sweet rolls. Also worth ample sampling is the Smooth Hoperator, which carries an aroma of fresh-picked oranges and citrus peel and a taste that blends an upfront caramel sweetness with a sharp and finishing bitterness, marked by dry hints of orange and pine.
A handful of the brews are available at regional bars, restaurants and golf courses, and, of course, in the brewery, which is an inviting and spacious gathering place with long high-top tables and a wall decorated with patches representing dozens of police and fire agencies. Along the back wall is a row of refrigerated coolers packed with cans of house-made beer, and 20 feet away starts a line of full-size brewing tanks where that beer was made.
The front wall opens up to allow for an indoor/outdoor atmosphere where the breeze wafts in on warm days. The dog-friendly, partially covered patio is surprisingly large for being in a somewhat-tucked-away in-line retail center. Situated between an Arthur Murray dance studio and a spa showroom, 105 West Brewing has managed to design and build a comfortable and enjoyable spot for people to enjoy the finer things in life: gorgeous Colorado days, good company, and some of the best beer in town.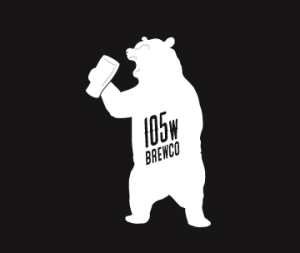 105 West Brewing Co.
1043 Park St.
Castle Rock, CO 80109
(303) 325 7321
105westbrewing.com
By Chris Michlewicz