March 1, 2022
/
/
Comments Off

on 2022 Colorado Caucuses
Information provided by Douglas County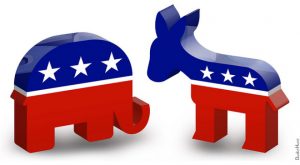 Douglas County precinct caucuses are meetings of registered electors within a precinct who are members of a particular major political party. The purpose of precinct caucuses is to elect precinct committee persons and delegates to county assemblies.
The Douglas County Republican Party Caucus is on Tuesday, March 1 at 7 p.m. Check in begins at 6:30 p.m.
The Douglas County Democratic Party Caucus is virtual this year on Saturday, March 5 at 2 p.m. The meeting opens at 1:00 p.m. for registration.
Caucus attendees elect officers who will be responsible for organizing political activities within their party's precinct. Caucus attendees also elect delegates and alternates to represent their precinct at each party's county and/or district assemblies. Persons receiving the most votes at their precinct caucus become delegates to their county assembly for that precinct.
To be eligible to vote in a political party's precinct caucus, a voter must be:
A resident of the precinct for at least 22 days
Registered to vote no later than 22 days before the caucus
Affiliated with the party holding the caucus for at least 22 days before the caucus
A person who turns 18 or becomes a naturalized citizen less than 22 days before their party's caucus may still participate if they are a registered member of the Democratic or Republican party.
A registrant who is 17 years of age on the date of a caucus and who will be 18 years of age on the date of the next general election may vote at the caucus.
Unaffiliated voters may vote in primary elections but cannot participate in party precinct caucuses.
For more information visit https://www.douglas.co.us/elections/caucus-faqs/.