A butter board for which to be thankful
October 29, 2023
/
/
Comments Off

on A butter board for which to be thankful
I'm way too middle-aged to spend much time on TikTok, but I'm not ashamed to say that in the last few years, most of my cooking inspiration comes from 30-second videos.  Shot on phone cameras and created in the well-lit corners of Gen Z apartments (shared with an unholy number of roommates, no doubt), I've learned a thing or two about how to cook in a way that is visually pleasing and tasty without being remotely fussy.  The butter board is one such trend – basically, it's just deconstructed toast presented on a plate.  If you're a bread lover like me, it's the ultimate comfort food disguised as an hors d'oeuvre.
The concept is based around the same idea as a charcuterie board, but with zero folding of salami into rosettes.  Instead, soft butter is schmeared on a board (or in my case, a festive platter. The thought of leaving a grease stain on a wooden cutting board was too heartbreaking for me.)  The butter is then topped with sweet or savory accompaniments and served with sliced or cubed bread for scooping and dipping.  The whole thing takes just minutes and serves as a wonderful beginning to a festive meal, or as a meal in itself.
Because I wanted my butter board to taste just right for Thanksgiving, I infused it with a bit of chopped fresh sage and a drizzle of honey.  I then topped it with some luscious apricot preserves, dried cranberries, pomegranate seeds and chopped pumpkin seeds.  Chunks of a fresh ciabatta loaf had the heft needed to scoop up all that goodness.  It was sweet without being overpowering and served as a satisfying accompaniment to some festive beverages.  A savory board might include a lemon-zest spiked butter topped with capers and sun-dried tomatoes with a toasty baguette.  Other classic combinations like finely chopped, crispy apple with sharp cheddar and a lightly toasted brioche or even some flaky crackers are next on my list to try.  Your imagination is the only real limitation; if you'd eat it on bread, it belongs on a butter board.
Because the butter is the star of the show, it's important to use something delicious.  I especially like Irish butter for this dish, but any good-quality butter will work.  Soften it to room temperature, then whip it until it is fluffy and almost white, then drizzle or mix in flavorings (herbs and honey work well) and mix thoroughly again.  Top the butter as desired and then refrigerate for at least an hour or two before serving to firm the mixture and allow the flavors to marry.
A TikTok video lasts no more than a few minutes, which is fitting for a recipe this easy.  Throw one of these boards (or platters) together, and you'll find that something this tasty doesn't last much longer than that.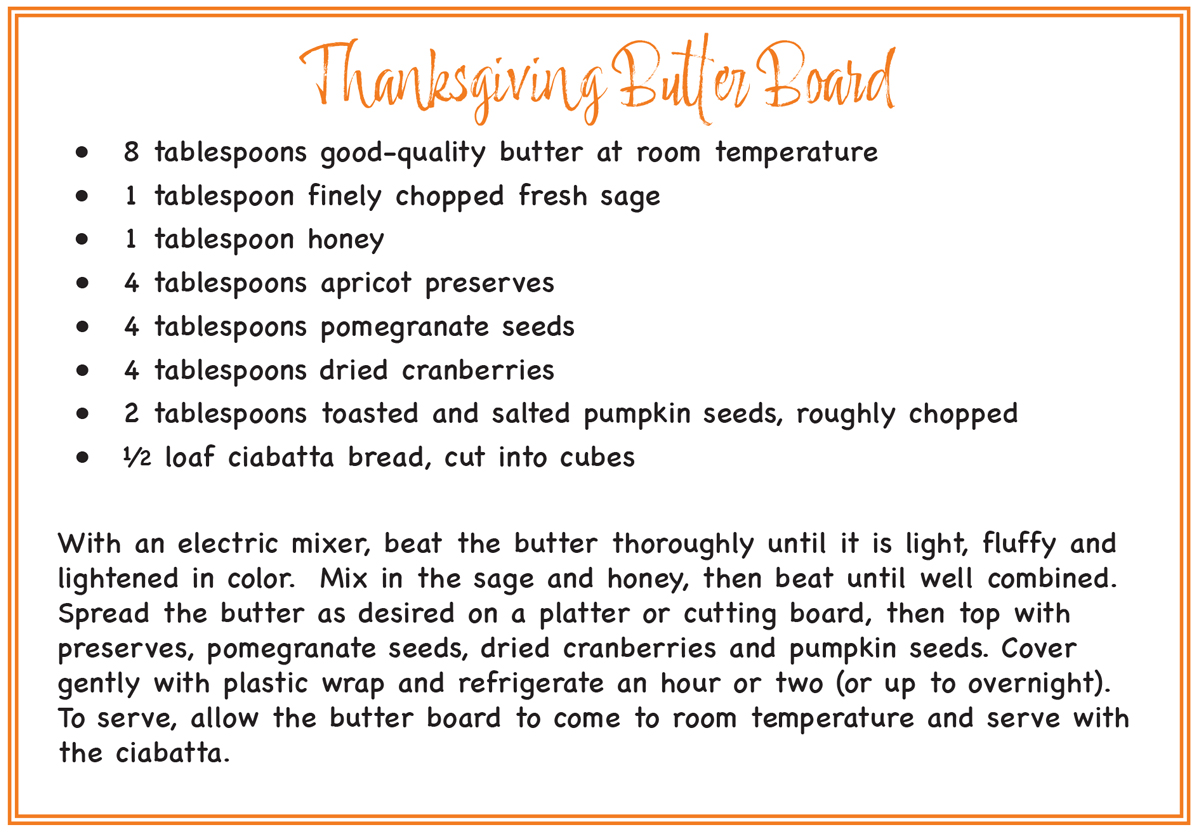 Thanksgiving Butter Board
8 tablespoons good-quality butter at room temperature

1 tablespoon finely chopped fresh sage

1 tablespoon honey

4 tablespoons apricot preserves

4 tablespoons pomegranate seeds

4 tablespoons dried cranberries

2 tablespoons toasted and salted pumpkin seeds, roughly chopped

½ loaf ciabatta bread, cut into cubes
With an electric mixer, beat the butter thoroughly until it is light, fluffy and lightened in color.  Mix in the sage and honey, then beat until well combined.  Spread the butter as desired on a platter or cutting board, then top with preserves, pomegranate seeds, dried cranberries and pumpkin seeds. Cover gently with plastic wrap and refrigerate an hour or two (or up to overnight).  To serve, allow the butter board to come to room temperature and serve with the ciabatta.
Article and photos by Lisa Crockett