A pot roast for my Valentine
February 1, 2022
/
/
Comments Off

on A pot roast for my Valentine
Article and photo by Lisa Crockett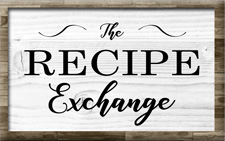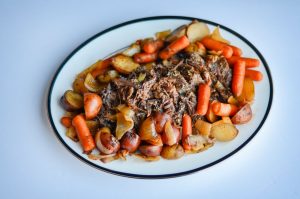 There was a time, a long time ago, when Valentine's Day meant I would be getting dressed up and heading out to eat something delicious, possibly after being gifted a dozen roses or a box of chocolate truffles. Of course, said dinner would have been consumed after a long wait in an overcrowded space, and for many years, I was more than willing to tolerate extreme hassle in the name of romance. At the risk of sounding like a curmudgeon, those days are over. It's not that I no longer like romance, but my definition of what that means has expanded greatly and tends to include homemade delicacies that require no reservations and no waiting.
This year, Valentine's Day falls on a Monday, which I think we can all agree is the least romantic day of the week. After a busy day of work and other chores, I simply lack the bandwidth for waiting to get a table, waiting on slow service, and waiting for a check. Instead, comfy clothes (who says sweatpants can't be cute?) and a simple supper by the glow of the fire in my living room is exactly my idea of a great night in. Not only does my dinner taste great, but my kitchen is a quiet and comfortable space for sparkling conversation and possibly a good movie on television. Still, even though dinner at home cuts out the craziness that is a restaurant on Valentine's Day, cooking at home of course presents its own set of challenges, particularly at the end of a long day.
Enter the Crock-Pot. I know what you're thinking – what could be less romantic than a slow cooker? Hear me out on this. A tender pot roast is completely in reach through the use of a slow cooker. Also, cleanup is minimal, so you and your Valentine won't be up all night doing dishes. This roast comes together in just a few minutes, and unlike many recipes I've used, the roast doesn't need to be browned on the stovetop before tucking it into the slow cooker. Instead, this recipe includes Worcestershire sauce, which gives the roast a lovely depth of flavor without creating another pan to wash.
Everything in this recipe can be put into the Crock-Pot the night before you cook it, so before work Monday morning, pull it out of the fridge, turn on the slow cooker and head out the door. I use baby carrots so I don't have to peel and slice them. I do cut up my potatoes and chop an onion, but that's the extent of the prep on this one.
After a long, slow simmer, I plate this up with a simple tossed salad and crusty bread with butter. The flavors are warm and comforting, especially on what is almost always a cold day. Sometimes, I whip up a simple chocolate mousse for dessert, but I often find that a few chocolates out of my traditional heart-shaped box is the perfect ending to this homey meal.
When dinner is over, I typically find that there are several slices of roast left for sandwiches the next day. I will slice up a bit of the leftover bread, top it with this pot roast and a slice of cheddar cheese, then put it under the broiler until melty, which warms the meat and crisps up the bread.
So, on February 15, I can have a tasty dinner on the table in under 15 minutes which is so romantic it makes things feel like Valentine's Day all over again.
Monday Pot Roast for Valentine's Recipe
1 tablespoon plus 1 teaspoon cornstarch
¾ cup low-sodium chicken broth
3 tablespoons tomato paste
1 pound baby red or gold potatoes
2 cups baby carrots
1 yellow onion, chopped roughly
2 tablespoons Worcestershire sauce
Salt and pepper to taste
1 chuck tender roast (about 3 pounds)
4 cloves garlic, minced
In a slow cooker, mix cornstarch and 2 tablespoons of the broth until smooth. Add remaining broth, tomato paste, potatoes, carrots, onion and Worcestershire. Stir to coat vegetables. Season roast with salt and pepper and place on top of vegetables, sprinkle with garlic, then cook on low for 8 to 10 hours until tender. Allow cooked roast to rest for about 10 minutes, then slice against the grain. Serve roast and vegetables drizzled with juices.