A star on the stage and behind the scenes
November 1, 2015
/
/
Comments Off

on A star on the stage and behind the scenes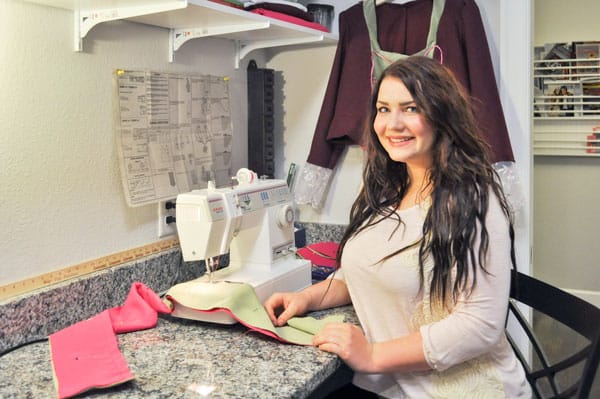 By Amy Shanahan; photos courtesy of Pam Caruso
Castle View High School (CVHS) is excited to invite the community to Be Our Guest as they present the musical version of the well-loved story of "Beauty and the Beast" as their fall musical. The show brings together over 90 students who play a part in this wonderful production, between the performers, musicians and technical crew.
Senior Erica Caruso plays the part of Mrs. Potts, and she also works as part of the technical crew backstage. Caruso hopes to study musical theater and production arts in college, and has found that her work on the musicals at CVHS has given her tremendous experience toward her future goal. "I got involved in theater when I was very little and have found a passion that I would like to turn into a career," explained Caruso. "Most people don't realize that these productions are more than just about the performers. There is so much work that goes into creating a production, from building the sets, hanging the lights, designing the costumes and props, to directing and designing the show. I want to be a part of all of that."
"Beauty and the Beast" is sure to appeal to audience members of all ages, and the musical version is even more endearing as the musical numbers help bring the story to life and give it further depth. The cast and crew and musicians at CVHS are thrilled to bring this story to the local community. "The camaraderie and pride of the people who perform and work backstage is really obvious in this production," stated Caruso.
Performances of "Beauty and the Beast" will take place at CVHS from November 18 – 21. For ticket information, visit www.SeatYourSelf.biz/CastleView and for more information or questions, email CastleViewTheatre@gmail.com.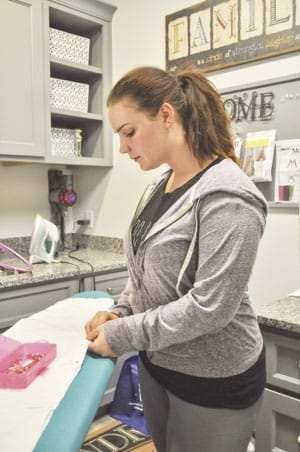 Senior Erica Caruso took it upon herself to sew her own costume for her role in "Beauty and the Beast" as further preparation for her future career in theater and production arts.