February 1, 2015
/
/
Comments Off

on Manna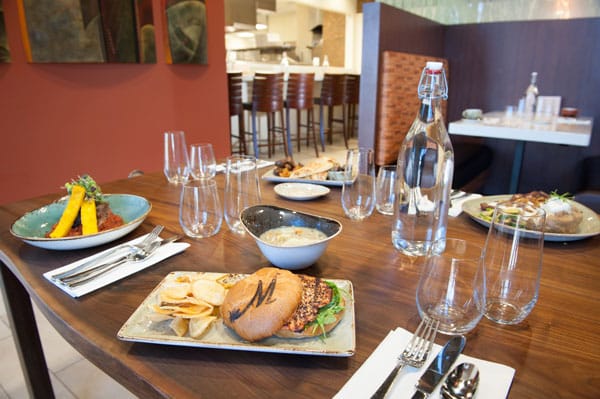 A Taste of Manna
Forget what you think you know about hospital food.  Manna, housed in the Castle Rock Adventist Hospital, offers cuisine that is elegant, delicious, and has an eye toward all things fresh and healthy.
By Lisa Crockett; photos courtesy of Manna Restaurant
Forget everything you think you know about hospital food.  Instead of limp lettuce on the salad bar and mediocre entrees languishing on the steam table, Castle Rock Adventist Hospital is home to Manna, a fine dining restaurant worthy of a special occasion.
"What we saw at other hospitals was that people would come down to the cafeteria, see something that wasn't very appealing and say 'hey, you want to go out'?" said Daniel Skay, the nutrition manager and executive chef of Manna. "We were looking to give them a reason to stay, to create a place that would be a peaceful escape."
Of course a restaurant in a hospital needs flexible options for people who need to be in and out in minutes, so the restaurant is home to "Manna Market," which offers ready-made pizza, sandwiches and other snacks. "Manna on the Move" offers call-ahead, take-out service, but both of those would probably be unlikely to attract a diner from outside the hospital.  Manna Restaurant, on the other hand, is worth the trip whether or not you have another reason to be visiting Castle Rock Adventist Hospital.
Beautiful, comfortable décor and efficient, friendly table service provide a perfect backdrop for delicious and unique menu items ranging from offerings like Thai sriracha orange wings to blackened Rocky Mountain trout.  Even a simple turkey burger boasts chipotle mascarpone, arugula and cranberry relish.  Though menu offerings are luxurious, prices are quite modest; most entrees range from $5 to $10.
Manna's kitchen is the same place where meals for patients are produced, so a focus on healthful eating comes naturally; multiple items on the Manna menu are vegetarian or gluten free.  An onsite garden provides herbs and some vegetables for the restaurant.  Skay works to partner with local suppliers whenever possible.  In keeping with the restaurant's motto to "bring God's bounty to the table," menus are changed seasonally.
At Manna, seasonal offerings like ahi tuna nicoise salad with Chenin
Blanc vinaigrette (above) and nasturtium salad with feta snow, besaola,
and purple basil pesto (below) are innovative dishes designed to
delight diners.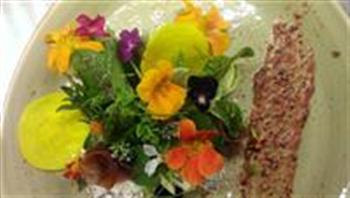 In February for example, enduring favorites like the "Diamond Ridge Pizza," which features beef prosciutto, fig preserves, mozzarella, gorgonzola, parmesan, and balsamic glaze will remain on the menu while the hazelnut gnocchi I enjoyed last month will be replaced by a butternut squash risotto with aged gouda and verjus.  Also new this month: adobo-braised short ribs, a "mac 'n' cheese of the week," buffalo-balsamic chicken tenders, and a hand-pulled garlic knot with bloomed basil seeds and burrata.  Everything on the menu from simple sandwiches to featured entrees is fresh and appealing.
The local community has taken note of what Manna has to offer, using social media to spread the word.  Sites like Yelp and TripAdvisor rate Manna as one of the best places to eat in Castle Rock.  National organizations have also given recognition to Manna for its innovative approach.
On February 16, Manna will host a booth at a charity event called "Soup for the Soul."  Manna is the only hospital restaurant invited to sit alongside some of Denver's finest restaurants like Fruition, Lower48 Kitchen, TAG, and Rioja at the event which benefits Porter Hospice, St. Anthony Hospice, and The Butterfly Program.
"We are really tied to and invested in the health of the community," said Skay.  "We're more engaged with the community than most hospitals, and part of that is Manna."
Manna Restaurant is located at Castle Rock Adventist Hospital, 2350 Meadows Boulevard in Castle Rock.  Manna is open from 10:30 a.m. until 9:00 p.m. Monday through Saturday and from 10:30 a.m. until 7:00 p.m. on Sunday.
For more information about Manna, visit them on Facebook or at www.castlerockhospital.org.  For more information about Soup for the Soul, visit www.soupforthesouldenver.org.