A taste of spring in this veggie-packed side dish
March 1, 2020
/
/
Comments Off

on A taste of spring in this veggie-packed side dish
Article and photo by Lisa Crockett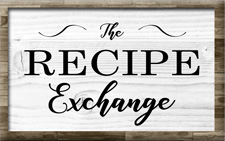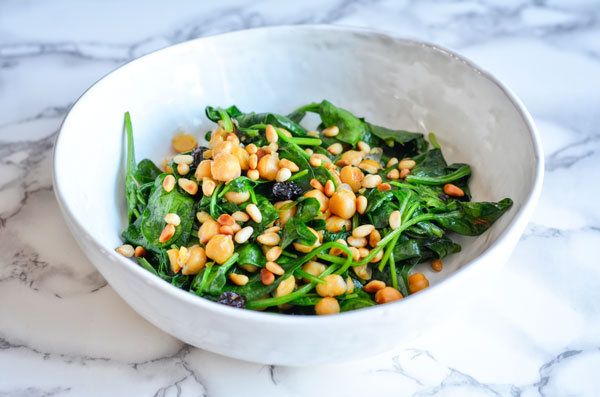 I have an aspirational collection of cookbooks. Sure, the internet is a virtually limitless source of ideas and inspiration for what I might do next in my kitchen, but there's something delightful about paging through a cookbook, especially one filled with exotic ingredients and luscious photography. My friends and loved ones all know about my affinity for these volumes, and I often receive these books as gifts. One of the things I love about many of these books is their impracticality. Which sounds silly, but there's something dreamy about a cookbook that suggests I might have the wherewithal to create a dish that requires a trip to three stores and the time to engage in a multitude of steps as well as hours on end tending to the oven or stove. I can't say it's never happened (I once baked and decorated a wedding cake just to see if I could do it), but most of the time my cookbooks function in my life in much the same way as novels do – as a pleasant escape.
One of my favorite storybook/cookbooks is my copy of San Francisco Flavors, San Francisco's Junior League's cookbook. The book was given to me by a dear friend for my birthday a few years ago, not only because it features lovely food, but also as a nod to my heritage as a Californian. While the recipes in this book aren't ridiculous in their complexity (I have some books that actually make me laugh out loud at the idea of following their directions), it's a rare day when I feel I can't tackle something from the book. A few weeks ago, during a bleak and snowy afternoon, I paged through the book mostly looking for a diversion and a reminder of warmer, sunnier days to come.
It had been a while since I had picked this particular book up, and while it was fun to look at recipes for roasted rack of lamb with artichokes and sunchokes and Asian pork with chive-ginger crepes, I never for a minute entertained the idea of actually making them. Then I happened upon the recipe for Italian spinach with garbanzo beans and raisins. In looking at the recipe, I realized that not only was this particular recipe quick and simple, I happened to have all the ingredients on hand – I could not say the same for the rose geranium pound cake. I whipped up the spinach in less than 30 minutes, and while the cookbook bills it as a side dish, I ate it as a light lunch with a piece of crusty bread on the side. It was delicious and a delightful change of pace.
Spring will be here soon, but in the meantime, early March can sometimes feel a bit bleak when it comes to what is available on store shelves. This baby spinach, fresh and tasty year-round, is a good way to work a hearty and flavorful vegetable into the menu, and canned garbanzo beans are easily available too.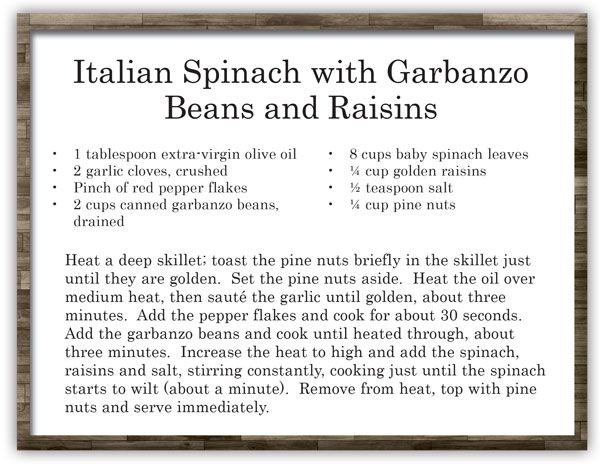 Spinach goes from pleasantly wilted to oddly limp in a matter of seconds, so it's critical to cook the spinach only until it starts to soften just a bit. Other than that tiny bit of technical know-how, this recipe couldn't be easier. This dish does lend itself to some improvisation, so don't be afraid to do things like increase or decrease the red pepper flakes as desired for the amount of heat you enjoy. Instead of golden raisins, sub in regular raisins, or even dried cranberries for a tart contrast. The pine nuts add a rich counterpoint to the flavor of the spinach, so increase them if you like.
This dish is hearty enough to stand alone, but it would also be a warming alternative to a side salad, perfect for a cool, early spring day. Pair it with roast chicken or fish and be ready to feel just a bit special. Make it for someone you love, and when they ask where you got the recipe, you can casually mention that it came from one of your favorite cookbooks, right after the recipe for grilled leeks with hazelnut vinaigrette – which, as it turns out, are also delicious.
San Francisco Flavors, Favorite Recipes from the Junior League of San Francisco, can be purchased on Amazon.com.