November 1, 2013
/
/
Comments Off

on The Tilted Kilt
A Taste of The Tilted Kilt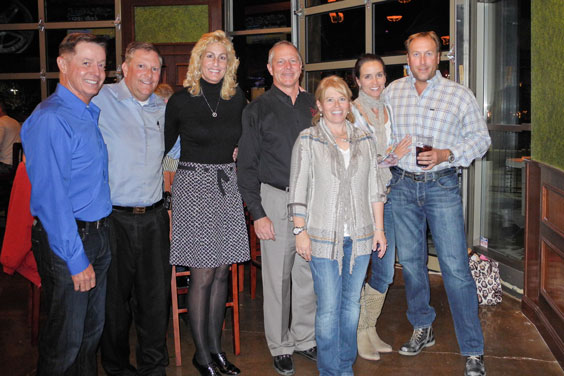 Good times at the Tilted Kilt! (Left to right) Gary Schultz, Jeff
Maerschalk, Sanya Maerschalk, Mark Voss, Lisa Voss, Rebecca Jungjohann
and Jim Jungjohann. The Vosses celebrate at the Denver Tech Center
location with friends and business associates. The Tilted Kilt features
pub-style food, with an emphasis on great service and sports.
By Lisa Crockett; photo courtesy of The Tilted Kilt
The weather is chilly outside, perfect for great food and great sports on television inside. At the Tilted Kilt, with locations in Denver and Greenwood Village, great food and great sports are what they do. It's cozy and comfy, and a little bit like home, if home were always sparking clean and featured countless televisions tuned to popular sporting events.
Castle Pines residents Mark and Lisa Voss have owned the Tilted Kilt in Denver for the last four years, and opened a second location in the Denver Tech Center about a year ago.
"We really like the 'pub' atmosphere here at the Tilted Kilt," said Lisa. "Ninety percent or more of the items on the menu are made from scratch; the food here really is a cut above. And when it comes to watching a game, because we have so many televisions, every seat really is the best seat in the house."
Though the food is made to appeal to American palates, it is influenced by pub fare found on menus throughout Ireland. Things like "Irish Nachos" which feature fresh-cooked crispy potato chips topped with ground beef and Guinness beer cheese sauce are house favorites. Classic fish and chips, shepherd's pie and Irish stew are served alongside American favorites like burgers and wings. Pasta, sandwiches and pizza round out the menu. Most entrees range from $8 to $15.
On a recent visit, I enjoyed a barbecue bacon cheeseburger piled high with crispy shoestring onions. The burger was perfectly cooked and juicy with a nice balance of tangy and sweet in the sauce. On the side, I enjoyed sweet potato fries. I intended to eat just a few to see how they tasted, but at the end of the meal the only thing left on my plate were crumbs.
"We hand make the hamburger patties here at the restaurant," said Lisa. "We really think they taste better that way."
Had I not eaten so many fries, I would have been tempted to order one of the desserts, called "The Tilted Guilt." Either a partially baked chocolate chip cookie or a warm brownie topped with vanilla ice cream and chocolate or caramel sauce. Lisa said it's one of her favorite indulgences.
A perfect place to hang out with friends, the Tilted Kilt offers a stack of board games as well as a giant Jenga game to add to the festive, homey atmosphere. On Monday evenings during football season from 3 p.m. to 6 p.m. at the Tech Center location, ESPN radio is at the Tilted Kilt doing a live remote show called "Monday Night Madness." Most Mondays (unless the Broncos have a Monday game), Bronco Captain Wesley Woodyard hosts a Bronco guest on the show from 5 p.m. to 6 p.m., affording fans the opportunity to grab a bite to eat and meet their favorite players.
"Denver is such a tremendous sports town, and we are really excited about ESPN radio being here."
The Tilted Kilt has two area locations: In Denver at 1201 16th Street Mall #120, and in the Tech Center at 8000 E. Belleview Avenue, Greenwood Village. The Tech Center location offers 36 craft beers on tap, and on the first Saturday of each month features a keg tapping. Hours of operation are Sunday through Thursday from 11 a.m. until midnight, and Friday and Saturday from 11 a.m. until 2 a.m.
For additional information, visit www.facebook.com/TiltedKiltDTC.
Sidebar: The Tilted Kilt
Location: 8000 E. Belleview Avenue
Hours: Sunday – Thursday, 11 a.m. until midnight, Friday and Saturday, 11 a.m. until 2 a.m.
Price: Travel Time from Castle Pines: About 20 minutes
Other details: With 36 craft beers on tap, there is always something interesting and new to try. Don't miss the monthly keg tap the first Saturday of each month at the Tech Center location.