Adaptive bike would help get a local child moving
April 1, 2017
/
/
Comments Off

on Adaptive bike would help get a local child moving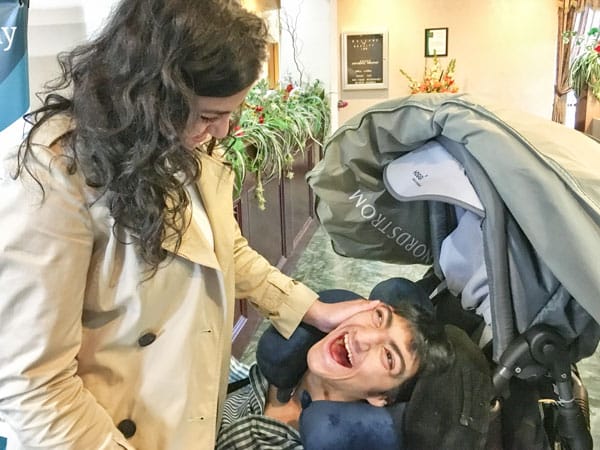 Kian Lame's smile is as large as his zest for life as he visits his sister Yasmine at her college campus. Kian's family is hoping to raise money to purchase an adaptive bike so that he can enjoy the feeling of independence and joy that all kids deserve.

By Nancy Koontz; photos courtesy of Neda Arami
It is hard to find someone who does not have fond memories of growing up riding their bike as a kid. Kian Lame, who lives in Castle Pines Village, needs a special adaptive bike built by an adaptive bike company, so he has a chance to thrive like any other child. In Kian's case, the bike would give him the feeling of joy and independence that all children deserve. The cost of an adaptive bike is making it difficult for Kian's family to attain one at this time, and insurance companies will not cover the cost.

Kian, age 16, has spastic cerebral palsy (CP) with quadriplegia, which is a developmental disorder caused by damage to the brain at birth and prevents the normal development of motor function.

Kian was diagnosed with CP as a result of hypoxia at birth at a hospital in Denver. From the time Kian was a child, he has been a fighter and has beaten many odds said his mother, Neda. Neda went on to say, "Kian has a true zest for life and has a great attitude with a smile that lights up a room! He loves to be around his peers and laughs uncontrollably when he is with them. He is very smart, social and loves school … and has made lots of friends. Kian is involved in Special Olympics and plays adaptive wheelchair basketball."
When a student has special needs like Kian, emotions and concerns are magnified. The daily rituals (most of us take for granted) like being able to get dressed, eat, drink, go to the bathroom, attend to our bathing and grooming needs – or even just stand up and be able to walk – are easy and come natural to us. For children with disabilities, any type of care and assistance is life-changing.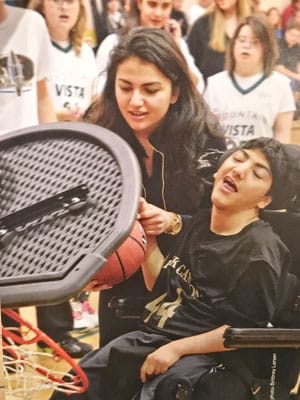 Cerebral palsy does not deter Kian from participating in activities and living his life to the fullest. He plays on an adaptive wheelchair basketball team at RCHS and participates in the Special Olympics.

Kian's family was hoping to receive an adaptive bike through "The Great Bike Giveaway," which is a program through The Friendship Circle. The organization partners with bike companies to help give children new adaptive bikes. Unfortunately, Kian's family was not able to raise enough funds through The Great Bike Giveaway and he was not awarded a bike. His family is looking for other ways to raise approximately $3,000 for his adaptive bike.
When asked what the family has learned from Kian through his journey, Neda said, "Kian has taught us to never take anything for granted and to appreciate every moment with open arms. In so many ways, he shows us over and over again that he is intelligent and caring and that he is willing to push all boundaries to be included in activities and live his life to its fullest!"
Kian's family is hoping to put him in the driver's seat with the bike he needs to feel less isolated and to be in better control of his destiny. Anyone interested in helping to achieve this goal is invited to contact Neda at nedaarami@yahoo.com