All aboard the Game Train!
December 1, 2020
/
/
Comments Off

on All aboard the Game Train!
Article and photos by Chris Michlewicz
A restaurant that combines an immersive travel-by-train experience with hundreds of board games is entertaining stir-crazy families and groups of friends during challenging times.
Game Train, located in the Promenade Shopping Center on the southeast corner of County Line Road and University Boulevard in Highlands Ranch, opened in April 2019. Initially noted for its delicious food, it didn't take guests long to realize they also had a choice of 485 board games to play. There are the classics, like Life, Monopoly and Battleship, but also a well-rounded selection of newer titles, such as Everdell, Catan and, of course, the train-based game Ticket to Ride.
Perhaps the most striking aspect of Game Train, however, is that visitors are virtually whisked off to distant lands (well, California anyway) while they dine and play games. Depending on which simulated passenger train car you're in, you can be traveling through either the Redwoods, along the Pacific Coast or through wine country. High definition TVs act as windows, showing the lush, scenic landscape that passengers in a train would see rolling by. Shakers in the suspended floor system make it feel as if the train is actually moving.
"We're going for a board game getaway where people can feel like they're getting away from town by riding on simulated train cars," said Kevin Christian, who owns Game Train along with his wife, Jo Ellen.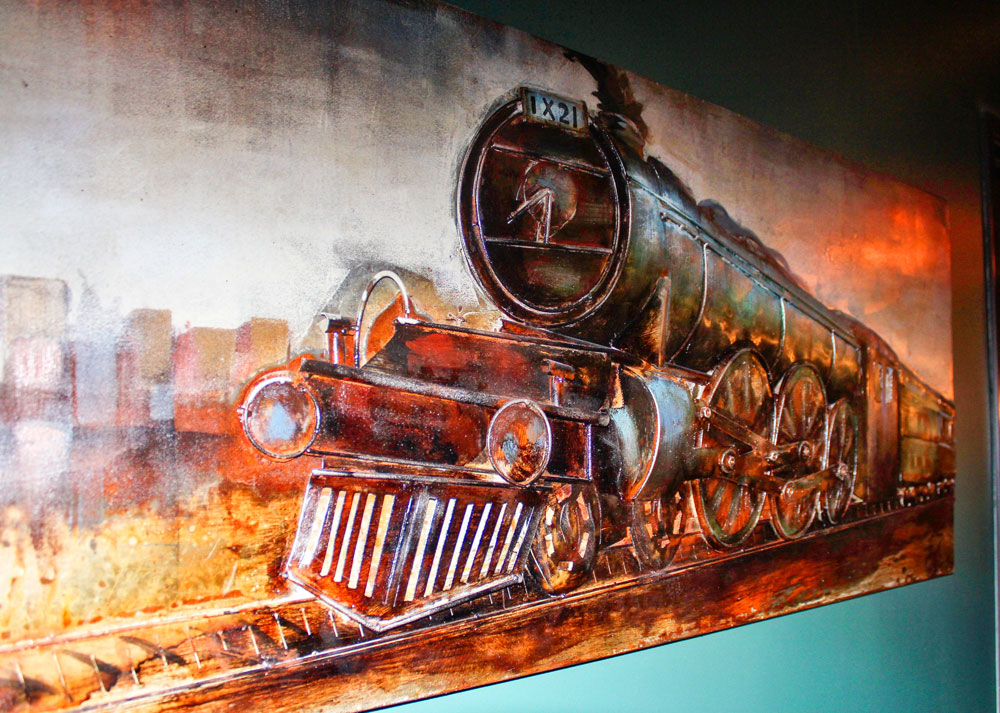 The concept is proving especially popular during the pandemic, when out-of-state travel options are more limited. That doesn't mean Game Train hasn't been affected by rules for gatherings in indoor spaces, though. They began offering takeout in March, hosted outdoor movie nights and bingo in the parking lot during the summer, and quickly enhanced their selection of board games for sale because so many were wanting to buy games when the pandemic shutdowns hit.
Kevin, who spent 40 years in the information technology industry, said the suburbs are lacking in family destinations like a game cafe, and he and his wife wanted to bring a piece of Disney-like magic to the area. The interior of the train car replicas have a Victorian theme, and there are gears and cogs adorning the bar area, furthering the steampunk vibe.
Game Train truly is a unique experience, and the American fare on the menu only adds to the fun. They have a build-your-own mac and cheese dish, pizza, appetizers and dippin' tots, which come with an assortment of special dips like queso and sweet Asian sauce. The restaurant also serves alcohol and is considering adding an espresso bar.
For more information about Game Train, which is located at 2690 E. County Line Road, Suite E in Highlands Ranch, visit www.gametrainusa.com.