July 1, 2016
/
/
Comments Off

on Honey B's Macarons
Always bee delicious at honey B's macarons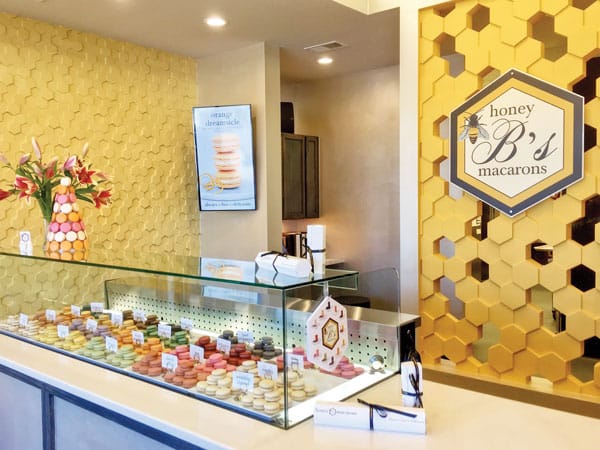 By Lynne Marsala Basche
Imagine gazing upon beautifully-crafted, delicate confections.  Eyes dance over the gorgeous display case, dashing from tray to tray.  Mouths water while reading placards with names such as orange dreamsicle, strawberries and  cream, and milk chocolate basil  and cracked black pepper.  Antici-pation builds as thoughts swirl imagining the first bite. Welcome  to honey B's macarons.
To clear up any possible confusion, there is a difference between a macaron and a macaroon – besides the additional "o."  A macaron describes a particular type of cookie  that is a meringue-based treat sandwiched together with a filling   A macaroon, on the other hand, is  a somewhat generic term that describes a cookie usually made with coconut  and is dense and chewy.
In 2006, Michelle Naherny and her family moved to Castle Pines from Canada.  Naherny had been working  in the corporate world before becoming a stay at home mom, but she was quickly becoming known around the neighborhood as a fabulous cake maker.  While Naherny was not a baker by trade, her grandfather was an award-winning pastry chef and passed down his passion.  In 2014, Naherny was asked to make macarons, which, based on their delicate nature and the Colorado altitude, presented a challenge.  After six months, more than 400 pounds of flou, wearing out an oven, and more patience than Naherny thought possible, the recipe for honey B's macarons was born.  (However, even with a successful recipe, ingredient quantities must be tweaked depending on the humidity levels on any given day, which Naherny closely monitors.)


With a recipe created, it was time  for a name.  Naherny's nickname  for her husband Brent is "Honey B," and since he tended to the hives  that produced the honey for some macarons, the name "honey B"  seemed most appropriate.After using a commissary in Lakewood for more than two years to make her macarons, Naherny decided it was  time to take the leap into opening a store.  Honey B's macarons, located in Highlands Ranch, opened in March 2016 and has already garnered a large following.  The success is no doubt due to Naherny's attention to detail, creativity and passion for bringing delicious macarons to the area.
When confections are made using only a few ingredients, it is important that those ingredients are the finest an freshest possible.  Naherny only makes honey B's macaron shells with egg whites, almond flour and granulated an confectioner's sugars.  The confection is then filled with handmade fillings su as creamy ganache, luscious buttercream or fresh jam.  Honey B's macarons, which are gluten-free, do not contain any artificial flavors, fillers or swee-ers.  And while Naherny can customize the shell colors and flavors for we-dings, showers and corporate events, only FDA-approved edible ink is used.
Walking through the doors at honey B's macarons is like stepping into a beehive except with a different type of worker bee buzzing around.  The warm honey-toned walls reflect a hives colors with a playful honeycomb pattern.  The sleek, uncluttered space is more like a boutique, and with the exception of selling honey, Naherny has no plans to add other products.
On a daily basis, honey B's macarons offers 12 classic flavors such as vanilla coconut, lemon, salted caramel and their signature honey macaron, which is made with honey from one of three Naherny backyard hives.  Daily flavo specials may include coffee, lavender, jalapeno, and strawberry temptation.  To try a sampling of flavors, be sure to sto by honey B's macarons for Mini Mac Monday when selected treats are bite size and offered at a lower price.
After tasting several varieties, I quickly realized that honey B's macarons are not a "fill your cookie jar" type of cooki – although any cookie jar would be honored to hold such a delicacy.  These treats are meant to be savored, and knowing my child would not appreciate the subtle tastes, I opted to hide my honey B's macarons.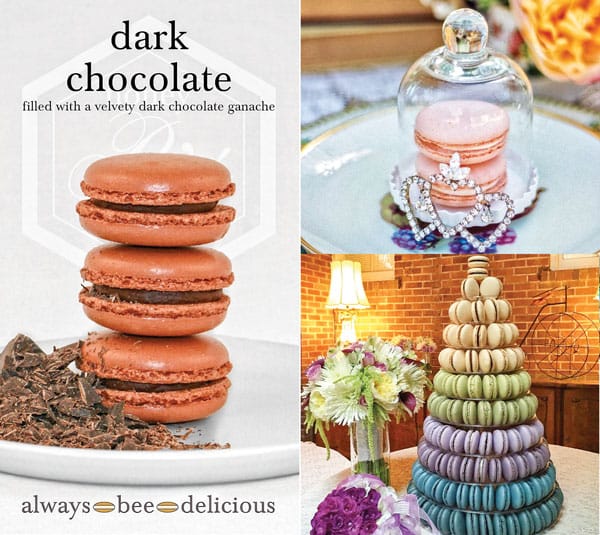 Macarons are characterized by their smooth shiny tops and ruffled edges.  M first honey Bs macaron was coffee, and as I bit into it I encountered the thinnest layer of crispy shell before hitting the creamy meringue and then the delightful filling, which was just the perfect amoun of sweet.  Interestingly, all macaron shells taste the same and the flavo comes from the filling. The pistachio macaron, with its freshly-ground nuts, had a burst of flavor that made me exhal in pure contentment.  The rose macaron tastes exactly like a rose smells, which is courtesy of the rose essence coming from France.  (The lavender macaron is also made with lavender imported from France, but that was not a daily special on my visit.)  Each tiny domed treat was a flavorful, tende, light and sweet experience.
Macarons can be purchased online or at the store and individually or in bulk.  Naherny specializes in towers holding 60 macarons or tiered stands displaying up to 237 delicious treats.  Honey B's macarons also offers engraved bell jars, favor bags, and gift boxes to accommodate various events.
honey B's macarons
40 West Springer Drive
Highlands Ranch 80129
303-565-6700
Open daily from 9 a.m. to 6 p.m.
www.honeybsmacarons.com
Follow honey B's macarons on Facebook and Instagram for daily specials and current inventory.