Angels Among Us – On a mission to create a world without type 1 diabetes: the Juvenile Diabetes Research Foundation
November 1, 2018
/
/
Comments Off

on Angels Among Us – On a mission to create a world without type 1 diabetes: the Juvenile Diabetes Research Foundation

The belief that nonprofit organizations strengthen our community, combined with faith in our readership and humanity in general that we all have talents to share, The Castle Pines Connection is committed to featuring a different local nonprofit each month. This month we highlight the Denver chapter of the Juvenile Diabetes Research Foundation because of its special connection to our Chalk It Up 4 Charity winner.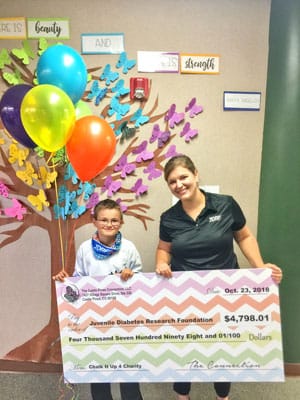 Nine-year-old Nathan Fields (left), winner of The Connection's Chalk It Up 4 Charity event, chose JDRF as the recipient of the proceeds from the contest. JDRF's Rocky Mountain Chapter Development Director, Hannah Hoogenboom, met with Nathan at Timber Trail Elementary School to receive the check.

Article and photo by Elise Brassell; photos courtesy of Juvenile Diabetes Research Foundation
About one and one-quarter million Americans have type 1 diabetes (T1D), an auto-immune disease that strikes suddenly regardless of diet or lifestyle, can't be prevented, and has no cure.
T1D causes the pancreas to stop producing insulin – a hormone the body needs to get energy from food. For people with T1D, this means developing a new understanding of how to monitor and manage the body's blood-sugar level, and learning how to inject or infuse insulin into the body.
The Juvenile Diabetes Research Foundation (JDRF) is a global nonprofit organization dedicated to funding research to find a cure for T1D, with a special focus on children. Hannah Hoogenboom, development director of JDRF's Rocky Mountain chapter said, "Thanks to donations, JDRF is able to pursue a diversified, dynamic research agenda that is moving us ever closer to a world without T1D! This fiscal year, the Rocky Mountain chapter raised over $2.67 million and has over 35,000 people engaged."
Each year, the Rocky Mountain chapter holds the JDRF One Walk to raise funds for research, which this year included about 8,000 participants, including several families from Timber Trail Elementary School. The Fields family, whose fourth-grade son Nathan was recently diagnosed with T1D, were among the participants.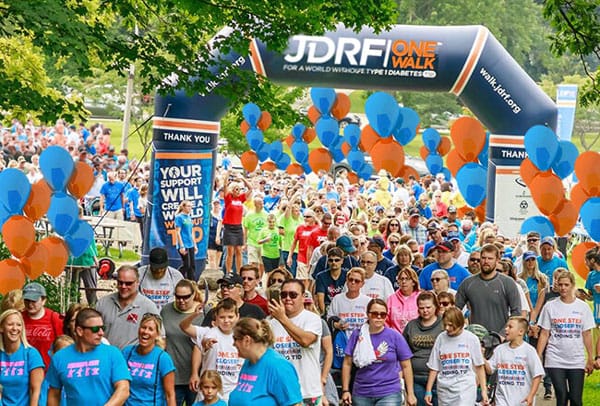 The T1D community in the Rocky Mountain region raises funds for disease research each year at the JDRF One Walk event, to "turn type 1 into type none."

"The JDRF walk for us was bitter sweet. To see all of those children with T1D was heart breaking," said Pam Fields, mother of Nathan. "But the thousands of people there to support JDRF was amazing. It reinforced that we are not alone in this battle. This disease is something that these kids have to deal with every single minute of every day and night. These families never get a break from it or from the worry about the possible long term issues they could have. Going to the walk and knowing all of those people are there to help research to find a cure, gave us hope that someday no child or family will have to deal with this ever again," she said$2.
JDRF was founded by parents determined to find a cure for their children with T1D. To date, the organization has funded more than $2 billion in research. Every dollar that JDRF contributes toward research comes from donations. To learn more about the organization, to donate, or discover more ways to help through the Rocky Mountain chapter, visit JDRF.org/rockymountain.
We invite readers to send suggestions for nonprofit organizations to feature. Email editor@castlepinesconnection.com.
We look forward to learning more and sharing information about nonprofits in our community throughout the year.