August 1, 2022
/
/
Comments Off

on Beau Jo's 2go

The most well-known purveyor of Colorado-style pizza has made its way to northern Douglas County.
Beau Jo's opened a new location in Lone Tree in early June, much to the delight of die-hard fans and more recent arrivals who are just now discovering what "Colorado mountain pies" are all about.
The Lone Tree location, on the southeast corner of Yosemite Street and Park Meadows Drive, is a new concept called Beau Jo's 2go, which specializes in delivery and to-go orders. Customers can eat there, however, the eatery's quick-serve model means there's no table service. This is their way of keeping prices in check and adapting to the statewide shortage of restaurant workers.
But the full menu remains intact. People can still order favorites like beaughetti (choice of linguini or cavatappi and marinara or alfredo sauce in a Beau Jo's bread bowl) or the Italian turkey sandwich (turkey, salami, turkey pepperoni, tomatoes, provolone and basil, served with a side of Italian dressing).
Of course, the pizza is the star of the show. A pile of toppings is surrounded by signature thick, hand-rolled crust fashioned out of fresh-made dough. Customers can custom-make their pizza or order from tried-and-true options, like the Hipster (roasted garlic-olive oil sauce, spinach, roasted red peppers, pineapple, pepperoncini peppers, mozzarella and ricotta cheeses), the Hawaiian BBQ (barbecue sauce, Canadian bacon, chicken, pineapple, roasted red peppers, and provolone cheeses) or the Motherlode (Beau Jo's pizza sauce, salami, pepperoni, meatballs, bacon, Italian sausage, Canadian bacon, and mozzarella cheese).
Having been in business for nearly half a century, Beau Jo's has built a reputation that few other institutions enjoy. This is because the chain offers something a little different and isn't afraid to try things that are out of the norm. For decades, it has encouraged customers to pair its crust with Colorado honey, which can be found on every table.
Beau Jo's was also one of the first pizza places in Colorado to offer gluten-free pizza, and it has served dairy-free and vegan options for over 20 years. Several years ago, it introduced a cauliflower crust that was permanently added to the menu. Honey cheese bread has also become a staple, and it can be either an appetizer or dessert. Speaking of dessert, Beau Jo's also makes out-of-this-world cobblers, including apple, cherry and peach.
"As Coloradans, we're doing outdoor stuff all the time, and it creates a heavy appetite," said Codi Bair, director of marketing for the company. She added that the hearty style of pizza is meant to satisfy those who take advantage of the state's many activities throughout the year.
Even out-of-staters, who have become hooked on Beau Jo's during trips to Colorado, can order delivery. The pies are shipped frozen throughout the
U.S. by Goldbelly, an online food shipping website.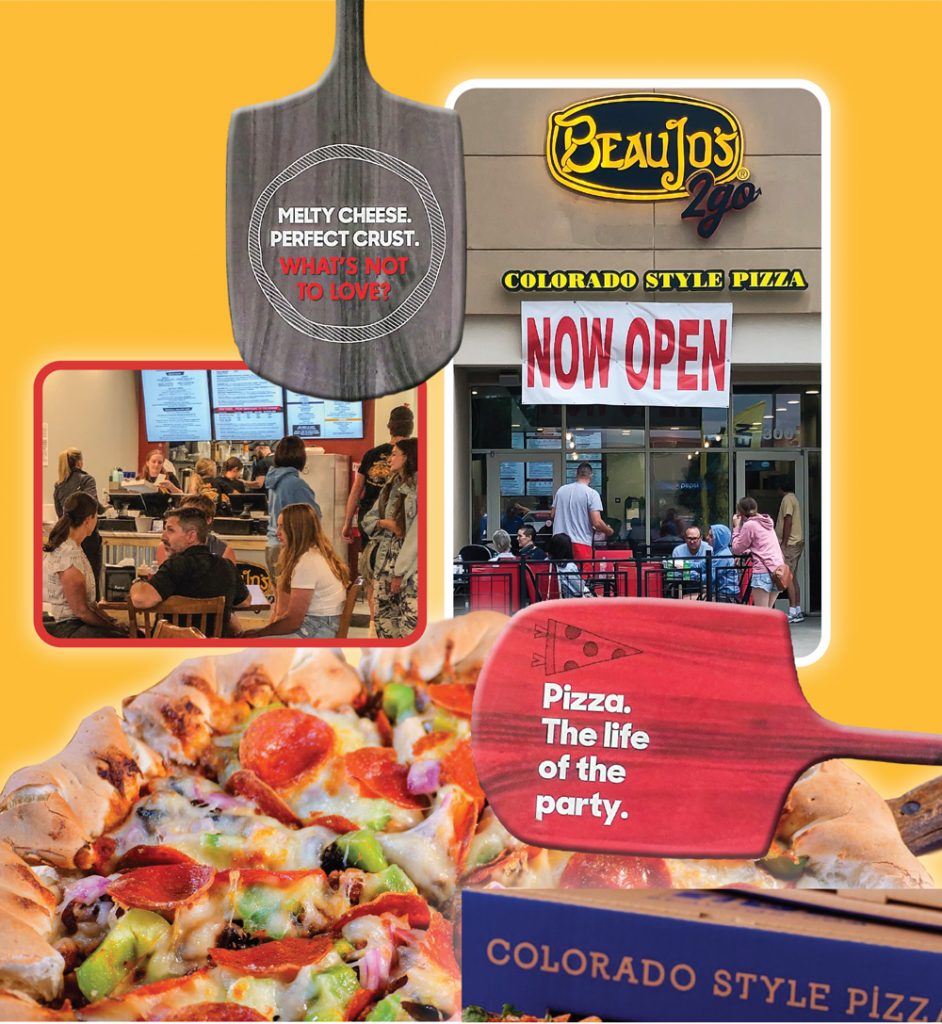 Since Beau Jo's lost its lease at Colorado Boulevard and Yale Avenue a few years ago, its restaurants have been concentrated in the northern and western tiers of the state. The Lone Tree locale — the company's seventh location (Idaho Springs, Steamboat Springs, Fort Collins, Longmont, Evergreen, and Arvada are the others) – is meant to
re-establish a presence in the south metro area.
"We really missed the south part of Denver and we lost a lot of brand awareness," said Bair. "Lone Tree, Castle Pines, Parker, Castle Rock, all of those places are just booming and [the population] falls right in line with our demographic."
Many Colorado residents know Beau Jo's as much for its community involvement as its delectable pizza and pastas. It often sponsors local events and partners with nonprofits, including Make-A-Wish Foundation and animal shelters, for fundraising efforts.
As for its longevity, Bair credits the company's founders for creating a long-lasting legacy through a top-quality product, but also for being ahead of the curve.
"We cater to what's up and coming, not just the trends, but stuff people actually need and want to eat," she said.
By Chris Michlewicz
Beau Jo's Lone Tree
9234 Park Meadows Dr., Suite 300
Lone Tree, CO 80124
www.beaujos.com/locations/lone-tree/