August 25, 2022
/
/
Comments Off

on Beau Thai II
Fits the bill for lovers of worldly cuisine
By Chris Michlewicz
A tradition born in kitchens thousands of miles away has made its way to the plates of a Castle Rock restaurant.
Beau Thai II, an eatery on the northwest corner of Factory Shops Boulevard and New Beale Street near The Outlets at Castle Rock, has been serving Thai food with an Indian twist since 2018. The owners – Anita Gurung, her husband, Yubraj, and her sister, Binita – came from Nepal in the 2000s. Before Anita and Yubraj embarked on a journey that brought them to Nederland, Colorado, where they opened Katmandu Restaurant in 2001, they became five-star chefs in their native cuisine.
Their craft is defined by their ability to blend regional dishes into something that has customers coming back for more, again and again.
"The Thai food you will experience at Beau Thai II has a host of unique and delicious ingredients that are not found in other cuisines. It balances the flavors of salty, sour, spicy and sweet in a way that's hard to describe without tasting it," according to its owners.
The number of patrons has steadily increased at the Castle Rock location as new diners discover what lies inside the unassuming inline retail location.
A first look at the menu reveals an assortment of mouth-watering entree options like roasted basil duck, green curry chicken, Thai red curry tofu and pad cashew shrimp. But first, it's worth considering a starter order, like the chicken satay, spring rolls or sticky rice with pineapple. When Anita and Yubraj travel, they often sample food that's similar to what Beau Thai II serves, and every time they come away believing that the flavor and variety in their dishes stands up against any other.
As the name denotes, Castle Rock's Beau Thai II is the second iteration of the eatery; the first opened in Evergreen in 2009. The third Beau Thai was getting prepped in the middle of August to open its doors on Tennyson Street in the Highlands.
"The Thai food you will experience at Beau Thai II has a host of unique and delicious ingredients that are not found in other cuisines."
Dabbling in a mix of Indian, Nepalese and Thai cuisines helped prepare the family-run chain's main chef, Yubraj, for the creation of the menu offerings. Anita also took culinary classes and excels in the kitchen. Ever the entrepreneurs, they're thinking about opening a Nepali-Indian food restaurant sometime in the coming years to satisfy the Denver area's growing appetite for such worldly delicacies. With all of the growth occurring in Douglas County in recent years, the family was drawn to Castle Rock. They are pleased to report that their food has been very well received.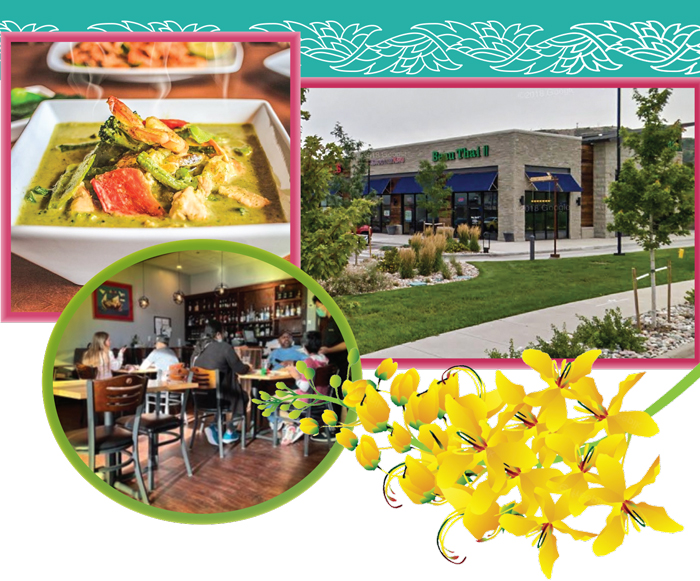 The restaurants are closed on Mondays to allow for family time.
"We are hard working, but I have to give a little bit of time with my son, and we always have to take care of ourselves," Anita said.
Being a family-run operation has its advantages at a time when it is hard for restaurants to find workers. Anita's younger brother and
parents have relocated to Colorado, as has much of Yubraj's family.
The recipes influenced by years of experience and refined by sophisticated palates have no doubt found a home in Castle Rock. Whether first-time diners try the drunken noodles calamari or the green papaya salad or the Chiang Mai spicy sausages or the mixed seafood, odds are good that their taste buds will draw them in for another taste in the not-too-distant future.