Behind the Badge: Douglas County Search and Rescue
May 1, 2022
/
/
Comments Off

on Behind the Badge: Douglas County Search and Rescue
Douglas County Search and Rescue (DCSAR) will soon add more than a dozen new fielded members. Currently DCSAR has about 50 trained volunteers. They come from many professional backgrounds, including engineering, management, sales, legal, aerospace and construction.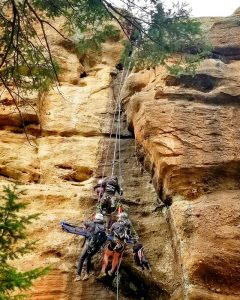 Each year, DCSAR holds training September through May; it is rigorous work and covers a wide variety of situations. "Land navigation with GPS and compass/map, medical training, CPR, search management fundamentals, scree evacuations, high-angle/vertical rescues, ATV and helicopter familiarizations, communications, and many other topics," listed DCSAR Public Information Officer Roman Bukary.
This year's new class also participated in The Mountain Rescue Association (MRA) accreditation alongside the rest of the search and rescue team. The reaccreditation must be done every five years and covers extensive testing in many of the above listed skills, in addition to winter rescue and avalanche operations. The MRA accreditation is the model for international standards. This accreditation allows DCSAR to respond to missions all over Colorado.
The current training class "is a highly motivated, good, tight class ready to become full, fielded members and to serve our community," said Bukary. The new class is evenly split female and male and ranges in age from 20s to 60s with varied life experience. They come from multiple locations within Douglas County.
DCSAR members are volunteers. They receive no monetary compensation and must provide their own equipment, gear, and gas to and from all missions. They also donate a substantial amount of time to training and missions. Each team member participates in four monthly training courses, two in the classroom and two in the field.
"For training alone, an average member donates 250 hours per year, plus response to missions, adding up to over 1,000 person-hours, plus miles and miles of driving," said Bukary.
Team members can gain additional training in specialty focused sub-teams. Some of these include technical rope rescue, K9, ATV, snowmobile, UAV/drone or medical. "Many of our members cross-train and are part of multiple sub-teams," Bukary explained.
A typical year sees about 150 missions, most right here in Douglas County. In 2021, DCSAR responded to 165 calls. There is no off-season for search and rescue. "Summertime in Douglas County and Colorado citizens as well as visitors to our state head outdoors, but we have missions every month of the year and are ready to respond 365/24/7, anytime and in any weather," Bukary stated.
DCSAR works closely with and under the authority of Douglas County Sheriff's Office (DCSO). They also partner with other agencies, both local and federal, including fire and law enforcement departments, State Park rangers, the National Forest Service, Flight for Life, Colorado National Guard and other sister MRA search and rescue agencies. The DCSO and DCSAR do not charge fees for their services.
To learn more, visit https://dcsarco.org/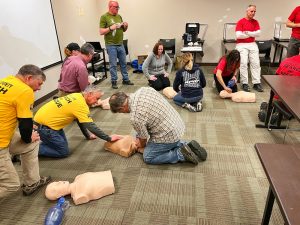 By Celeste McNeil; photos courtesy of Roman Bukary