Breaking Blue: Communications and Special Teams K-9 Unit
February 1, 2023
/
/
Comments Off

on Breaking Blue: Communications and Special Teams K-9 Unit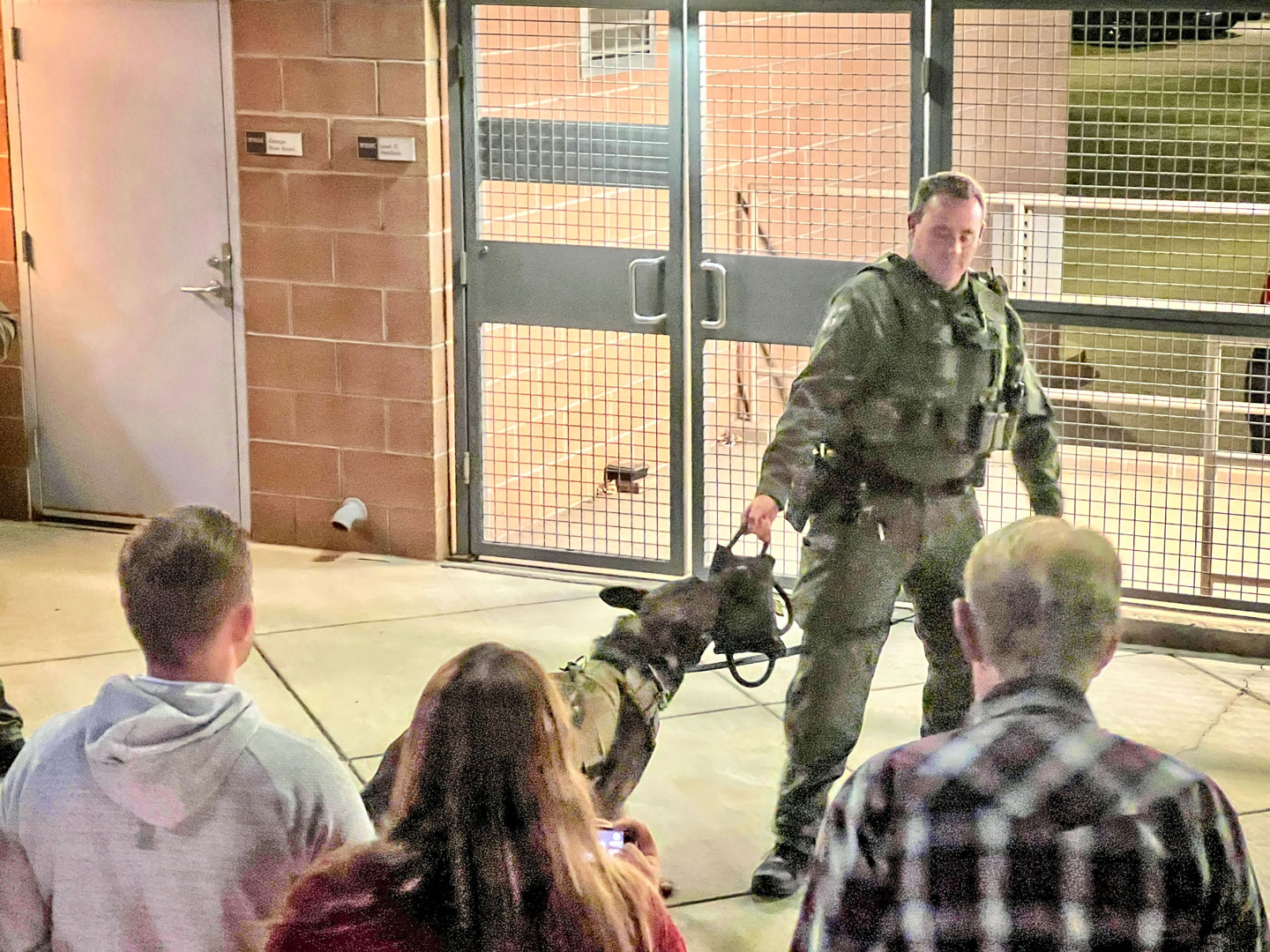 (DCSO) Citizens Academy delivered another riveting two-part class again this month, covering Communications and the Special Teams K-9 Units.
Dispatcher Kara Martin led the Communications portion of the class and gave a tour of the Communications Center.
The DCSO Communications Center handles dispatch for all of Douglas County, including five law enforcement agencies and 12 fire departments. This includes calls for service relating to public safety, as well as medical assistance response. Communication dispatchers are required to complete six months of training that also includes a certification in a 40-hour emergency medical course. Dispatchers must be able to give medical instructions over the phone until responders arrive at the scene. With more than 18 years of experience, Martin makes manning the dispatch board look like an easy game of Scrabble.
When calling 911, a responding dispatcher will always ask callers for their location and phone number. Dispatchers require two physical address verifications from cellphone callers, while landline callers only have to provide one verification. This is because cellphone calls can be pinging from the nearest cell phone tower instead of the actual location of the caller or the exact location off the phone. Dispatchers will verify with callers the address of their location, and in some cases, ask for additional information such as cross streets or landmarks.
Deputy Blake Davis and the Special Teams K-9 Unit took participants outside for a demonstration. The K-9 Units are rove units trained to locate cocaine, methamphetamine, fentanyl and heroine. Due to the safety risks of exposure to these substances and the recent increase in their usage, K-9s no longer enter cars during searches. The dogs will only search the outside of vehicles for the presence of narcotics.
DCSO K-9s generally are recruited from Gold Coast K-9 and must undergo six weeks of training with law enforcement officers. Depending on the litter, the most common breed is Belgian Malinois and purebred German Shepherds with an average cost around $20,000 to DCSO. Each K-9 is assigned to a K-9 deputy/handler and lives with his or her deputy. With six dogs currently working as narcotic officers for DCSO, Blue is the youngest recruit and Scooter is the oldest as a 10-year-old veteran. K-9s have a career span of five to nine years, provided they remain in good health. Upon retirement, their handler has the option to adopt them as a personal pet.
Continue following the Breaking Blue series and learn about the Wellness Program, the YES Program, the Community Safety Volunteer Program, and Victim Assistance Community Resources in our next issue.
Article and photos by ViVi Somphon