Breaking Blue: field day training
April 1, 2023
/
/
Comments Off

on Breaking Blue: field day training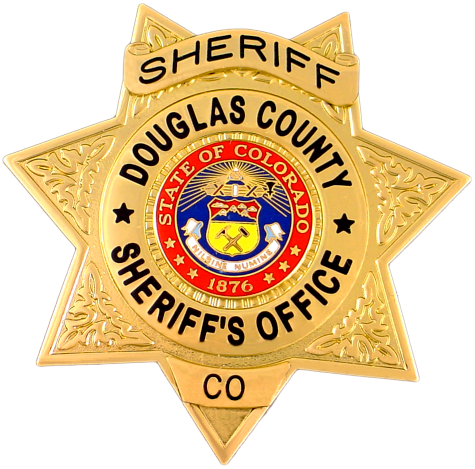 Academy participant Donna "DJ" McCloskey takes the driver's seat as leading officer for a traffic stop simulation. Douglas County Sheriff's Office (DCSO) pledges that the men and women of the DCSO will continually strive to ensure the safety of schools, neighborhoods and businesses through the core values of J.U.S.T.I.C.E.– Judgment, Unity, Skill, Trust, Ingenuity, Courage and Empowerment.
Part of this effort is extensive training at the DCSO-operated Highlands Ranch Law Enforcement Training Center, the largest of its kind in the state. The Citizens Academy took a field day trip to tour the facility and participate in some of the exercises. We experienced a day that consisted of traffic stops, shooting simulations and tactical training – just like officers, first responders, detectives, bomb squad, SWAT, K-9 units and other law enforcement officials experience.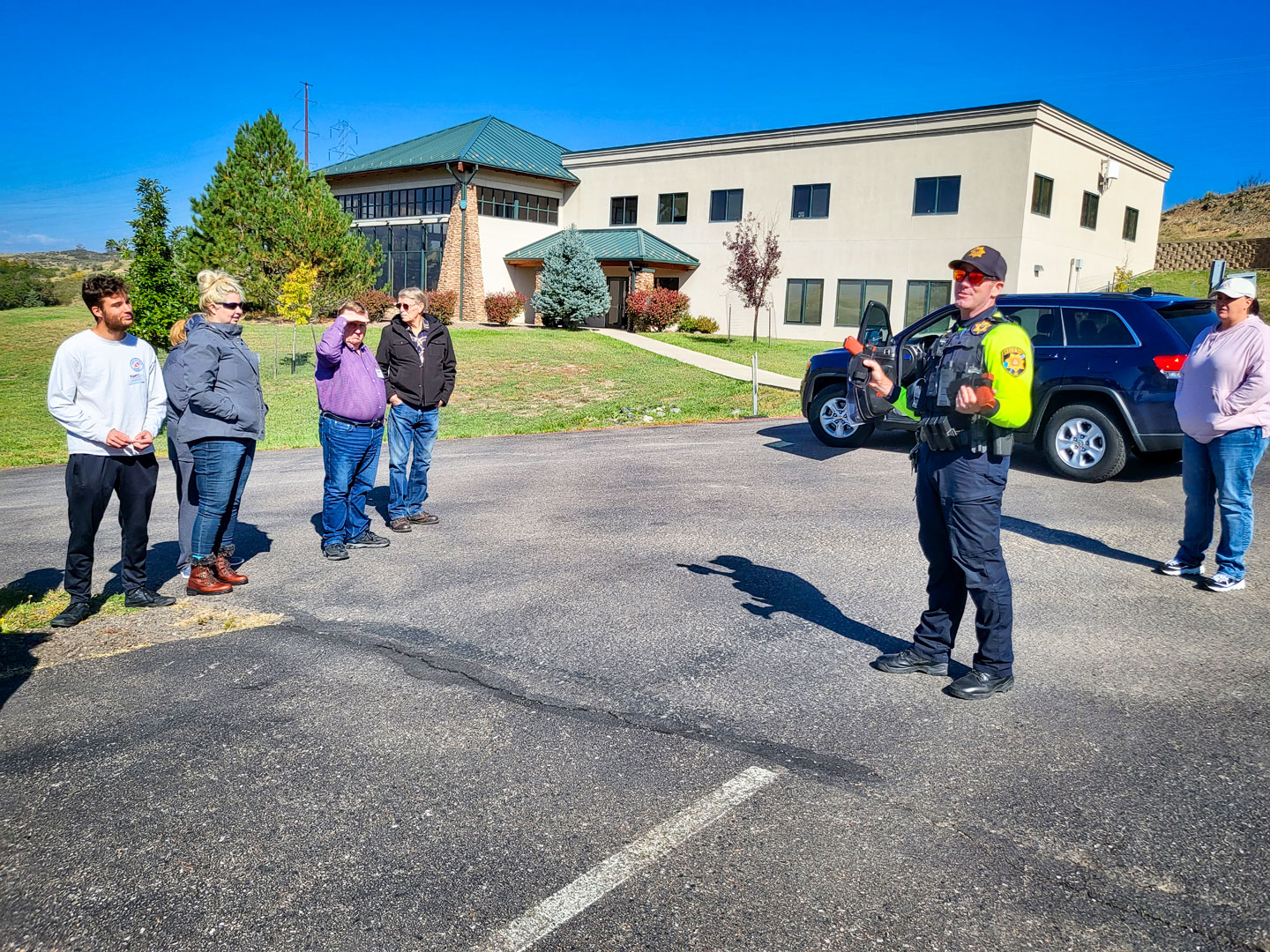 Officer Chad Davey recounted interactions and shared de-escalation methods that occur during routine traffic stops. Participants broke into teams consisting of a leading officer with a partner as a backup officer. Some of the situations addressed driving under the influence and/or impairment, issuing citations and performing traffic stops and vehicle searches. My scenario involved a speeding incident that led to suspicion of driving under the influence. My partner and I decided to give a warning rather than a citation; the driver was a designated driver trying to get his intoxicated friends home safely.
For the next session, we participated in Ti Training, a highly interactive learning experience that has more than 600 video scenarios and requires trainees to interact and apply the appropriate level of force for each real-life incident. The Ti simulator teaches trainees about crisis intervention and clear communication through a variety of situations, including use of force, active shooter, de-escalation and mental illness.
I participated in scenarios that involved an active threat / active killer, ambush, high-risk entry, hostage situation and suspicious suspect. The high-risk entry simulation had me at a warehouse; unfortunately, amid an ambush to capture the bad guys, I accidentally shot a fellow officer. Under immense pressure, time for judgment was a matter of seconds. I personally struggled the remainder of the class due to the traumatic and high emotions from that incident, but had a greater appreciation and insight into the kind of stressful environment first responders encounter daily. Teaching current and future police officers how to use weapons accurately is important, but knowing when to use force and which tool to use is essential.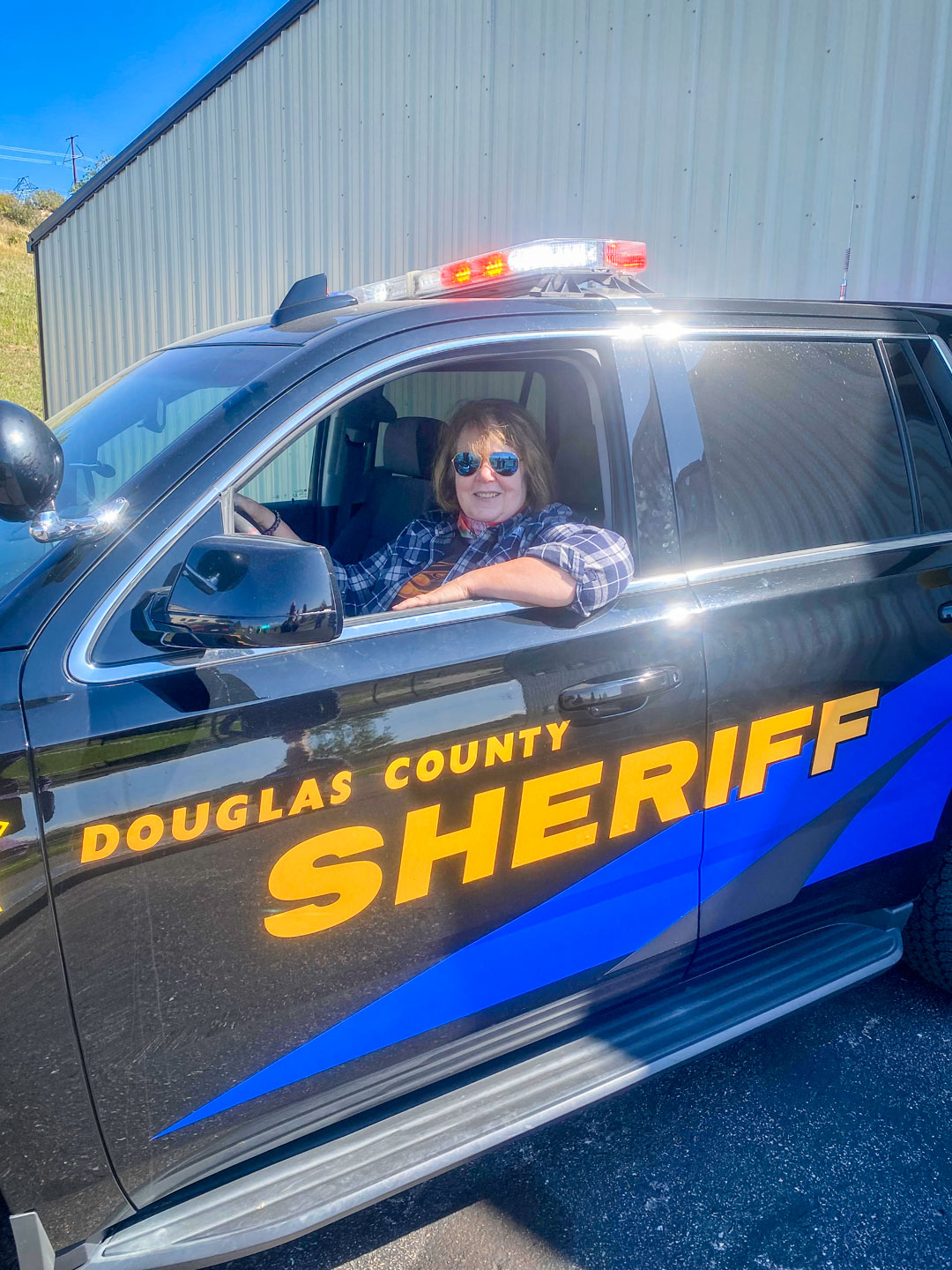 For the next part of the field trip, Sergeant Chuck Buckner taught us about defensive tactical training. When responding to calls and incidents, officers are faced with many variables and unknowns about a suspect. Officers rely mostly on nonverbal communication which accounts for more than 50% of the interactions with a suspect. Because officers are held to higher standards and accountability, Buckner demonstrated ways to disarm a suspect and keep officers from engaging in unnecessary physical violence. With recent media scrutiny on police use of force, defensive tactical training has become even more crucial in law enforcement training and is one of several efforts the DCSO consciously made to lessen potential for police misconduct and to deploy a dedicated, well-trained, professional, and effective police workforce
By ViVi Somphon; photos courtesy of Michael Beattie