Brunches, Lunches and Showers – Rosemary & Garlic Chicken Spread w/Parmesan Focaccia
May 1, 2010
/
/
Comments Off

on Brunches, Lunches and Showers – Rosemary & Garlic Chicken Spread w/Parmesan Focaccia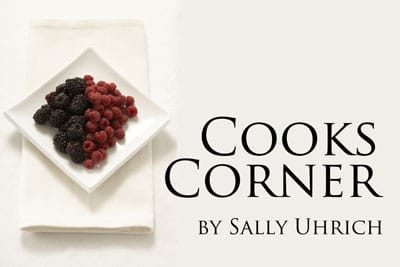 by Sally Uhrich
Winter's demise leads us into two of the most anticipated seasons of all; spring and summer. Warmer weather lends itself to outdoor entertaining for such events as graduation parties and bridal showers. If you are hosting a social gathering and are in need of a light, but tasty appetizer, consider, "Rosemary and Garlic Chicken Spread with Parmesan Focaccia," It is from the April 1999 issue of, "Menus to Celebrate Spring," from Pillsbury Classic Cookbooks. It is a simplified version of the Italian flat oven baked bread, Focaccia.

Rosemary and Garlic Chicken Spread with Parmesan Focaccia
Foccacia:
1 (10-oz.) can Pillsbury Refrigerated All Ready Pizza Crust
1 tablespoon olive oil
1/2 teaspoon dried parsley flakes
2 tablespoons grated parmesan cheese

Chicken Spread:
2 cups finely chopped cooked chicken
1 (8-oz.) can water chestnuts, drained, chopped
1/2 cup light cream cheese, with roasted garlic (from 8-oz. Tub)
1/3 cup sliced pimiento-stuffed green olives
2 tablespoons finely chopped onion
1/4 cup purchased Italian salad dressing
1 teaspoon dried rosemary leaves, crushed
1/8 teaspoon pepper
1 tablespoon chopped fresh parsley
Heat oven to 425 degrees. Grease cookie sheet. Unroll dough on cookie sheet; press into 12 X 9-inch rectangle. With rounded end of wooden spoon handle, poke dough at 2-inch intervals. Brush dough with oil. Sprinkle evenly with dried parsley and parmesan cheese.
Bake at 425 degrees for seven to nine minutes or until golden brown. Cool 20 minutes or until completely cooled.
Meanwhile, in a medium bowl, combine all chicken spread ingredients except fresh parsley; mix well. Spread over cooled focaccia. Sprinkle with parsley. Cut into 12 squares in half diagonally. Serve immediately. Makes 24 appetizers.
The most typical focaccia is baked dough, topped with olive oil and herbs like rosemary or sage and salted with coarse salt. It is very popular as a snack in Italy for school children.
Focaccia recipes are widely available. With the popularity of bread machines, many cookbooks now provide versions of dough recipes that do not require hand kneading. Focaccia is not only tasty, but versatile as it can be used a a side dish, a base for pizza, or as a sandwich bread.