Castle Pines senior moves on as National Merit finalist
April 1, 2017
/
/
Comments Off

on Castle Pines senior moves on as National Merit finalist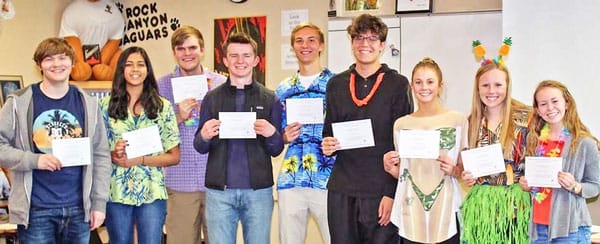 RCHS National Merit finalist Megan Pitman (third from right) pictured here with fellow RCHS finalists Sydney Marchando (second from right) and Kate Schaffer (far right). The students are dressed for Hawaiian day in honor of their Wish Week kid, Faith (see related article on page 35).

By Lisa Nicklanovich; courtesy photo
Nine students at Rock Canyon High School (RCHS) received passes from the main office in February to meet for an unknown reason, and among them was Castle Pines resident Megan Pitman. Once gathered, Principal Andy Abner announced that they were all National Merit finalists. These students were being recognized for their very high academic achievement in the National Merit Scholarship Program.
Pitman said, "I am so excited to be a finalist because colleges often offer great scholarships to National Merit finalists."
Winners of Merit Scholarship awards are chosen from the finalist group based on their abilities, skills, accomplishments and consistently high academic performance. Beginning in March and continuing to mid-June, the National Merit Scholarship committee notifies approximately 7,500 finalists at their home addresses that they have been selected to receive a Merit Scholarship award.
Pitman plans to study engineering at Southern Methodist University in Dallas, TX in the fall. Congratulations Megan and good luck!