April 1, 2015
/
/
Comments Off

on Seasons 52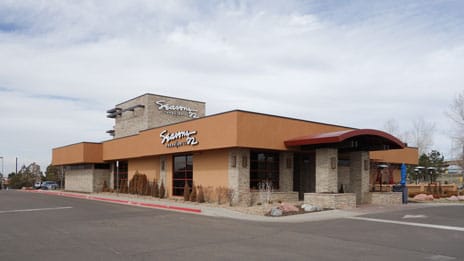 By Lisa Crockett; photos by Cindy Cranstone and courtesy of Seasons 52
Foods that are fresh and tasty naturally change with the seasons and there's a restaurant in town that follows the same trend.   Every 90 days, a new menu is unveiled at Seasons 52 in Lone Tree, with selections that feature the best of what's available and showcase innovative, seasonal tastes.   This month, for instance, the chef switched from a maple-chili glaze on the roasted half chicken and will now offer a roasted half chicken with a honey-herb glaze, just right for spring.
"A lot of our favorite selections stay the same from season to season," said Carolyn Petersen, sales manager for Seasons 52 in Lone Tree.   "We take those favorites and tweak them though, changing the seasoning and the side dishes to reflect what's fresh and available."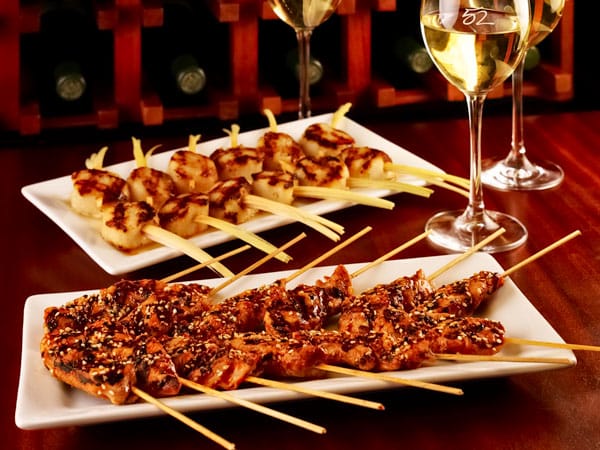 That focus on new and inviting flavors is evident throughout the menu, with choices ranging from caramelized sea scallops to oak-grilled filet mignon.   And although the choices seem indulgent, not a single selection on the menu exceeds 475 calories.   By employing healthful cooking techniques including brining, oak grilling and brick oven cooking, chefs amplify great flavor without adding unneeded fat and calories.
"We focus on seasoning and spices," said Petersen. "We don't even have a fryer on the premises."
Diners with dietary restrictions of nearly every kind will find a palate-pleasing selection at Seasons 52.   "Alternative" menus for diners who are vegan or vegetarian, lactose sensitive, gluten-free or low-sodium are proudly featured.
Happy hour at Seasons 52 features $5 small plates with tempting choices like shrimp scampi and Sonoma Goat cheese torte.   Drink selections include wine by the glass, beer, and cocktails including Petersen's favorite – a cucumber and basil smash.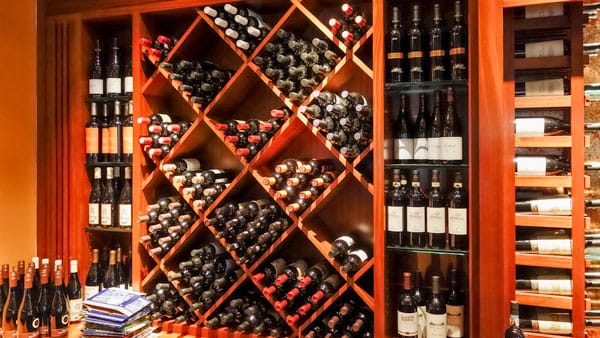 Drink choices are an important part of the Seasons 52 experience and Master Sommelier George Miliotes hand selects every choice on the menu.   One special selection is a French Gamay called Jolie Saison, a red wine developed by Miliotes and available only at Seasons 52.   The Seasons 52 "Flights and Flatbreads" menu, available every day until 6:30 p.m., features three wine flights to allow diners to sample different varieties and select a favorite, accompanied by a signature flatbread.  Wines on the "acclaimed" list of wine flights are rated by Wine Spectator, The Wine Advocate, Wine Enthusiast or International Wine Cellar.
My favorite aspect of dining at Seasons 52 was dessert.  Served in a shot glass and called a "Mini Indulgence," desserts are a perfect ending to a delicious meal.  Rich and sumptuous flavors like chocolate mousse or lemon curd and blueberry employ top-quality ingredients and classic techniques in a size that left me satisfied and happy after a meal rather than bloated and full of regret.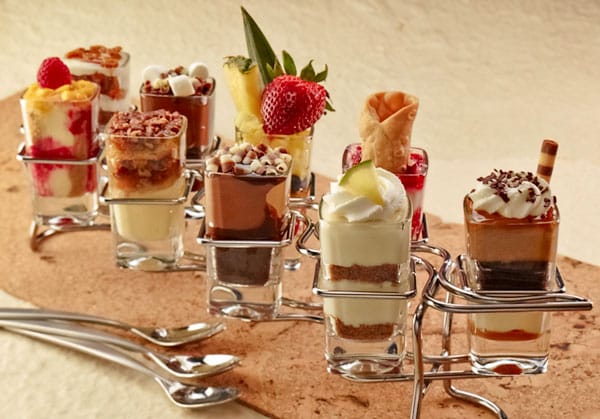 "We have nine dessert selections available at all times," said Petersen.   "They're portioned perfectly so they'll satisfy your craving for a sweet treat at the end of a meal without overwhelming your taste buds."
The interior of Seasons 52 is sleek and beautifully appointed, the perfect place to host guests or celebrate a special occasion.  Two private dining rooms can accommodate groups of roughly 30 to 50 people, or can be combined to host up to 100 people.   A chef's table dining area makes a special location for a small business meeting or private party of up to 12 people, and can be the site of a "Chef's Table Experience" – a five-course meal selected especially for your party.   For a unique change of pace, up to 20 guests can visit "The Chateau," a wine room perfect for a stand-up reception.
Seasons 52 is located near Park Meadows Mall at 8325 Park Meadows Center Drive in Lone Tree.  Seasons 52 is open for dinner every day and for lunch on Saturday and Sunday. Happy hour is Monday through Friday from 4:00 p.m. until 6:30 p.m.  For more information on hours, to make reservations, or to get private event details and information, visit  www.seasons52.com.