July 1, 2015
/
/
Comments Off

on The Donut House
Donuts are in the house in Castle Rock


Few things in life match the sublime perfection of a fresh doughnut.  Mix in unique ingredients and novel techniques and you've got a recipe for success.  At The Donut House in Castle Rock, thousands of doughnuts are made fresh on the premises daily to feed a hungry and eager public.  Open for just a few months, Castle Rock and the surrounding communities have jumped at the chance to sample The Donut House's fare.
"This is such a wonderful community," said Moe Aladayleh, The Donut House's "mixmaster" – his name for his role as head manager and baker.  "We love the small town feel here and we love to build relationships with our customers, making them feel like they're part of our family."
Speaking of small, the space occupied by The Donut House at 703 Wilcox Street is modest, but its doughnut-making capacity is nearly limitless.  On National Doughnut Day last month, The Donut House gave away 4,000 doughnuts and sold another 6,000, for a record-making total of 10,000 doughnuts in a single day.
"We work 24 hours a day here at The Donut House," said Aladayleh.  "We don't have any problem meeting high demand, but our most important goal is that people leave the store with a smile, whether we make 1,000 doughnuts or 10,000.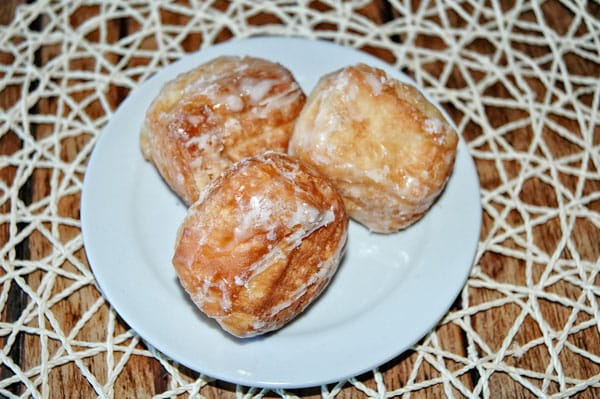 Fresh, hand-made dough is the secret weapon at The Donut House, which features doughnuts that are soft, tender and light, and never greasy or heavy.  The doughnut making process is tailored to the high-altitude conditions of Castle Rock, and Aladayleh makes adjustments to the dough based on the day's humidity and temperature.
With those basics firmly in place, Aladayleh then looks for ways to have fun with his craft, offering unique flavors like his "Fruity Spread" doughnut which features custard and fresh berries.  Doughnuts adorned with Greek yogurt, honey, and either fruit or granola sit alongside more traditional maple-glazed and chocolate-frosted selections.  One special offering at the Donut House is the croissant doughnut.
"I got the recipe on a trip to New York last year and played with it until I got it right," said Aladayleh.  "We prep a traditional croissant dough and then fry it and glaze it like a doughnut."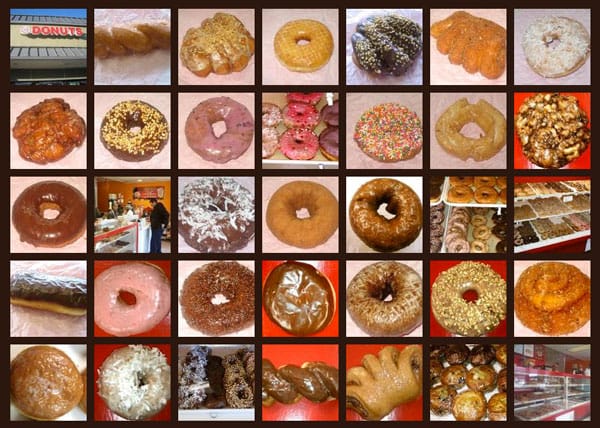 The Donut House keeps its cases full; if supplies run low during business hours, Aladayleh makes more.  Because of the time and labor-intensive nature of making croissant doughnuts, however, once they're gone for the day, they're gone.  I recently set my alarm to ensure I got to the shop shortly after its 5 a.m. opening time.   I can say without equivocation that it was worth getting out of bed for.  Light, flaky and sweet, it was a bit of pastry perfection.
I'm pretty sure I could come up with reasons to visit The Donut House every day, but they do make a lovely treat for special occasions.  One of Aladayleh's favorite ways to help customers celebrate is with a special-ordered, oversized 12-inch doughnut, flavored and topped with any of the menu's selections.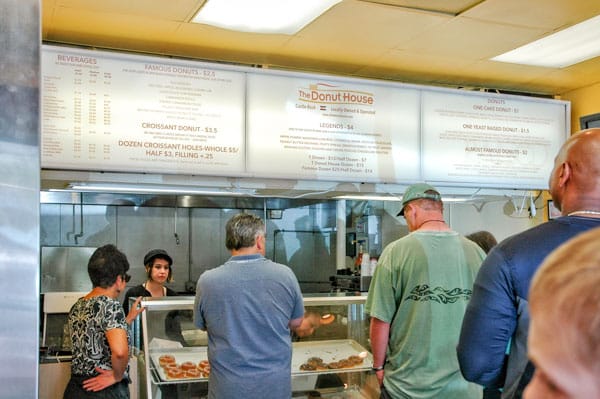 A wide variety of drinks are on offer at the Donut House to wash down all those delicious treats.  A full espresso bar, cappuccino, mocha, chai tea latte, skinny vanilla latte, as well as soft drinks, Pellegrino, milk and juice are available.  For gluten-free customers, varieties of gluten-free coffee cake are available daily.
The Donut House is located at 703 Wilcox Street, Suite E and is open seven days a week from 5 a.m. until 2 p.m.  For more information, visit "The Donut House Castle Rock" on Facebook.  Special orders can be placed by calling The Donut House at 303-484-9898.  Mention this story on your next visit for a free regular cake doughnut!