Christmas cool with cozy cocoa cookies
December 1, 2018
/
/
Comments Off

on Christmas cool with cozy cocoa cookies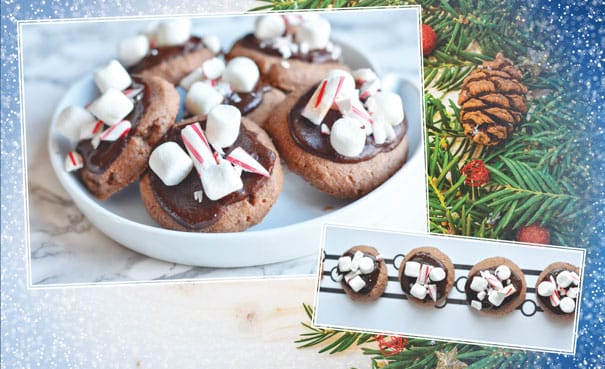 Article and photos by Lisa Crockett
It's the most wonderful time of the year, and a big part of every celebration is food. My family has lots of favorites that we make year after year, but I'm always looking for new ideas, and when this little gem of a recipe caught my eye, I just knew it would be a nice addition to our holiday repertoire. I have a pretty firm rule against making food simply because it's "cute", but when I can find something delicious and pretty at the same time, I'm in. In addition to being pretty, this recipe has the added bonus of also being pretty easy to make.
This treat, adorned with crushed candy canes, looks festive and tastes simultaneously refreshing and rich. Tote these babies to a cookie exchange and watch them disappear. Or, pile them on white plates, cover them with plastic wrap and tie with a big red bow for a stunning, simple holiday gift. Need to feed a crowd? No problem. Because these cookies don't spread much as they bake, you can bake a whole batch on a single pan, which means even multiple batches will be in and out of the oven before you can say "ho, ho, ho." Whip up a bunch, warm some milk on the stove for cocoa, and you've got the makings of a perfect holiday night at home.
The cookie base here may seem unusual in that it calls for powdered sugar rather than traditional granulated sugar, and a fairly large amount of cornstarch. Longtime readers of this column will recall that my favorite sugar cookie recipe also calls for cornstarch to lend a pleasantly soft crumble. In this recipe, in addition to softness, it gives the cookie a melt-in-your-mouth quality that pairs beautifully with the marshmallow and candy topping.
The flavors here are perfect for December, and this chocolate-mint-marshmallow combination might actually conjure Santa directly to your kitchen to take a bite. But this recipe could be adapted for other times of the year too. Since the cookie itself doesn't contain mint, the chocolate topping could be married with chopped nuts, sprinkles, or even a beautiful piece of fresh or dried fruit for a dazzling finish to a Valentine's Day supper or a springtime brunch.
The cookie dough is very similar to traditional shortbread, with lots of butter and no eggs or leavening ingredients. The butter should be fairly soft, since the butter-to-flour ratio is very high and must be slowly worked into the flour mixture to achieve a delectable, flaky texture.
Initially, the dough will seem too dry, and you might be tempted to add an egg, but don't do it. It will ruin the texture. (Also, cookie dough that contains no eggs is safe to eat raw – something of a Christmas miracle.) Instead, continue to gently mix the butter into the dry ingredients along with a bit of vanilla and milk and you'll be rewarded with a special occasion treat.
Whether you make these your one and only homemade treat, or you put them in your regular holiday lineup, you'll be glad you made them. So fire up the oven and prepare for deliciousness, whether these are a gift you give away or keep all to yourself.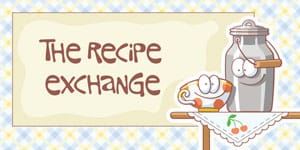 Christmas Cocoa Cookies
Makes 16 cookies
Cookies:
1 cup flour
½ cup cornstarch
½ cup powdered sugar
3 tablespoons cocoa powder
¾ cup salted butter
1 teaspoon vanilla
1 tablespoon milk
Topping:
½ cup semisweet chocolate chips
3 tablespoons heavy cream
¼ cup crushed candy canes
¼ cup mini marshmallows
Preheat the oven to 350 degrees. In a large mixing bowl or the bowl of a stand mixer, whisk flour, cornstarch, powdered sugar and cocoa powder together until well combined. With a hand mixer or stand mixer set to low, mix in the butter. Mix until the dough begins to form fist-size clumps (this could take 3-4 minutes, depending on the power of your mixer). Gather the dough into a ball, wrap in plastic wrap and chill in the fridge for 30 minutes.
Divide chilled dough into sixteen equal pieces and then roll each piece into a ball and place on a baking tray. Flatten balls with the palm of your hand until they are about ½ inch thick. Cookies will not spread or flatten much as they bake, so they can be placed close together on the baking tray. Bake cookies for 10-11 minutes. Cookies will not brown, but when the edges appear a bit dry, they are ready.
While cookies bake, melt chocolate chips in the microwave by cooking on high for 30 seconds, stirring, then cooking on high for another 30 seconds. When chips are completely melted, stir in the cream until the mixture is smooth and shiny. Drizzle chocolate over cooled cookies and top with candy canes and marshmallows.