CPN Annual Summer Family BBQ
August 1, 2004
/
/
Comments Off

on CPN Annual Summer Family BBQ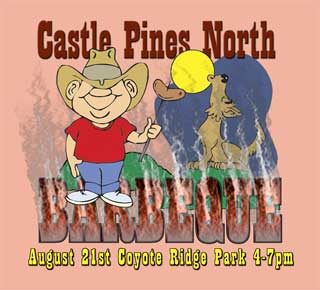 Master Association Summer Family BBQ Planned for August 21st
The CPN Master Association's Summer Family Barbecue is scheduled for Saturday, August 21st. The event will be held again this year at Coyote Ridge Park from 4 p.m. to 7 p.m. Activities are FREE to all CPN residents.
Click on the picture to the right to see the album from last year's barbecue
Bennett's barbeque will be served and tickets are $6 for adults and $3 for children.
Residents wanting to enjoy a barbeque meal must purchase tickets in advance. Tickets may be purchased until August 16th at Bank West or Little Italy Pizzeria. The Bennett's barbeque menu includes chicken, beef, pork, hot dogs, beans, potato salad, cole slaw, bread, lemonade, tea and brownies.
"You don't need a ticket to come and enjoy the events," said Carla Kenny, Social Events Planner for the CPN Master Association. "However, you must have a ticket to eat the barbeque. And, any child going through the food line must have a ticket as well. The pre-purchased tickets allow us to plan our exact catering needs."
The event will feature live entertainment by Reckless Abandon. Children can enjoy three air castles, an inflatable caterpillar, giant slide and obstacle course, and the "Trampoline Thing." Family members of all ages are invited to participate in bingo and organized Backyard Olympic Games which include three-legged races, tug of war, sack races and various other events. Adult and kid beverages will be available, along with Schwan's ice cream.
"A lot of detailed planning is involved in this annual event," said Master Association President Linda Nuzum. "This is just one of several events the Master Association sponsors each year."
Nuzum said yearly dues to the Master Association help fund social events, including the Summer Barbeque. "We budget less than $6.00 per home for all of the community events that we sponsor throughout the year," said Nuzum. "We depend on volunteers and local businesses to contribute the event to greatly enhance this event, and keep costs down for residents." More than 20 local community sponsors will participate at the barbeque this year.
Parking at Coyote Ridge is limited, so residents living near the park are urged to walk, or bike, to the event. Carriage rides will also be provided and will take residents from parking areas to the event. Coyote Ridge Park is located near Monarch Blvd., and Hidden Pointe Blvd.
Residents who would like to volunteer to assist with the event may contact the Master Association at 303-482-3078 or e-mail social@cpnhoa.org for more information.