Crayfish give fourth graders a "pinch" of science education
June 1, 2011
/
/
Comments Off

on Crayfish give fourth graders a "pinch" of science education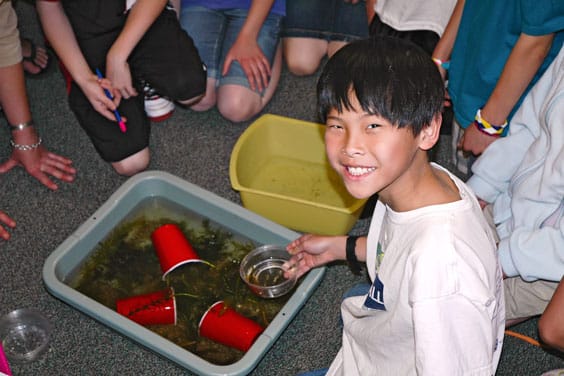 Fourth grader Josh Bullock feeds crayfish in his classroom at Timber Trail Elementary. The crayfish are part of a science unit designed to teach about the life cycle.

Article and photo by Lisa Crockett

In a science unit that is part class pet and part experiment, fourth graders at TTE are keeping live crayfish in their classrooms.
"This is a science unit where we learn about living creatures and all the things they do – what they eat, how they behave," said fourth grade teacher Kari Pringle. "We'll get to see the whole life cycle."
Learning about the crayfish includes feeding them, which involves scooping them out of their tubs and avoiding their pincers.
"We learned they don't like to be picked up," said fourth grader Carson Moorhead. "They pinch! It doesn't hurt, though. We feed them hot dogs and cat food."