Debbi Haynie – Castle Rock Senior Activity Center
December 1, 2020
/
/
Comments Off

on Debbi Haynie – Castle Rock Senior Activity Center
Crafter discovers her career in a most serendipitous way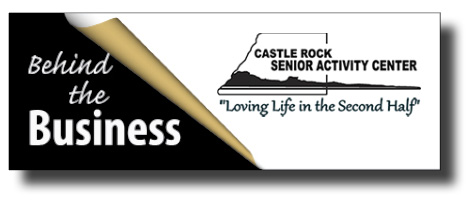 Debbi Haynie, 19-year resident of the Stonecroft neighborhood in Castle Pines, has lived in many places throughout the United States – including Arizona, Nebraska, Texas and California. "Growing up, my dad worked for Hormel, so we moved about every four years," Haynie reflected. Debbi and her husband of 32 years, Travis, now call Colorado home.
The Haynies moved to the Centennial State with their three young children, Trevor (9) and twin daughters Lexie (2) and Lyssa (2) in 2000 due to Travis' job in media. Nine years later, as the kids were getting older, Debbi took a job as the volunteer coordinator at the Castle Rock Senior Activity Center (CRSAC). Debbi was accustomed to working with volunteers through the schools and her daughter Lyssa's cheer group. Debbi, with a marketing degree from Texas Tech University, moved up to the executive director position at CRSAC five years ago.
In a way, Debbi has come full circle. Her first interactions with the CRSAC were the result of Debbi's passion for crafting, quilting, scrapbooking, sewing and making jewelry. "Just don't ask me to crochet," she quipped, "I can't crochet!"
It was a quilting club at CRSAC that brought her to the Castle Rock Recreation Center for the first time back in 2000, unaware of what the future had in store.
She shared, "The Castle Rock Senior Center was started by a small group of people in Douglas County as a senior citizen's club in 1971, in the basement of a church. We have evolved into a nonprofit organization with a membership of 900. In 1997, we moved to the community recreation center. Next year, we will celebrate our 50th anniversary. I truly love my job! I get to work for the greatest generation!"
When she's not working or crafting, Debbi enjoys traveling and exploring Colorado with her family. She remarked, "There's so much diversity here and so much history. You can go to the wine country in Palisade, go to the mountains or the hot springs. Travis and I spent a lot of years in the bleachers cheering on our kids. It's nice to have some extra time now to explore; Colorado has so much to offer." The Haynies have plans to take the family to Pagosa Springs later this month.
The kids have stayed close to home in Colorado. Trevor, who studied restaurant management and hospitality at the University of Colorado Denver, is now working as the lead bartender at the Great Divide Brewery in Castle Rock, and he gives kids snowboarding lessons part time. Lexie, is a certified veterinary technician at the VCA Douglas County Animal Hospital in Castle Rock. Lyssa, is in her final year at the University of Northern Colorado in Greeley majoring in sports and exercise medicine.
CRSAC has faced many challenges with the current COVID-19 protocols. Debbi commented, "We reinvented who we are. We switched to virtual events and take-home or parking lot activities. We still provide transportation, but it's limited to medical only, and we deliver groceries to seniors who don't drive (see related story page 32).
Services are critical to these seniors, and volunteers are very much needed to help those who may be alone or feeling isolated. We strive to stay true to our motto for seniors, which is 'loving life in the second half.'"
To learn more about the CRSAC, visit www.castlerockseniorcenter.org.