Denver Museum of Nature and Science
January 1, 2018
/
/
Comments Off

on Denver Museum of Nature and Science
By Susan Helton; photos courtesy of Denver Museum of Nature and Science

Have a passion for nature, culture and science? Indulge that passion with a visit to the Denver Museum of Nature and Science (DMNS). Whether for just a couple of hours, or for the whole day, the museum is an excellent place to explore, especially when the weather is cold.
Officially incorporated in 1900, the museum first opened to the public in 1908 as the Colorado Museum of Natural History. Three collections formed the core of the new museum: crystallized gold, butterflies and moths, and Colorado fauna from late 1800s scientific studies of birds and mammals of the Rocky Mountains. Today, DMNS holds more than 4.1 million artifacts and specimens.
Visitors find many interesting things to see and do at DMNS. While the museum frequently hosts outstanding temporary exhibits, the permanent exhibits are truly noteworthy. Museum guests can easily spend all day investigating and engaging in hands-on exhibits, live performances and demonstrations throughout the museum's multiple floors.


In Expedition Health®, museum guests experience interactive, personalized activities all about their own bodies. For young visitors, the Discovery Zone is filled with open-ended play and experimentation activities that let children explore physical, life, earth and space sciences, math, and human culture. There are spectacular mineral specimens from all over the world in the Coors Minerals Hall, colorful views of space along with activities centered around space technology and science in Space Odyssey, and a great variety of insects, with information all about them, in the insect exhibit across from Space Odyssey.
The museum's exhibit on North American Indian cultures lets visitors discover the rich diversity of the continent's native peoples. Visitors with an interest in ancient Egypt should be sure to see the Egyptian Mummies exhibit, which includes two mummies, tomb artifacts, and a model of an Egyptian temple. Going back even further in time, starting about 3.5 billion years ago, the Prehistoric Journey exhibit takes visitors from primitive life in the ocean all the way through the age of dinosaurs and beyond.
DMNS is noted for the detailed dioramas comprising its wildlife exhibits. With meticulously painted backgrounds, special lighting, and carefully reproduced plants and flowers, the dioramas bring to life animals and their habitats from around the world. The museum is also host to several of Vasily Konovalenko's gem carvings of Russian folk life, the only collection that is publicly displayed outside of Moscow.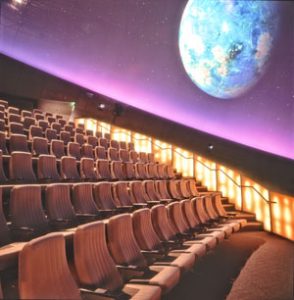 Other fun activities at the museum include Phipps IMAX Theater and Gates Planetarium. There is also a gift shop, and the T-Rex Deli and Café. DMNS contains numerous hidden secrets; the museum website has printable scavenger hunts to help visitors find them.
Located in City Park in Denver, an easy drive from Castle Pines, DMNS is open seven days a week year-round, except December 25. Just take I-25 north to Colorado Boulevard (Exit 204) and continue north on Colorado Boulevard about five miles to the intersection with Montview Boulevard, then turn left (west).
To learn more about DMNS, visit www.dmns.org.