Douglas County School District bond and mill levy override
October 1, 2022
/
/
Comments Off

on Douglas County School District bond and mill levy override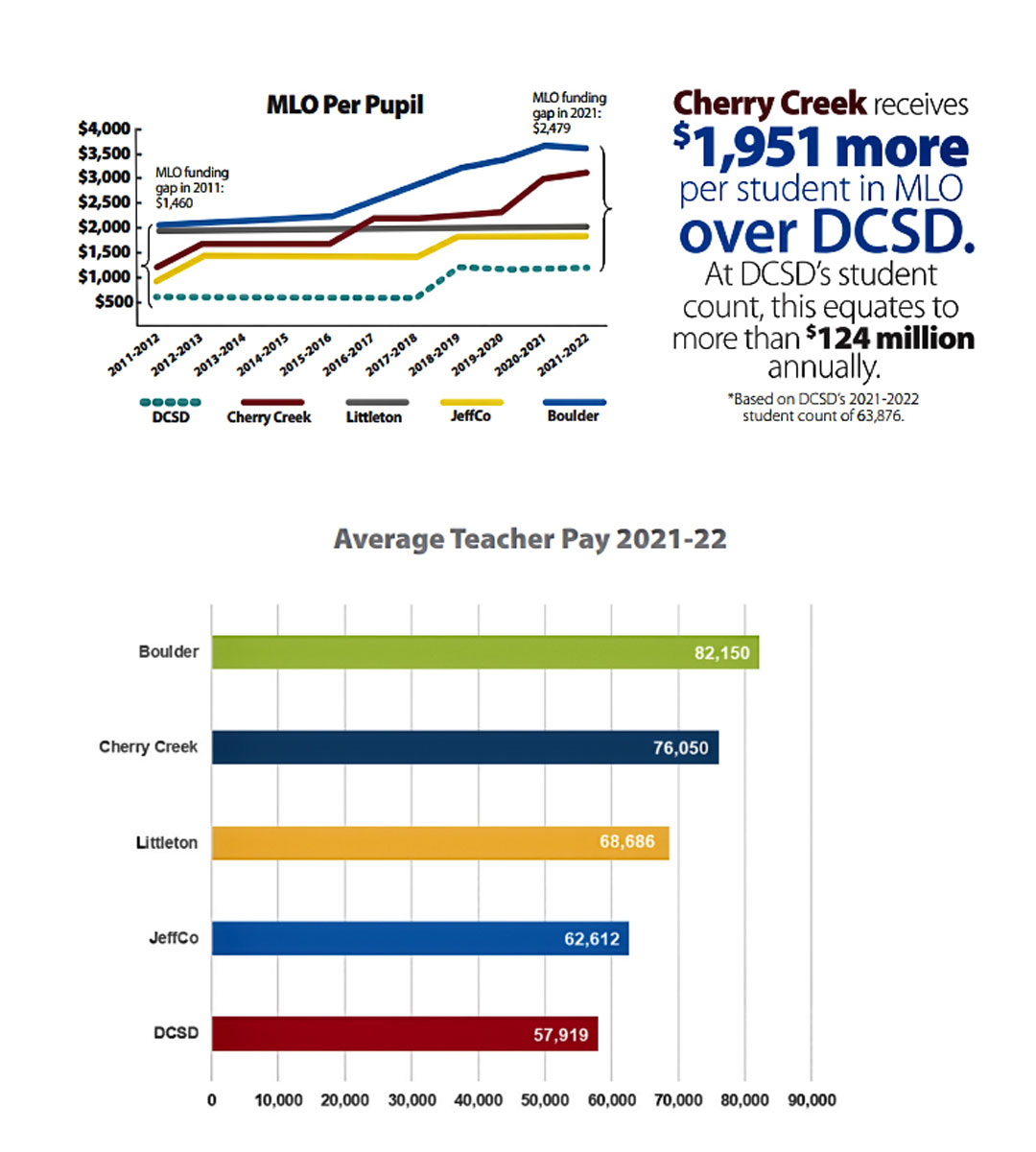 Douglas County School District's Board of Education (BOE) unanimously authorized a mill levy override (MLO) for the upcoming November ballet.  The BOE is asking for a $60 million MLO and a $450 million bond.  The impact on homeowners is estimated to be $1 per week for every $100,000 in assessed home value, or about $250 per year in additional taxes for a $500,000 home. 
The BOE cites lagging teacher and staff salaries as the biggest fiscal challenges facing the district.  Salaries account for 80% of school district spending.  According to DCSD Superintendent Erin Kane, "the average DCSD teacher salary is nearly $20,000 less than that offered by the Cherry Creek School District."  
Recent years have seen many qualified teachers moving to other school districts in search of higher salaries.  Support staff can earn more money with starting pay at fast food or retail stores than they currently make in area schools.
A release from the BOE stated, "A $60 million MLO would enable DCSD to provide pay that is more competitive with other school districts to retain teachers and staff."  The MLO monies would provide a pay increase of an average of 9% to teachers and classified staff members, like bus drivers, custodians and educational assistants.  Principals and administrators would see a 6% pay increase.
The $450 million bond is earmarked for upgrades in the current 89 school facilities, including safety and security systems.  The bond would also fund the building of three new elementary schools, one slated for The Canyons as well as additions to two existing middle schools in the district.  
Castle Pines schools (Timber Trail Elementary, Buffalo Ridge Elementary, Rocky Heights Middle School, Rock Canyon High School and American Academy) are collectively slated to get more than $15 million to go toward repairs and refurbishment projects such as new flooring, new bathroom countertops, repaired roofs, resurfaced outdoor hardscapes, emergency power and light systems, intercommunication and paging systems, and exterior wall joint re-caulking.
With 8,600 employees and 64,000 students, DCSD is the largest employer in the county and the third largest school district in the state.
The current school funding structure in Colorado was established with the Public School Finance Act of 1994.  Funds are allocated on a per student basis by the state coffers and through local taxes.  As local taxes such as an MLO increase (usually capped at an increase of up to 25%), the state funding decreases.
Other large school districts in the metro area like Denver, Jefferson County, Cherry Creek, Littleton and Boulder Valley have higher MLO funding per-student than DCSD, which translates to $1,000-$2,500 more per student in the 2022-2023 school year.  According to information from DCSD, the MLO funding gap per student between DCSD and Boulder Valley (the highest funded district in the metro area) was nearly $1,500 a decade ago with the gap increasing to $2,500 per student last school year.
"We need to build new neighborhood schools in our communities that are experiencing tremendous growth, and we need to be able to offer a competitive salary to our teachers and staff," stated Kane.  "This is an issue we can all agree on – we must do what's best for our 64,000 students."
For more information, visit dcsdk12.org.
By Celeste McNeil; graphic courtesy of DCSD