August 1, 2018
/
/
Comments Off

on Eleven Mile State Park
Outstanding scenery and room to breathe
Article and photos by Susan Helton


The wide-open reservoir and extensive shoreline at Eleven Mile Park offer plenty of room to play. Scenic vistas include a panoramic view from the western end of the lake.
Boasting a variety of activities for the outdoor enthusiast, Eleven Mile State Park is about a two hour drive from Castle Pines. Located in South Park and surrounding Eleven Mile Reservoir, this park is a high alpine meadow at roughly 8,600 feet above sea level. The reservoir is one of Colorado's largest at six miles long, with almost 24 miles of shoreline. Everywhere around the lake, visitors encounter outstanding scenery, including interesting granite outcrops and panoramic views of the surrounding mountains. The park is open year-round, and with more than 4,000 land acres around the lake, it offers plenty of room to breathe.
Anglers tout Eleven Mile Reservoir for its outstanding fishing. Hiking and biking enthusiasts can explore nearly five miles of scenic hiking and biking trails, with both a self-guided nature trail and an orienteering trail offered. Picnickers have 20 sites from which to choose. Eleven Mile State Park is a popular, but not overly-crowded destination for kayaking, canoeing, sailing, motor boating, jet skiing and windsurfing/sailboarding. During the appropriate hunting seasons, the park allows the hunting of legally-hunted species. With bird and plant lists available online, nature enthusiasts can discover the many species of birds that reside in or migrate through the park and the variety of plants that grow there. And for more than a decade, the park has provided interpretive programs each summer for visitors of all ages.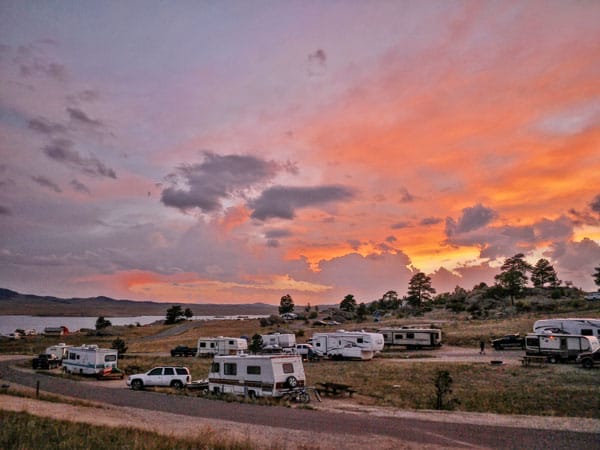 With such breathtaking sunsets and beautiful scenery, Eleven Mile State Park belongs on every list of Colorado places to visit.
If a day-visit is not long enough, consider camping overnight. The park has nine separate campgrounds located around the shoreline, with more than 330 campsites tucked in secluded canyon pockets and remote hillsides or nestled among backcountry trees. With something for every camping style, the park has electric, basic and walk-in sites, and lakeshore sites. And with the wide-open skies above, the park treats visitors to spectacular Rocky Mountain sunsets. Well worth staying to see!
For winter enthusiasts, Eleven Mile State Park offers a variety of winter activities as well: ice fishing, ice skating, ice boating, cross-country skiing and snowshoeing. Winter camping opportunities are also available at select campsites within the park.
To get to Eleven Mile State Park, drive south on I-25 to U.S. 24 in Colorado Springs, then drive west on U.S. 24. About one mile west of the town of Lake George, turn left (south) on County Road 90 and drive for about six miles to County Road 92. Continue south on 92 for about five miles to the park.
For more information, visit cpw.state.co.us/placestogo/parks/ElevenMile.