Family's love of gymnastics becomes family business
January 1, 2015
/
/
Comments Off

on Family's love of gymnastics becomes family business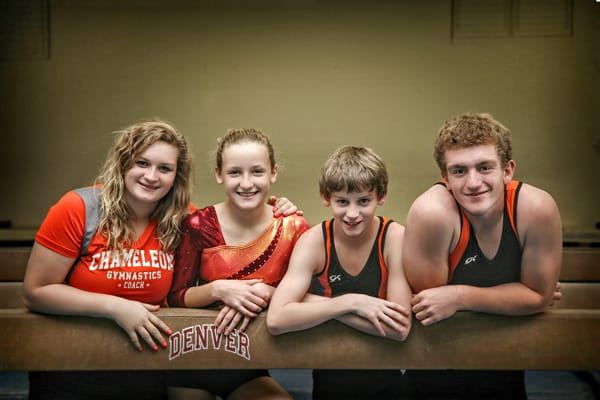 The Devries children (left to right): Caitlin (17), Josephine (12), Nicholas (12), and Jack (16) are coaches at the family's gym.
By Elizabeth Wood West; photos provided by Ule Logue Photography
Castle Pines residents Chris and Sharon Devries can credit their four children as being the inspiration for their latest family business, Chameleon Gymnastics, located in Castle Rock.
Sharon Devries said, "We started Chameleon Gymnastics on July 11, 2011. It was my birthday present. All of our children are involved in gymnastics and we love the sport. We invested in real estate property and along came Chameleon Gymnastics." The entire family is involved with the business: Devries runs the gym, her husband provides the financial expertise, and all four children (three of whom are on competitive teams) are coaches.
The couple grew up in Nebraska and both graduated from the University of Nebraska. Sharon has a degree in interior design and Chris has a degree in business and journalism. They have owned several other companies and moved from Florida to Castle Pines eight years ago. "We wanted to be closer to our families. We really enjoy all of the families that live in this area and the friendships we have. The schools provide an excellent education for our four children. We love the closeness of all the extra activities we participate in and that our church is not far," said Devries.
The Devries' added that the reason for starting Chameleon Gymnastics was because of their love of children and desire to be involved in helping build the foundation of today's youth. "We decided on the name because a chameleon is always changing to fit into their environment for survival. We try to teach our gymnasts life skills that help them throughout life to excel or survive in any situation that they encounter. We are here to help mentor our gymnasts in developing character as well as teaching gymnastics skills," said Devries.
Chameleon Gymnastics offers both recreational and competitive programs suitable for parent/tot, preschool, and older children. For more information, call Sharon Devries at 303-717-5953 or Chris Devries at 303-717-5951.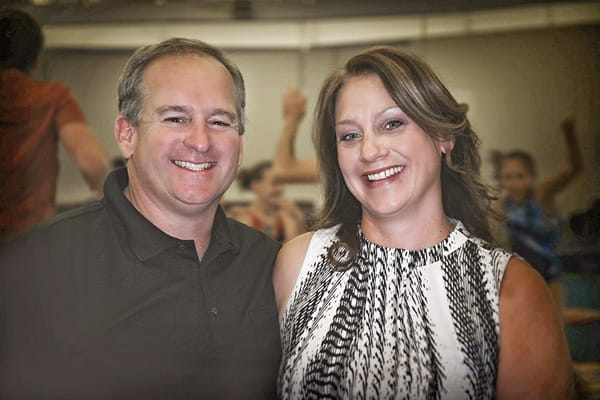 Castle Pines residents Chris and Sharon Devries are the owners of Chameleon Gymnastics in Castle Rock.