Giving great greens a new life
July 28, 2021
/
/
Comments Off

on Giving great greens a new life
Article and photo by Lisa Crockett

Nothing delights me more than using up every scrap of food I buy. I'm not always successful, and when I fail, I feel a pang of guilt for every mushy strawberry, black banana, or stale piece of bread. As a result, late summer is always a time of difficult emotions when it comes to my kitchen.
On the one hand, harvest is in high gear so there is an abundance of reasonably priced deliciousness at the supermarket and the farmers market. In such circumstances, I tend to buy generously, especially at the farmers market where I can make a personal connection with the very person who tended to my purchases. I want to taste it all, particularly since most of what I can buy this time of year tends to be highly nutritious and equally yummy. On the other hand, my stomach (and the stomachs of my family and friends) can only accommodate so much. My fridge is jam-packed, and I'd be lying if I didn't admit that sometimes my precious finds end up in the compost bin.
Over the years, I have learned strategies in the fight against food waste that have been around forever, many of which were employed by my grandmother (and her mother and grandmother) to keep things from going bad. Fruit can easily be made into shelf-stable jams and jellies and then gifted year-round. Whole fruits, particularly peaches, are great candidates for a quick hot-water bath and then a deep freeze. Apples can be made into sauce or pie filling and then bottled or frozen, too. Cucumbers land on my shelves in the form of dill pickles, sweet pickles, and bread and butter pickles. I love them all. I can (and have) spent weeks with tomatoes making salsa and pasta sauce to tickle my taste buds long after the last leaves have fallen off the trees.
Until now though, one food that I figured needed to be eaten immediately was greens like spinach and kale. Home canning veggies exceeds my skill level. Plus, canned greens? Ew. Such foods are nutritional powerhouses and I often overbuy them during the summer in a fit of health-conscious zeal and then have buyer's remorse. I like greens, but a person can eat only so many salads and sautés. Greens are high volume foods – which is one of the reasons they're so good for you. You can eat, and eat, and eat and keep your calories low, low, low. This volume means that they take up vast real estate in the fridge and tend to be consumed slowly.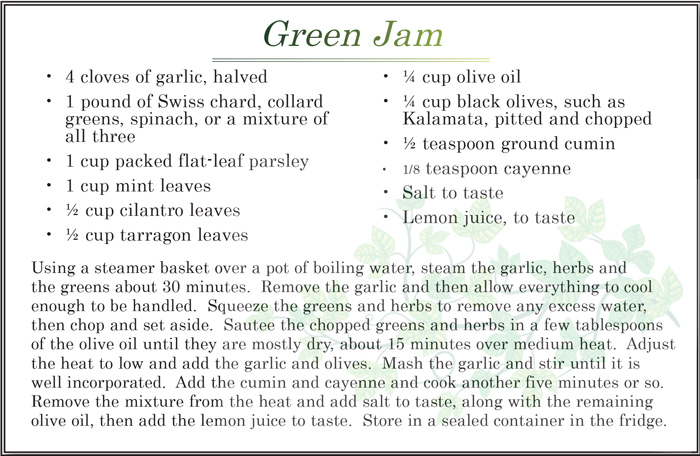 Enter the green "jam." This concoction was new to me when I heard about it on the radio a few weeks ago, but a quick internet search gave me lots of ideas about how to give greens – especially sturdy ones like kale and Swiss chard – a long steam followed by a slow sauté with some toothsome additions. All the moisture cooks out of the greens, leaving behind a concentrated punch of veggie power that takes up very little fridge space, lasts much longer than raw vegetables, and marries well with countless other ingredients. The problem of too many greens is solved at last. The jam is soft and earthy tasting, and I like to use it for a myriad of dishes – everything from a summery topping for cheese and crackers to a pasta sauce or even as a topping for grilled chicken or fish.
For my test run of this jam (or green goo, as some of the taste testers at my house called it), I made a small batch to see how it went. I started with a full pound of greens and ended up with just about a cup of jam – those greens shrink a lot when you cook them, so take that into account when you're making it so you end up with the yield you want. Some of the people I feed on a regular basis think this jam is the best thing to happen since sliced bread (and if you have a crusty loaf, this is nice on a sturdy piece of toast with a schmear of cream cheese). Others on my panel of taste testers found it simply too . . . vegetal. Go figure.
If you find the flavor too strong, you may find you like it in small doses mixed with richer, fattier accompaniments. Personally, I thought it was delicious enough to devour. I can't wait to make it again. It's the perfect antidote to a crowded fridge that doesn't involve the compost pile.