Great Divide Brewery & Roadhouse
November 1, 2021
/
/
Comments Off

on Great Divide Brewery & Roadhouse
Trendy and Tasty – A winning formula for Great Divide Brewery & Roadhouse
By Chris Michlewicz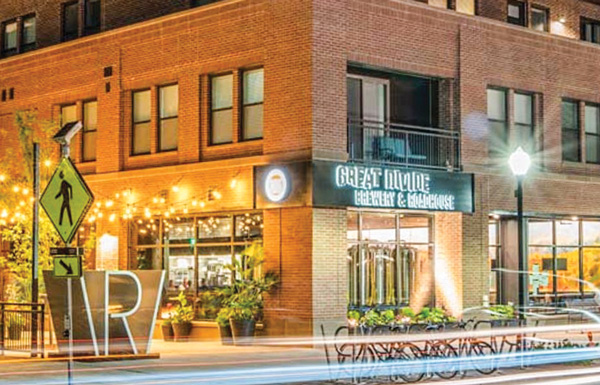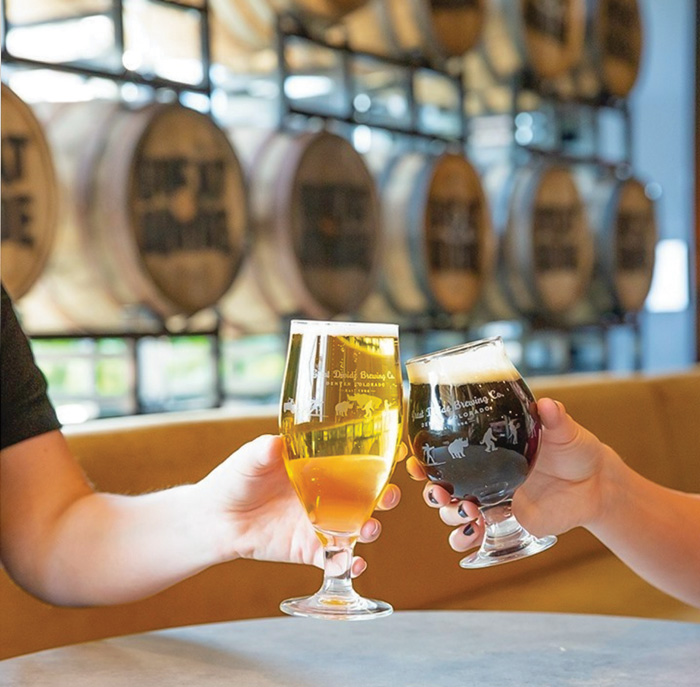 A trendy downtown Castle Rock eatery with an eclectic menu and a laid-back vibe has quickly built a regional following, and all it takes is just a taste to
see why.
Great Divide Brewery & Roadhouse, on the northwest corner of Wilcox Street and Second Street, has built a menu so filled with unconventional, must-try offerings that it's near impossible to not make multiple return visits.
With an expansive patio and a wide open indoor concept that perfectly establishes a social atmosphere, Great Divide has found a niche that appeals to a broad audience. It fits in well in its location smack dab in the middle of Riverwalk Castle Rock North, an urban "live, work, play" mixed-use development.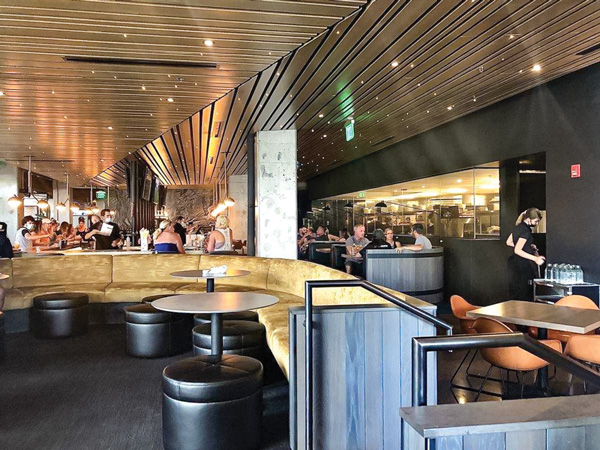 The restaurant/brewery combines its comfortable setting with a well-run kitchen that cranks out unique flavor profiles by the hundreds. This is in addition to an impressive lineup of
16 craft beer offerings from Great Divide Brewing Company, an award-winning Denver-basedbrewery that uses the Castle Rock
location as an experimentation lab.
It looks modest from the outside, but in fact it's one of Castle Rock's largest restaurants, with capacity for 415 people. Being right across the street from Festival Park, which hosts a number of public events each year, many locals have already organically found their way to Great Divide.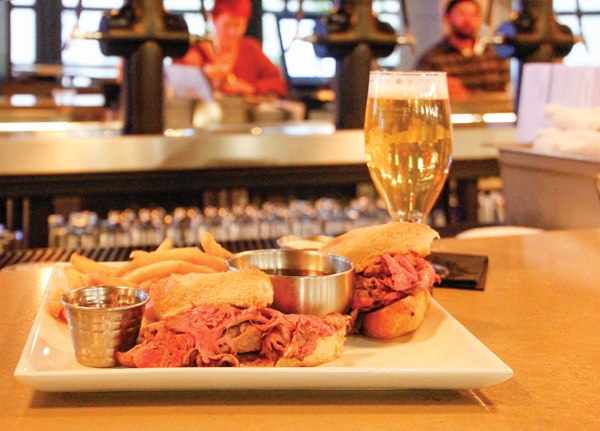 What they've discovered is a forward-thinking eatery that serves a variety of modernized, made-from-scratch American food – everything from breakfast and brunch favorites to specialty pizzas to 1855 angus beef burgers, as well as succulent steaks, tasty tacos, ultra-fresh salad entrees, and a range of mouthwatering starters.
The app menu includes items like Thai cauliflower made with Bangkok Thai seasoning, voodoo aioli, peanuts and green onions, and tuna tartare, which is served with avocado, sambal ponzu, sesame, green onions and crispy wontons. Signature dishes include blackened fish tacos with mango salsa, apple-chipotle sauce and housemade chips, and ponzu pan-seared salmon served alongside quinoa fried rice, vegetable stir fry and mango salsa.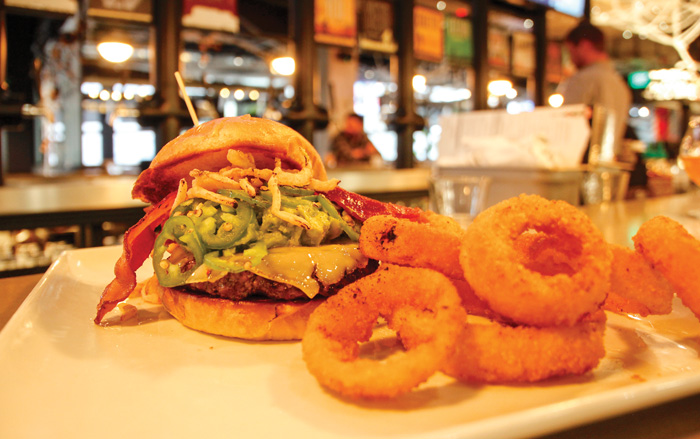 The signature burgers, made with Colorado-raised hormone-free beef, are out of this world – among the options are The Jam, a burger that comes with bacon onion apple jam, applewood
bacon, brie and arugula, as well as The Guac, which is topped with, of course, guacamole, fresh-cut jalapenos, pepper jack cheese, crispy onions and applewood bacon.
Pizzas include barbecue chicken, vegetarian, spicy Hawaiian and truffled mushroom. For breakfast, there's the Hangover Helper, which blends buttermilk biscuits with scrambled eggs, jalapenos, caramelized onions, chorizo gravy, cheddar cheese, and a choice of applewood bacon or sausage. Or diners can try the braised beef short rib burrito smothered with a choice of pork green chili or jalapeno cream sauce.
Then there's the dinner menu, which leaves everyone with some tough decisions. The garlic shrimp Paleo bowl, with blackened jumbo garlic shrimp, zucchini linguini, tomatoes, roasted
bell peppers, shallots, cilantro, water chestnuts, carrots, edamame and sweet chili coconut citrus broth is among the delicious options. And no one can go wrong with the fried chicken, which is brined for 24 hours and hand-breaded with rice flour and a tongue-tantalizing blend of spices.

Great Divide Brewery & Roadhouse is tweaking its menu to incorporate fall and winter flavors, with seasonal veggies like roasted squash making appearances. In short, the menu is chock full of delicacies – many of them gluten free – that go well beyond the proverbial box, said general manager Thatcher Mills.
"We don't want to reinvent the wheel by any means and we're not trying to be a new, crazy fine dining restaurant, but we wanted it to be trendy, hip and with the times," he said.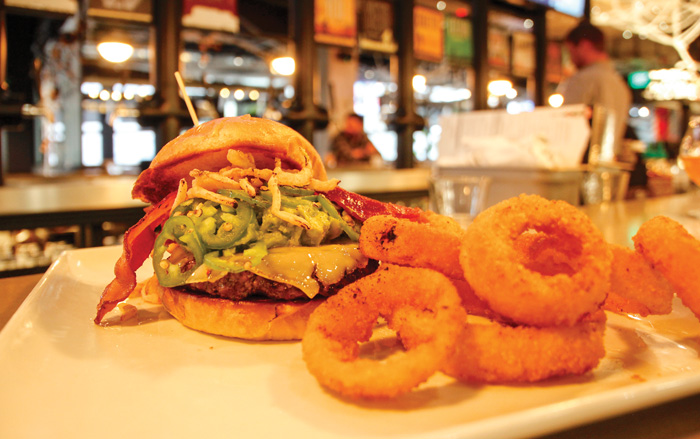 That approach extends to the dining area. The centerpiece of the spacious brew pub is a 40-seat oval bar that looks like something out of a movie. It's classy, inviting, dimly lit, and tended by an attentive team. Nearby is an elevated seating area purpose-built for conversations and people watching.
Great Divide opened in June 2020, and has thrived from the outset because of its outdoor dining area. Word of mouth seemed to travel quickly. Mills points out that although the slowest time of year for restaurants tends to be the period between the start of school and the beginning of the holiday season, Great Divide has racked up some astounding numbers: the first week of October saw 6,500 patrons come through the door.
Despite its popularity, Great Divide has been able to keep up with the demand. Having an experienced waitstaff and a talented roster of chefs and line cooks makes a huge difference. Mills says keeping quality people on board is a matter of treating employees right.
Keeping the customers coming back is also a matter of good treatment and a continual focus on keeping up with the times and tastes of a captivated audience. Whatever it's doing, Great Divide is clearly getting it right.
"The response from the community has been amazing," Mills said.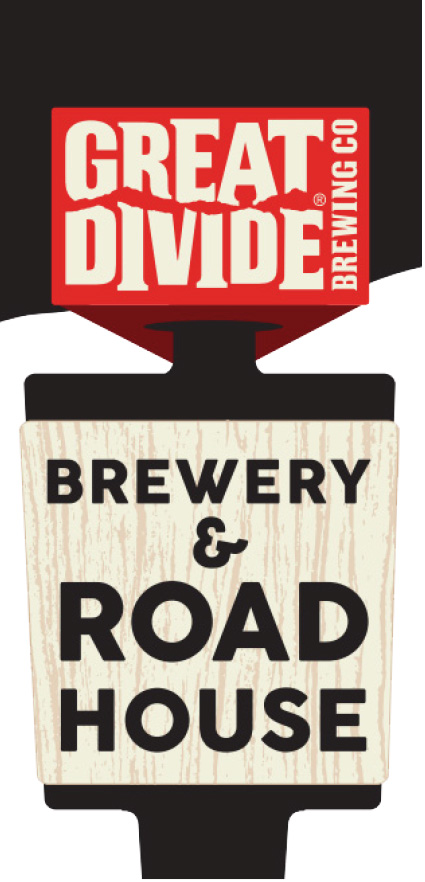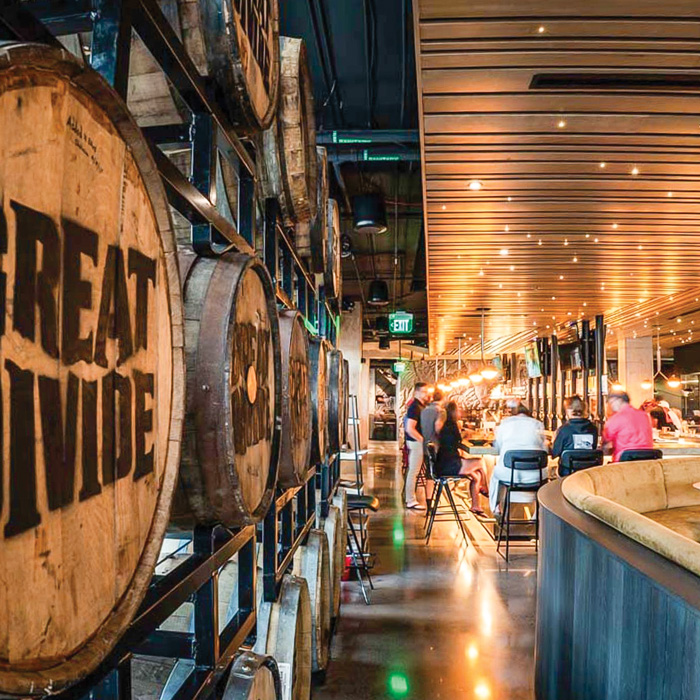 215 Wilcox St Suite G
Castle Rock
303-955-5788
greatdividebreweryandroadhouse.com/