October 1, 2019
/
/
Comments Off

on Green Mountain Falls
A little city with a big history
Article and photos by Michelle Post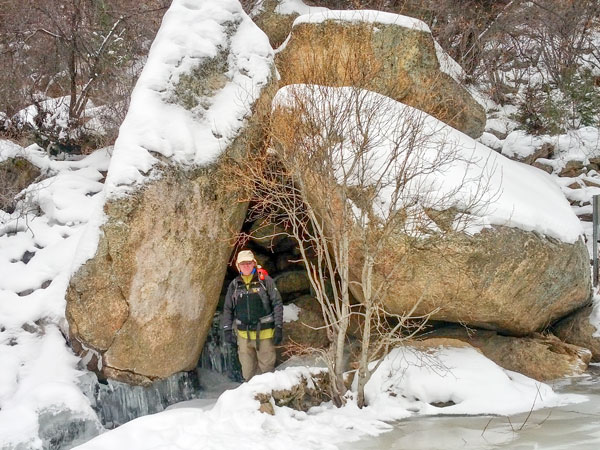 Taking shelter while winter hiking on the Catamount Trail in Green Mountain Falls.
I have passed the sign to Green Mountain Falls many times and always thought, "What's in Green Mountain Falls?" My husband and I finally stopped to check out this little city in the mountains. Green Mountain Falls is located off Highway 24 west of Colorado Springs. It is considered a picturesque Ute Pass town and was settled as a tourist town in 1880.
It is difficult to see the city when driving past it due to the many beautiful trees that surround it. Green Mountain Falls is centered around Gazebo Lake, which was and still is one of the primary features of the city. It is a man-made lake that offers fishing during the summer and ice skating during the winter. The town's motto is, "A Very Special Place." I agree with their motto.
It is a special place for it was one of the stops of the new Colorado Midland Railway Company's service from Colorado Springs to the mines of Leadville, Aspen, and Cripple Creek. The railroad began in 1886 and offered passenger and freight service until 1918. The Colorado Midland Railway was the first standard gauge line to conquer the steep mountain grades of the Colorado Rockies.
With the building of the railroad, Green Mountain Falls catered to tourists wanting to get away from it all. The city started with a few hotels and 100 tents that could be rented for rest and relaxation. The tents have been replaced with Victorian-style homes and log cabins that still cater to the tourist needing to get away from it all.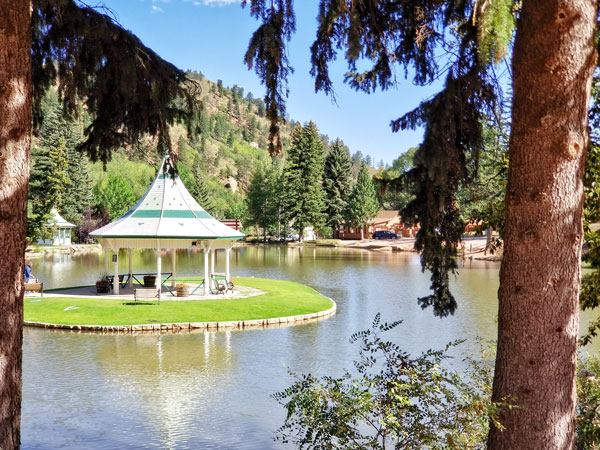 Bask in the serenity of Gazebo Lake in Green Mountain Falls.

Besides driving through the picturesque city, Green Mountain Falls offers some fantastic hikes that range from easy to hard. Just some of the trails you can experience are: Mt. Dewey Trail, Ute Pass Trail, Bratton Trail, and the Crystal Creek Reservoir Trail, just to name a few. To learn more about the trails in Green Mountain Falls visit, www.alltrails.com/us/colorado/green-mountain-falls.
But it is just not strolling, fishing and hiking you can do in Green Mountain Falls. There are some great restaurants to try too: The Pantry, Mucky Duck Restaurant and Catering, The Blue Moose Tavern, and the Wines of Colorado. I can highly recommend the Mucky Duck, for it has the largest selection of eggs Benedict I have ever experienced, and the food is fabulous.
Green Mountain Falls is a very special place and an excellent experience for a day trip.