Imagination Will Reign at New Park
October 1, 2003
/
/
Comments Off

on Imagination Will Reign at New Park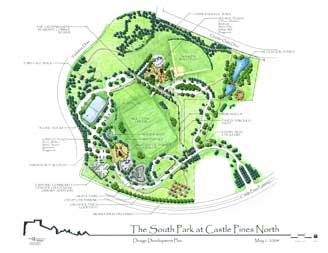 The Castle Pines Parks Authority has selected a conceptual plan for the new Castle View Park adjacent to the Community Center on Yorkshire Drive. The Authority has signed a contract with Design Concepts to move forward on a final design.
Design Concepts imaginatively incorporated our neighborhood's themes of castles, knights, and monarchs when planning the approximately 22 acres of active and passive uses. As seen in the drawing below, a "fairy tale walk" will meander past the castle wall ruins, an "ancient" cobblestone road, a gurgling stream, and a woodcutter's cottage. Residents with a less medieval or pastoral mindset will enjoy the dog park, baseball field, multi-use field, inline-hockey court, and skate park.
The design does not include a large parking lot. Instead, parking will be located along the road, adjacent to each use, so that people can park close to their activity.
Access to the park will be via a new road that will extend north from the intersection of Castle Pines Parkway and Lagae Road.
There is still work to be done before the plan goes to final design. Site improvements, as well as County approvals for roads, parking, and easements, are in the works. The Parks Authority is currently working on a budget to determine whether the Park will be built in phases or all at once. Groundbreaking could occur in 2004, although the completion date won't be known until budgeting is done.
Residents interested in being on the committee to name the park are invited to contact Judy Dahl at 303-688-8550 or by e-mail at judy@cpnmd.org. To stay updated, log onto cpnhoa.org. or Design Concept's website at dcla.net.