It's Buffalo Ridge Buffaloes vs. Timber Trail Lumberjacks!
January 1, 2004
/
/
Comments Off

on It's Buffalo Ridge Buffaloes vs. Timber Trail Lumberjacks!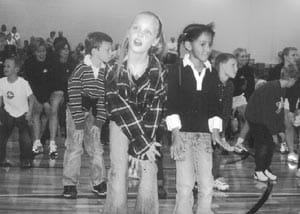 Friendlier than the CU – Nebraska rivalry…
Newer than the Broncos vs. the Raiders…
More local than Red Sox against Yankees…
A new tradition was begun the night of November 6, when teachers from Buffalo Ridge and Timber Trail Elementary Schools squared off in a kick-ball game in front of hundreds of raucous fans in the Rocky Heights Middle School gymnasium.
The band played, signs were held aloft, and the whole shebang was emceed by television's Tom Green. (Tom was an exceedingly fair and balanced announcer, especially given the fact that his son Connor attends Buffalo Ridge.)
The event was for a good cause, raising almost $900 for library books and literacy programs.
Mrs. Robin Scurto, band director for both schools, conducted a spirited group of talented musicians from both sides of the Parkway. Scurto skirted the allegiance issue by wearing both buffalo pelts and evergreenery.
Other fans were more fanatic. Many Lumberjacks sported plaid shirts. Music Director Mary Hilzer was one of many in black tee-shirts proclaiming that the Lumberjacks were gonna whip the Buffaloes.
Alas, the teachers of Buffalo Ridge soundly defeated the Lumberjacks by a score of 11- 5. Wait 'til next year!