Kilwins Original Recipe Ice Cream – Parker
April 1, 2021
/
/
Comments Off

on Kilwins Original Recipe Ice Cream – Parker
Hitting the sweet spot
By Chris Michlewicz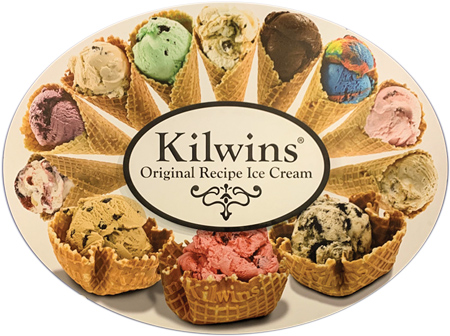 During a trip to Florida, the Bertocchi family noticed something striking about the five ice cream and gelato establishments within a popular entertainment district in Sarasota: only one of them had a line around the block.
Fast-forward a few years and the Bertocchis are the owners of a Kilwins franchise in downtown Parker. The national purveyor of finely crafted chocolates, hand-paddled fudge, decadent caramel apples, caramel corn and brittle, chocolate-dipped treats, and, most notably, its "super premium original recipe" ice cream, has found a home a stone's throw from Mainstreet and across the street from O'Brien Park.
The ice cream – made on an Ohio kosher dairy farm owned by Kilwins – is the top seller, but anyone with a sweet (and salty) tooth can find something they like.
It's a drastic change of pace from owner Susan Bertocchi's former career. She served as a surgical physician's assistant specializing in trauma at a busy hospital in Queens, New York.
Seeking a change in lifestyle, the Bertocchis moved to Parker 14 years ago after a nationwide search for the ideal place to raise a family. Mike Bertocchi is a surgeon at Parker Adventist Hospital and the couple has three children, ages 23, 11 and 10.
Susan traded in her high-intensity job for a stint as a community volunteer and proprietor of Simpler Times Designs at South Parker Road and Mainstreet before closing the doors on the furniture painting studio.
We focus on making customers feel welcome. They usually leave in a better mood. We want to sell enjoyment.
The Bertocchis wanted to invest in a business that would be recession-proof and remembered the line around the block at Kilwins in Sarasota. They found Kilwins in Boulder (there are locations in Fort Collins and downtown Denver, too) and looked more into opening a franchise.
"I wanted to stay on Mainstreet and open another store, a place that would be kid-friendly," Susan said. The latter goal was undoubtedly accomplished. In fact, Kilwins is a wonderland for chocolate lovers of all ages, but also those who prefer gummy bears and sour candies. Sea-salt caramel treats are also big sellers. All told, Kilwins sells more than 800 different items.
The Bertocchis opened Kilwins in December 2019 and four months later ran into the shutdowns that came with the spread of the coronavirus. Fortunately, the Parker community supported businesses, particularly those downtown, throughout the pandemic, and business at Kilwins has remained steady.
The primary reason for the Bertocchis opening another shop was to have a financial mechanism to support their three favorite causes: the Parker Task Force Food Bank, where Susan once served as a volunteer; the Parker Senior Center; and veteran-related charitable causes.
"I was raised in a family where we were taught to serve," Susan said.
The Bertocchi family also wanted to own a business where they could easily converse with customers and provide an inviting place for families to stop while downtown or at O'Brien Park.
"We focus on making customers feel welcome. They usually leave in a better mood," Susan said. "We want to sell enjoyment."