August 1, 2010
/
/
Comments Off

on Bud's Bar
Local watering hole a landmark to some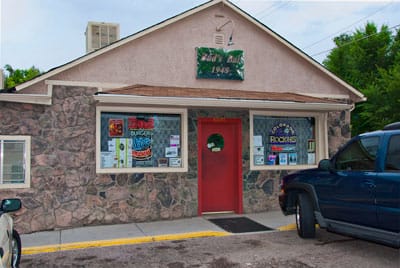 Bud's Bar in Sedalia; established 1948.
Article by Joe Gschwendtner with photos by Tim Gamble
Have you been to Bud's Bar? It's a wonderful Sedalia location; you can exit and find your car blocked by motorcycles and moving trains in both directions. Some say that Bud's is the nerve center of the small ranching community on the outskirts of Castle Pines…
It wasn't always so. Before conversion by Calixte "Bud" Hebert in 1948, the local landmark was a failing garage. Bud thought the town needed a roadhouse and rehabbed iat accordingly. Bar seats mimic a Woolworth lunch counter and the seating area is Colorado rustic. Until Therman Thompson bought it in 1964, it never really "rocked."
Thompson's Navy and Louviers DuPont dynamite mill experience did not necessarily prepare him. Yet in 40 years, the place became uniquely his and then him. Externally, Thompson was crusty and his help by extension, was cowboy tough. Images were enhanced with a genre of posted warnings. "If you don't like our service, lower your standards." But those who knew him well paint his heart in gold. Nancy Frakes' and Barbara Burr's combined 48 years of service today speak volumes about the magnetism of this Sedalia hub.
Early success was as a gathering place. By the 90's it had become the "in" place to go. Thompson (now also called "Bud") had patrons standing at the door. Only rodeo ambience could have done it, as the menu is only hamburgers and cheeseburgers with "no damn fries."
Locals were pranksters, and Thompson was the butt of many jokes. Ranchers rode horses into his place from time to time; drove him nuts. Guy Elder brought in a live rattlesnake that made 6'2" rancher Mike Penley hurdle the bar in one move. Joe Burr painted the front orange and blue for a Bronco game. The drunkest guy in the bar might find the Domino's Pizza sign on his car in the morning.
Thompson was a serial fisher, infatuated with Wyoming's Miracle Mile. Problem was that wife Mary Anne caught many of trophies that are on display at the bar today. Thompson managed to live it and other things down, all with his rather wry smile in the process.
It was fitting that he'd sell the business to friend Mike Steerman on a 2004 fishing trip. Steerman works at keeping Bud's unchanged and it looks as if he's succeeding: Bud's burgers have been recognized as elite by Westword for four years running. Thompson's gone now to deeper waters, but you know he's got a line in somewhere up there.