September 1, 2017
/
/
Comments Off

on Maddie's Beirgarten
Maddie's Biergarten is the place to be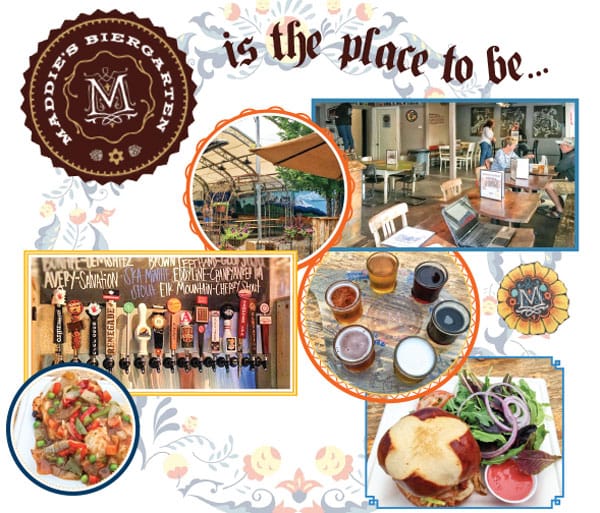 Maddie's Biergarten in Castle Rock. I've heard the name, I've walked by it during the Castle Rock Star Lighting, but I've never been in there. Well, I'm glad I finally stopped in. What a fun place!
What's not to like about a beer garden? I planned on going to Maddie's for several days straight, only to find one afternoon rainstorm after another afternoon rainstorm keeping me home. When I finally did make it there to dine, I was pleasantly surprised by the large, extensive tent that covers the majority of their outdoor patio, a.k.a. the garten, adjoining their stage. Still outside, yet protected. I like it!
The atmosphere of Maddie's is very casual. There are community tables outside as well as a few smaller tables with umbrellas. There is some indoor seating as well. One wall of the garten has a colorful mural as does the fence behind the stage. A very large Connect 4 game was available for kids to play with which one three-year-old proceeded to do.
Maddie's opened their doors in June 2012. The concept came about when co-owner, Michaela Bacon, and her partner, Kelly Kambs, were walking through town with their families hoping to find a place that was family friendly. Bacon, resident of Castle Rock, commented, "We both grew up in the Midwest and back home, there were always pubs that you could take your family to and enjoy the day or evening. We decided that we wanted to create the same thing here in Castle Rock."
When asked about the beer garden concept, Bacon responded, "It is funny but most people think that biergarten references German food but it doesn't. A biergarten is a place for family, friends, strangers to come together. My husband and I had the opportunity to visit Germany and we loved the biergarten with the common tables. You would sit down as strangers and leave as friends. We have seen the same thing happen many times at Maddie's Biergarten."
When deciding what to order, our waitress mentioned the "flight of beer" option. I've had wine and Champagne flights before which usually come in threes and with a very small taster of each. The beer flights come in sixes and with enough for two to share. You can try six of their Colorado craft beers for $11 during happy hour. Not bad!
Bacon stated, "We made a commitment early on that our 15 taps would only pour Colorado craft beer and we have never wavered. The beers come from all over the state. We do have a few beers that come from other parts of the U.S. and recently, Germany. All craft beer though!"
When Maddie's first opened, they served only brats and burgers. Over the last five years, the recipes have evolved from their own likes and testing ideas that they thought would work. About a year ago, Chef Zach Szentmartoni, joined the team. Bacon remarked, "He has really done some amazing things in a short period of time. The Kartoffels, which are unique to Maddie's, are very popular. The item that challenges the chef the most is probably our grilled wings. They are amazing, trust me."
We did try out the Kartoffels (German for potatoes) that were pan fried, grilled, and accompanied with various meats, cheeses, vegetables, and sauces. We tried the Bangers Kartoffels which is a beer brat, mashed potatoes, beef gravy, peppers, and onions. It was truly a unique dish with a variety of textures and a lot of flavor. We also ordered the Bavarian Pretzels which are soft pretzels with kosher salt served with beer cheese. They were really good. While we were at it, we decided to split the Pulled Pork Sandwich which also has cole slaw and onion straws all on a pretzel bun. So good! Again, it was a great combination of flavors and textures. I would definitely dine here again!
To make it even better, Maddie's offers live music every Friday and Saturday night as well as a variety of mid-week activities such as a bingo tournament with prizes and an open mic night on alternate Thursdays. It's good to know there's such a fun place to go any day of the week and have a great time.
Bacon concluded, "Maddie's Biergarten was created by two woman who knew little about beer and has grown to what it is today due to the support of the community and the contribution of many. This is not something we did alone."
Maddie's Biergarten
330 3rd Street
Castle Rock
303-663-5073
www.maddiesbg.com
Sunday – Thursday: 11:30 a.m. – 10:00 p.m.
Friday – Saturday: 11:30 a.m. – 12:00 a.m.
Happy hour is Monday – Friday: 3:00 p.m. – 6:00 p.m.
$2 off pints and wine as well as appetizer specials
Each month The Connection Food & Dining guide features a restaurant we think our readers will enjoy. The official Munich Oktoberfest runs mid-September through early October in German beer gardens. It's great to know you can get a similar experience at Maddie's Biergarten right here in Castle Rock.
As always, our writer dines at a restaurant, unannounced, so that an unbiased experience can be shared with our readers. A restaurant cannot pay to be featured, and there is no charge to the restaurant once they have been selected. All restaurants that have been featured in The Connection are listed on our website.
Visit www.castlepinesconnection.com to check out our selections and commentaries.