March 1, 2022
/
/
Comments Off

on March is for Muffuletta
Article and photo by Lisa Crockett
I love the television show "Friends." I was an avid fan back in the day, often hosting watch parties in my tiny apartment with my own real-life cadre of friends. There are hundreds of quotes from the show that I still sprinkle liberally in casual conversation. Because Monica was a chef, great food was frequently part of the storyline, but a consistent punchline over the whole run of the show was Joey's love for his favorite food – sandwiches. Though I love the show, this repeated joke never quite rang true for me.
I can concede that sandwiches lack sophistication, particularly when you consider that the show is set in New York City where just about any food imaginable is easy to obtain. Still, to my mind, it's hard to beat the immense satisfaction a good sandwich provides, particularly when you consider the work-to-reward ratio of a sandwich. Good bread and good fillings add up to something yummy with a minimum of fuss. Perfect. I'm mostly a turkey sandwich on sourdough kind of person. Certain people close to me have been known to tease me about the predictability of my lunch order (the aforementioned sandwich is always served along with a dill pickle and a Diet Coke). I don't think it's boring; I just know what I like.
There are moments, though, when I feel adventurous. Around this time of year, when all things Mardi Gras are on my mind, I get a hankering for a muffuletta. This New Orleans classic is a filling and tasty variation on the same old lunch. Created at the New Orleans Central Grocery store, it's the ultimate make-ahead meal that gets better after several hours in the fridge. The original great features an "olive salad,"‑ a mixture of finely chopped olives and pickled veggies, that takes the place of traditional condiments. The sandwich is layered with thinly sliced provolone, mortadella, capicola, and soppressata. All the ingredients are heaped on a round loaf, wrapped tightly in plastic wrap, and tucked into the back of the fridge. Hours later, the bread has soaked up some of the olive oil and dressing, and the meats and cheeses have melded a bit. The result is pure heaven. Salty, tangy, satisfying heaven.
I whipped up one of these little beauties with a few variations of my own. First, muffuletta bread is hard to source outside of Louisiana, so I used a round loaf that I would describe as "medium weight." Bread that is too crusty makes the filling squish out when you eat the sandwich and bread that is too light gets soggy, so shoot for something in between. I also subbed out some of those classic Italian meats for my favorites – turkey (of course) and regular salami. Finally, I used a spicy version of giardiniera in the olive salad, which gave it just a bit of pleasant heat and a nice contrast to the richness of all that meat and cheese.
As you might imagine, this sandwich is deliciously filling. As a main dish, this sandwich serves at least two people, but I like it best served as part of a buffet, in small wedges for six to eight. So, call up a few friends and let the good times roll. You just might find that sandwiches are your favorite food too.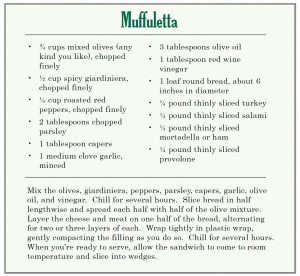 Muffuletta Recipe
¾ cups mixed olives (any kind you like), chopped finely
½ cup spicy giardiniera, chopped finely
¼ cup roasted red peppers, chopped finely
2 tablespoons chopped parsley
1 tablespoon capers
1 medium clove garlic, minced
3 tablespoons olive oil
1 tablespoon red wine vinegar
1 loaf round bread, about 6 inches in diameter
¼ pound thinly sliced turkey
¼ pound thinly sliced salami\
¼ pound thinly sliced mortadella or ham
¼ pound thinly sliced provolone
Mix the olives, giardiniera, peppers, parsley, capers, garlic, olive oil, and vinegar. Chill for several hours. Slice bread in half lengthwise and spread each half with half of the olive mixture. Layer the cheese and meat on one half of the bread, alternating for two or three layers of each. Wrap tightly in plastic wrap, gently compacting the filling as you do so. Chill for several hours. When you're ready to serve, allow the sandwich to come to room temperature and slice into wedges.