August 1, 2015
/
/
Comments Off

on MiYO Café
Make it Your Own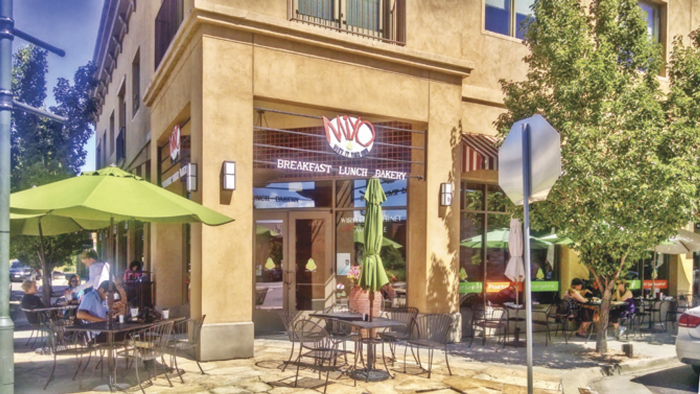 As locals know, The Village at Castle Pines is a quaint oasis nestled in the rolling hills of the Castle Pines community.  There you can wander through a potpourri of shops and businesses, and the aroma wafting from the patio at MiYO Café may very well draw you in to have a look at the menu – it did me.
Standing by the motto "Make it Your Own," hence spawning the catchy acronym and name "MiYO," owners Donna and Gary Stern have created an eatery that is both inviting and delicious.  It is a fast and casual, order-at-the-register type of establishment serving breakfast and lunch daily until 2 p.m.
For those who just want to grab a snack or are pressed for time, MiYO has a few refrigerated coolers with quick bites such as to-go juices, baked treats, nuts and fruit.  However, diners will not find anything in that chiller that resembles a full meal.  "We don't like to make a lot of premade food because we want everything to be fresh," said Donna. "Especially when the food ordered from the menu only takes an average of 10 minutes to prepare."


Along with serving fresh food, MiYO greets its patrons with smiling faces ready to serve you.  Having worked in the service and wine/beverage industry for many years, both Donna and her husband Gary know that top-notch customer service goes a long way and they have made it a priority to make everyone who comes through the door feel welcome.  "Our staff really makes the restaurant," Donna remarked proudly.  "We couldn't be luckier to have the staff that we do."
It is said that variety is the spice of life … The delicious breakfast and lunch items at MiYO are smartly presented on four high-tech screens that list a plentiful variety of fare to satisfy just about any palate.  Both Mexican and Greek influences can be seen, along with a mixture of more typical breakfast foods like pancakes and skillets and lunch classics like burgers, made-to-order salads and wraps.  Typical crowd favorites, like the breakfast burrito, may be accompanied by an array of hot and cold beverages, including yummy smoothies or coffee and tea drinks.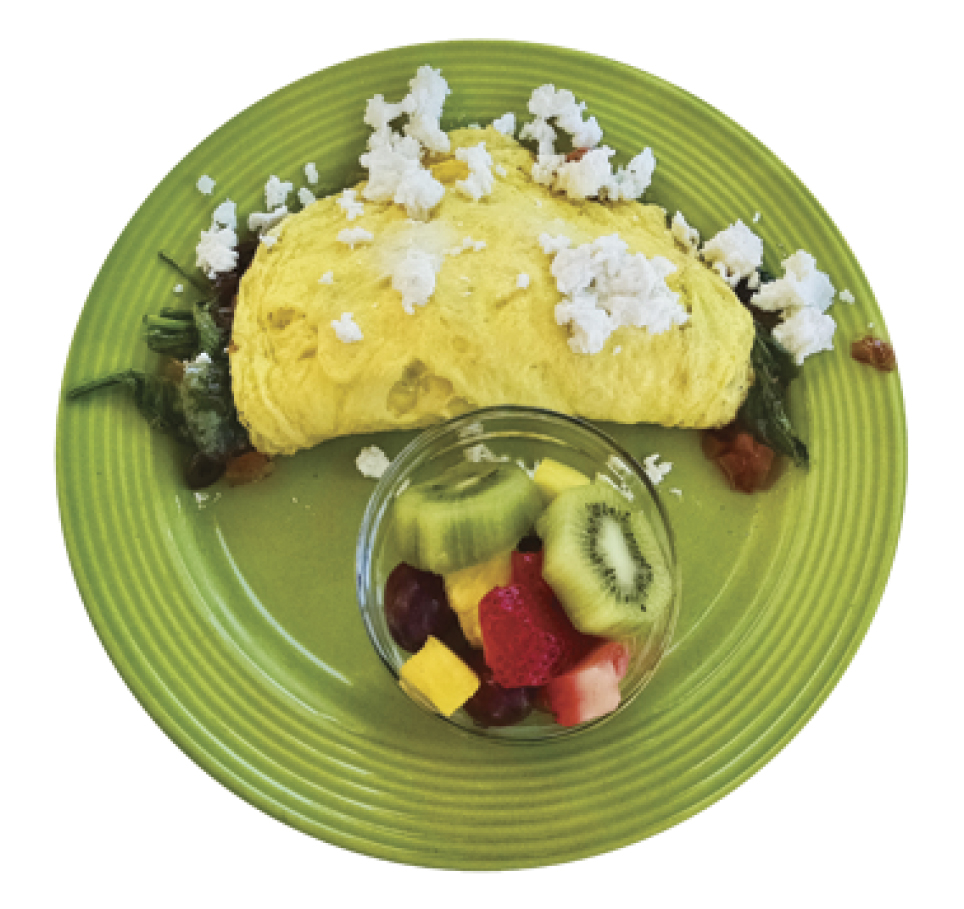 What impressed me the most, besides the vast selection, was the attention paid to meeting the needs of those with special diets.  "We're really focusing on gluten free and vegetarian food," Stern noted, acknowledging that with the trend leaning more to people eating less gluten, more restaurants need to be accommodating.  "Our chile is gluten free as well as a choice of hamburger buns, muffins and scones – some of which my husband bakes,"  she said.
And though it was a tough decision, especially with so many goodies available that could easily cancel a workout, I tamed my hunger and chose The Greek omelet for lunch with a healthy side of fruit.  Another member of my party ordered a chile-smothered, shredded chicken burrito.  We enjoyed a beverage (a no-sugar Chai for me) on the patio overlooking the courtyard as our meals were speedily prepared.
In roughly 10 minutes (at most), our food was delivered on colorful plates with excellent presentation, looking almost too pretty to eat.  The omelet was firm, yet not overcooked and was wrapped around an appetizing mixture of Kalamata olives, tomatoes and spinach, and finished with a generous portion of feta cheese.  A cup of fresh kiwi, strawberries, grapes and pineapple brightened the presentation and added a sweet touch to my savory selection.
The lightly cheesed and smothered burrito followed suit in its presentation, looking neat and not sloppy – a challenge to achieve when dousing a burrito in a sauce bath.  The pork green chile atop the burrito had a nice spark to it, definitely tasting homemade.  The shredded chicken was moist and flavorful, neatly tucked inside the tortilla. Garnishes of sliced tomatoes, lettuce and a dollop of sour cream soothed the spice from the chile.
"We have started to be known for our breakfast burritos," Donna smiled.  "I personally make the chile from scratch with a little spice."   Let's just say, it is clear to see why MiYO has made a name for itself among those offering killer breakfast burritos.
Bite after bite, as we had heard, both meals proved to be very satisfying.  Will there a be a return visit and will I bring friends?  The answer is a resounding yes!  We especially appreciated that MiYO is family friendly, offering a variety of kid's menu options and spacious seating for highchairs.  Donna commented, "Both my husband and I love families in the restaurant."   And, because there are no stairs, those persons requiring wheelchair access can definitely count MiYO as an eatery that should be on your must try list.
Donna and Gary invite The Connection readers to stop in and give MiYO a try.   If you mention this month's restaurant spotlight, you will receive a 25 percent discount off your entire bill.  MiYO is located at 858 W Happy Canyon Road and is open Monday through Friday from 7 a.m. to 2 p.m. and Saturday and Sunday from 8 a.m. to 2 p.m.   For more information, visit www.miyocafe.com or call 303-814-7200.