More Commercial Development Expected
August 1, 2004
/
/
Comments Off

on More Commercial Development Expected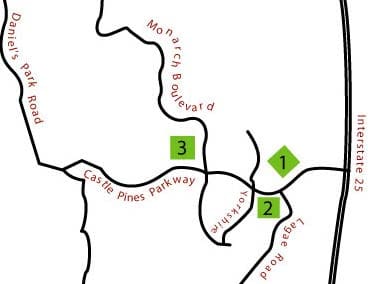 The Castle Pines North community is almost to build-out. As a result, additional commercial development of land in the CPN area can soon be expected.
"We expect to see development proposals in the near future," said Linda Nuzum, Master Association President. "At this time, we are not certain what additional businesses will go in our community."
There are currently three major areas where commercial development could occur including:
One parcel north of Castle Pines Parkway at Lagae Road (next to the DCS Montessori School);
A strip of commercial land south of Castle Pines Parkway, west of Lagae Road (behind the homes in Royal Hill);
The area on the northwest corner of Monarch and Castle Pines Parkway (east of Timber Trail Elementary School, and south of the homes in Stonecroft).
"Many residents view these areas as open space but, the reality is the land has always been zoned for commercial development," said Brian Stopps, who chairs the Master Association's Development Review Committee. "The land developer will negotiate with businesses that are interested in locating here, and Douglas County will need to approve the construction plans. We can make suggestions during the county's review process, but we don't have any authority to approve or deny the projects."
The Master Association's development committee will be working with Douglas County and the developers. "We recognize developers have rights because the land is zoned commercial, but we will certainly encourage businesses that would be as compatible with our community as possible," said Nuzum.
Stopps said the committee will also address issues such as design, lighting, traffic circulation, and buffer zones next to homes.
What business developments do you think would be most compatible with our community? Give us your opinion! Take a few minutes to complete the commercial development survey. (The survey has been completed 2-3-2005 – Thank you for your participation.)
The results of the CPN survey will be shared with future developers. "We hope the owners and developers of these areas will value the input from our community," said Nuzum.
Watch for future community e-mails or web news stories for the latest information about upcoming commercial developments in our area.