Multipurpose fields open next month
April 1, 2022
/
/
Comments Off

on Multipurpose fields open next month
By Chris Michlewicz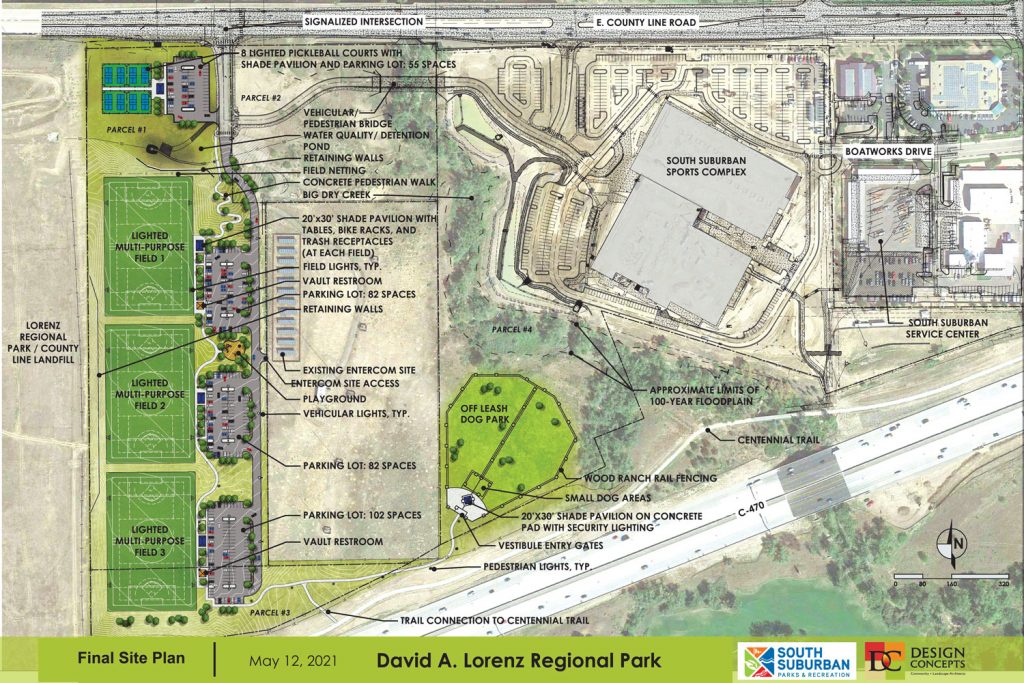 A regional park in Highlands Ranch known for its uneven athletic fields is being revamped with new playing surfaces and an off-leash dog park.
A portion of David A. Lorenz Regional Park, located southeast of County Line Road and Colorado Boulevard, was built on top of a former landfill, and the organic material underneath was continuously settling, according to Melissa Reese-Thacker, planning manager for the South Suburban Parks and Recreation District (SSPRD).
The result was lumpy fields that affected play, causing a baseball/softball field to be decommissioned and returned to its native state. Now, SSPRD is finishing work on three new lighted synthetic turf fields that are scheduled to open next month. A dog park will also open this fall, replacing one that was removed in 2019 due to the construction of the South Suburban Sports Complex, a 206,000-square-foot athletics center southwest of County Line Road and Holly Street.
SSPRD was notified in 2020 that Arapahoe County, which owned about 95 acres of David A. Lorenz Regional Park, intended to sell its land – which SSPRD had leased since 2001. Construction began in September on the remaining 34 acres owned by the District; another 20 acres are occupied by the sports complex.
The new multipurpose fields are being built adjacent to the complex, away from the former landfill, so they will no longer be affected by shifting soils. They will primarily be used for soccer, lacrosse and flag football. The addition of lighting "allows us to extend the usable hours for the fields," Reese-Thacker said. SSPRD is also creating parking for 260 vehicles and building new restrooms, picnic facilities and trail connections.
"This project aligns with our master plan goal of providing quality outdoor recreational spaces," she said.
SSPRD is in discussions with a private developer that now owns the land to continue using the four remaining fields and keep an existing BMX track open permanently.
Future phases are being planned to add more features to the park – lighted pickleball courts and a playground are possibilities – but a time frame has not been set, Reese-Thacker said.