Neighbors Gayle and Gary Ray honored for philanthropic work
January 1, 2017
/
/
Comments Off

on Neighbors Gayle and Gary Ray honored for philanthropic work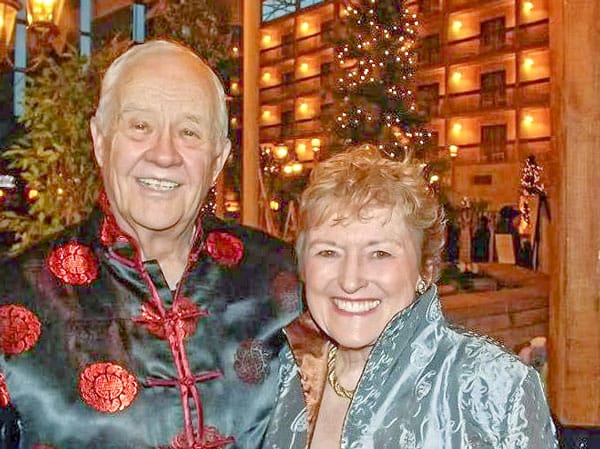 Gary and Gayle Ray photographed at the 2015 Nathan Yip Foundation Chinese New Year Celebration at the Marriott Tech Center. The Rays are being honored at this year's celebration on January 28.
By Nancy Koontz; photo courtesy of the Nathan Yip Foundation
Twelve-year Castle Pines Village residents Gayle and Gary Ray will be honored by the Nathan Yip Foundation on January 28 at the newly-remodeled McNichols Civic Center Building in Denver. The Rays are known for their volunteerism and generosity throughout the Colorado community.
Gary and Gayle are proud parents to five adult children – Courtney, Tiffany, Shannon, John and Kristin. In addition, the Rays have been blessed with five grandchildren. Before moving to Colorado, the Rays lived in the California Silicon Valley/Bay Area for 20 years. They have also done their share of world traveling and are thrilled to now call Colorado and Castle Pines their home.
Originally from Amarillo, Texas, Gary attended college at the University of Oklahoma. He was in the U.S. Air Force for seven years as a pilot and instructor (aka Captain Gary) and later became a pilot with United Airlines. Gary was a past president of the Littleton Rotary and is still actively involved with the organization. He also enjoys volunteering as an ambassador at Denver International Airport. Gary has a funny but dry wit and possesses a heart of gold.
Gayle is from North Platte, Nebraska and studied journalism at the University of Nebraska. Having retired from a career as a mortgage banking software professional, Gayle enjoys her involvement with the Castle Pines Garden Club and serves on the board of the Asian Performing Arts of Colorado. She has also served on the board of the Denver Center Alliance, Colorado Uplift and Friends of Families First. She is a supporter of Womenade of Castle Rock, Global Down Syndrome Foundation, Cancer League of Colorado, Welcome to Colorado and Opera Colorado. For years, Gayle, with her warm personality, has brightened many other charitable events throughout the community.
"We've worked with the Yips since the very first Chinese New Year party in 2002 and love the work the Foundation does both around the world and in Colorado," said Gayle. "We are so pleased to serve as the honorary chairs."
"The naming of our long-time Foundation supporters Gayle and Gary Ray as honorary chairs is very special," said Linda Yip, co-founder of The Nathan Yip Foundation. "Gayle and Gary were our friends when [our son] Nathan died and have since been ardent supporters and volunteers for every event and activity we do."
The Rays have traveled with the Yips in China and are moved and inspired by all the remarkable work the Foundation does to help build schools and give aid to less fortunate children throughout the world and here in Colorado. "The work the Nathan Yip Foundation does is inspiring," added Gary. "I hope that many of our Castle Pines neighbors will join us to support this wonderful organization and enjoy the most fabulous Chinese New Year party ever."
Editor's Note: The Nathan Yip Foundation was created in 2002 when Linda and Jimmy Yip lost their only son, Nathan, at age 19 in a tragic car accident. For more information on the Foundation and the upcoming Chinese New Year Celebration where the Rays will be honored, visit www.nathanyipfoundation.org.