New drivers take precautions during National Teen Driver Safety Week
November 1, 2019
/
/
Comments Off

on New drivers take precautions during National Teen Driver Safety Week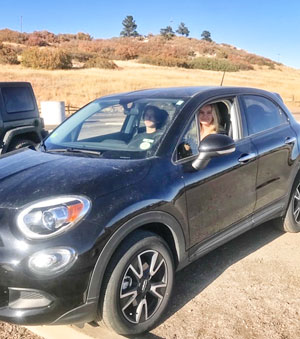 Castle Pines residents and juniors at Rock Canyon High School Izzy Holsman (driver) and Blake Burnham at Daniels Park. Research shows that teens understand they are vulnerable and are well aware of driving risks. So, focusing on positive actions that teens can take to be safe and to keep their friends safe, can be powerful messages for teens. The best way to change behavior over time is messaging that promotes positive action.


Article and photo by Maddy Merritt and Jana Seal, RCHS intern writers
According to Teen Driver Source (www.teendriversource.org), car accidents are the number one cause of death for teens in the U.S.
Devoted to informing new drivers, parents and others on the importance of teen driving safety, Teen Driver Source with the Children's Hospital of Philadelphia Research Institute sponsors National Teen Driver Safety Week every year to raise awareness and seek solutions to prevent teen injuries and deaths on the road.
Now in its twelfth year, National Teen Driver Safety Week took place October 20-26 this year. Members worked with teenage drivers by educating them about the dangers they face on the road in order to combat the number of teens who find themselves in crashes, sometimes fatal, while driving.
"It [driving safety] is important because you really don't want to be putting yourself in a situation where you're in danger or endangering somebody else," Jacob Beauchamp, an 80108 resident and senior at Rock Canyon High School (RCHS), said.
One restriction placed on new teenage drivers is the inability to drive other teenagers for the first six months after obtaining their licenses, siblings excluded.
"I feel like it [not driving others] is a good idea because you don't really want to put others at risk because you're really not that experienced," Beauchamp said.
Colorado also created laws restricting phone usage for drivers under the age of 18. Drivers over the age of 18 are able to answer phone calls but texting is prohibited for all ages. Technology is proving to be a prevalent source of distraction for adults and teenagers alike. Because new drivers are forming habits, phones pose a larger risk to their safety now and in the future.
Aaron Paul, former police officer and social studies teacher at RCHS identified that distracted driving seems to be the common denominator in most unsafe driving in general, with the most common practices being "speed, changing lanes too fast, drinking and driving, drugs and driving, distractions in the car from radios to cellular phones to friends," Paul said.
"All the accidents that I've ever worked with where a death was involved could have been prevented. It's very rare that you do everything right and you end up in a traffic accident that takes your life," Paul continued.
Seeing as distracted driving can be so easily fixed by each individual, it is important that programs like National Teen Driver Safety Week are actively educating new drivers and helping them form safe habits early on.