Paint Mines Interpretive Park
May 1, 2018
/
/
Comments Off

on Paint Mines Interpretive Park
A hidden wonder
Article and photos by Susan Helton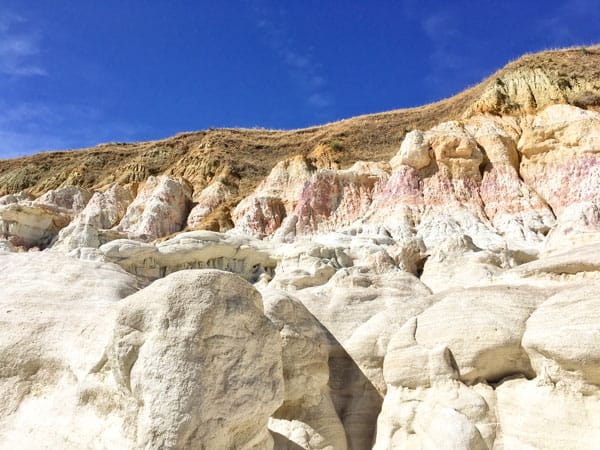 The Paint Mines are named for their colorful clays.  This area's unique geology, one of possibly only four such areas in Colorado, has attracted visitors for thousands of years.

An extraordinary geologic wonder, the Paint Mines Interpretive Park, lies hidden in Colorado's eastern plains.  Located northeast of Colorado Springs, the park is about a mile and a half southeast of the town of Calhan, in El Paso County.  Visitors here discover a unique park with an ecosystem of prairie plants and wildlife, a long archaeological history and fantastically-colored geologic formations.  The park is small, about 750 acres, and contains roughly four miles of easy-to-moderate hiking trails with some inclines.
Throughout the park, visitors can encounter tall-grass, short-grass and mid-grass prairie vegetation and seasonal wildflowers, with the possibility of sighting antelope, raptors, lizards, and even Colorado's state bird, the lark bunting.  Interpretive signs along the trails give details of the park's ecology, pre-history, history and geology.  But the attraction that draws most visitors is the magnificent formations.
Wind and rain shaped the colorful stone and clay layers that make up the Paint Mines, producing the overhangs and carved walls, spires and hoodoos (fanciful columns) that captivate park guests.  Archaeological evidence indicates humans used the site as far back as 9,000 years ago.  More recently, Native Americans collected petrified wood from local rock outcrops to make spear tips, dart tips and arrow points.  They used the colored clay to make paint and pottery.
Because the park is a fragile environment, it is only open to hiking.  El Paso County Park Operations asks visitors to please leave pets, horses, and bicycles at home and keep any motorized vehicles in the parking area.  This primitive park includes a restroom facility, but has no running water and very little shade, so visitors need to carry their own water.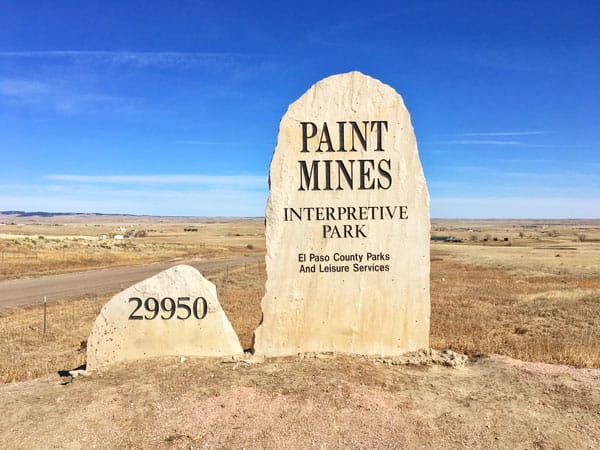 Paint Mines Interpretive Park is located at 29950 Paint Mines Road, Calhan.  Admission to the park is free.  There are several ways to get to Calhan, but once in town, drive east on Highway 24.  Turn right (south) on Yoder Street/Calhan Highway, then turn left (east) on Paint Mine Road, part of which is unpaved.  Look for the designated parking area on the left.
For more information about Paint Mines Interpretive Park, visit https://communityservices.elpasoco.com/parks-and-recreation/paint-mines-interpretive-park/