Play bridge, have fun and make new friends
February 1, 2018
/
/
Comments Off

on Play bridge, have fun and make new friends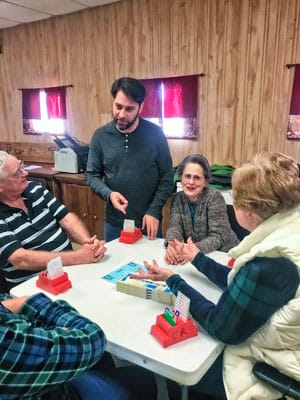 Curt Soloff, standing, chats with the bridge players. Soloff offers lessons on duplicate bridge and some of the strategies.

By Patte Smith; photos by Georgiana Butler
The Castle Rock Bridge Club is encouraging people who like to play duplicate bridge to join them on Monday and Wednesday at 1 p.m. Currently the club plays at CALF Lowell Ranch Ag Barn, 2330 South I-25 at the south end of Castle Rock. The group is scouting out a new location to play after April of this year, so keep in touch on their website at www.castlerockbridge.com.
New players do not have to be a member to play. If you have a partner to play with bring them or if you are a single, call Georgiana Butler at 303-810-8504. She will pair you with another single to play. Everyone is invited to join.
The idea of duplicate bridge is to eliminate the luck factor involved in one side being dealt the better cards. Instead, the exact same hands are played more than once by different sets of players who start from the same position. The Castle Rock Bridge Club plays an American Contract Bridge League sanctioned duplicate game and is open to anyone new to duplicate bridge or for those who have less than 50 master points.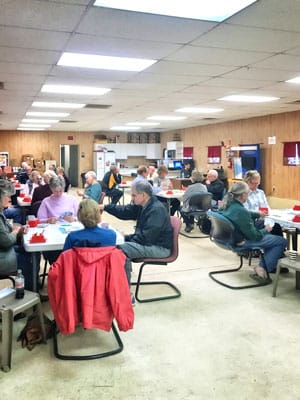 Players enjoy the camaraderie of being with fellow bridge enthusiasts and making new friends
"It is a fun group, and about once a month Curt Soloff, a member of the bridge club, teaches a class on different aspects of the game," explained Butler. "He charges a fee, and it is worth learning more strategies. It is a pleasure to get together to play bridge and make new friends."
All duplicate games are $7 per person. For more information or for directions to the club, visit www.castlerockbridge.com or call Georgiana Butler at 303-810-8505.